Hardware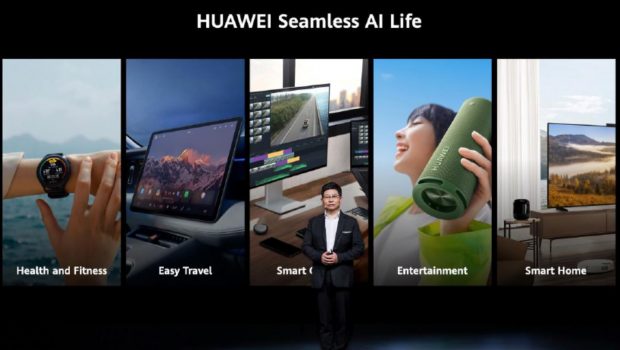 Published on February 28th, 2022 | by Adrian Gunning
HUAWEI introduces new suite of smart office products at MWC Barcelona 2022
Huawei Consumer Business Group today announced the launch of seven new products, including its latest flagship laptop, its first all-in-one PC, a new 2-in-1 laptop, its first E-Ink tablet, a new HarmonyOS tablet, the company's first-ever printer, and a new portable speaker.
Introducing the new suite of smart office products at the world's most influential event for the connectivity industry, MWC Barcelona the exciting announcement brings HUAWEI one step closer to accomplishing its vision for smart offices, "Boundless Creation and Seamless Communication."
At the launch event, Richard Yu, CEO of Huawei Consumer Business Group, recommitted HUAWEI to its 5to 10 year Seamless AI Life strategy aimed at delivering high-end experiences and innovations to global consumers and explained this strategy focuses on collaboration for five major scenarios: Health And Fitness, Smart Home, Easy Travel, Smart Office, and Entertainment.
"We are immensely proud of our journey in becoming one of the world's leading technology providers and giving consumers access to the best IT intelligence at their fingertips."
It has been four years since the start of our Super Device build and today we are very excited to be offering a new smart office experience where any HUAWEI device can be connected to another to serve as a functional module so that their capabilities and resources can be shared efficiently and effectively," Mr Yu added.
Super Device, Super Creativity: Building a new smart office experience
Now available to HUAWEI PC and smart phone users, consumers can enjoy the following integrated features:
• An efficient video conference after they connect a PC to a smart screen to form a Super Device
• Consumers can open up to three windows of a phone on the PC screen after the two devices are connected for multi-tasking
• Can enjoy greater productivity with a Super Device formed by a PC and monitor
• Can unleash their creativity with a Super Device that is made of a PC, tablet and stylus
Included in the announcement, the HUAWEI Mobile App Engine was explained, which allows PC users to tap into the rich variety of content in AppGallery for fresh experiences promising to enrich the PC app ecosystem.
To add to the exciting new collection, the newly released HUAWEI MateBook X Pro, MateStation X, MateBook E, MatePad Paper, and MatePad all support the Super Device feature.
In addition, users of existing models can also experience Super Device1 features by upgrading their Huawei PC Manager to the latest version. Huawei announced their Mobile App Engine Beta Program2 is coming soon and will be accessible by upgrading PC Manager to the latest version.