Hardware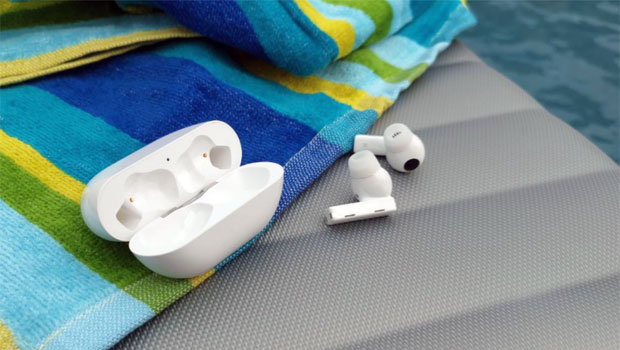 Published on November 13th, 2020 | by Andrew Bistak
Huawei FreeBuds Pro Review (2020)
Summary: The Huawei FreeBuds Pro gives the user some excellent audio freedom and more importantly, audio quality!
So much for 2020 being 20/20 and with the entire world affected by COVID-19, you need to embrace the simple things in life and while overseas travel is off the table for now, Hauwei may have the perfect panacea to our woes with their new FreeBuds Pro. These tiny and comfortable earbuds are not only true wireless stereo (TWS) but support intelligent dynamic noise cancellation to support you in becoming immersed in your audio, whether this is through Zoom, taking phone calls, listening to music or watching films, the Huawei FreeBuds Pro excel in this arena. Adding to the features is the active noise cancellation which reduces background sound by up to 40 dB1.
The FreeBuds Pro were also designed through the Huawei Audio Lab in order to fine-tune and maximise your audio experience and best of all, these earbuds feel very comfortable in your ears, no matter what activity you are performing. Whether sitting on the couch, next to the pool or performing your daily running routine, I had no issues with the FreeBuds Pro whatsoever in terms of comfort. Huawei also ensure that the product comes with everything you need, including a charging case and a USB-C charging cable. The Huawei FreeBuds Pro also come in three colours that include ceramic white (reviewed), carbon black and a very stylish silver with the later really making a mark against its competitors with its unique aesthetics.

As we're all stuck in own countries and for some of us in Australia, we can't even leave our own states at the moment, Huawei helped us escape for this review with their suitcase of "experiences" to help with our escapism and to entice our other senses such as a beach towel or The Botanist candle which has aromas of herbs, cut grass, mint, iris and pine wood plus a totally delicious Manomasa Chipotle & Lime! So when you add audio stimuli to these smells, tastes and touch, it's almost like being transported to another place. Relaxation definitely came to mind and play.
Best of all, the Huawei FreeBuds Pro were fully charged when I received them and all I needed to do was to pair them with my smartphone. This is done through Huawei's AI Life app at is available for Android devices which makes pairing a truly quick and flawless experience thanks to its pop, connect, go. This means when you first open the case, it will start the pairing process on the phone and from then on, when the case is opened it will display a pop-up on your phone of how much charge left. It also supports dual device connection (e.g. smartphone, smartwatch). While there are three different sized silicone tips for your ear, the app does a little assessment in order to ensure the best fit for you. The only tricky aspect with the entire setup process was figuring out how to easily remove the FreeBuds from the charging case but after using them for just over 2-weeks now, it does get easier once you have mastered the push and grab technique. I also like how comfortable they are my ear and you quickly forget that you are even wearing them.
Box Contents
Huawei Freebuds Pro Active Noise Cancellation Earbuds
Silicone ear tips (three sizes)
Wireless charging case

USB

-C charging cable
Quick start guide
Unboxing Photos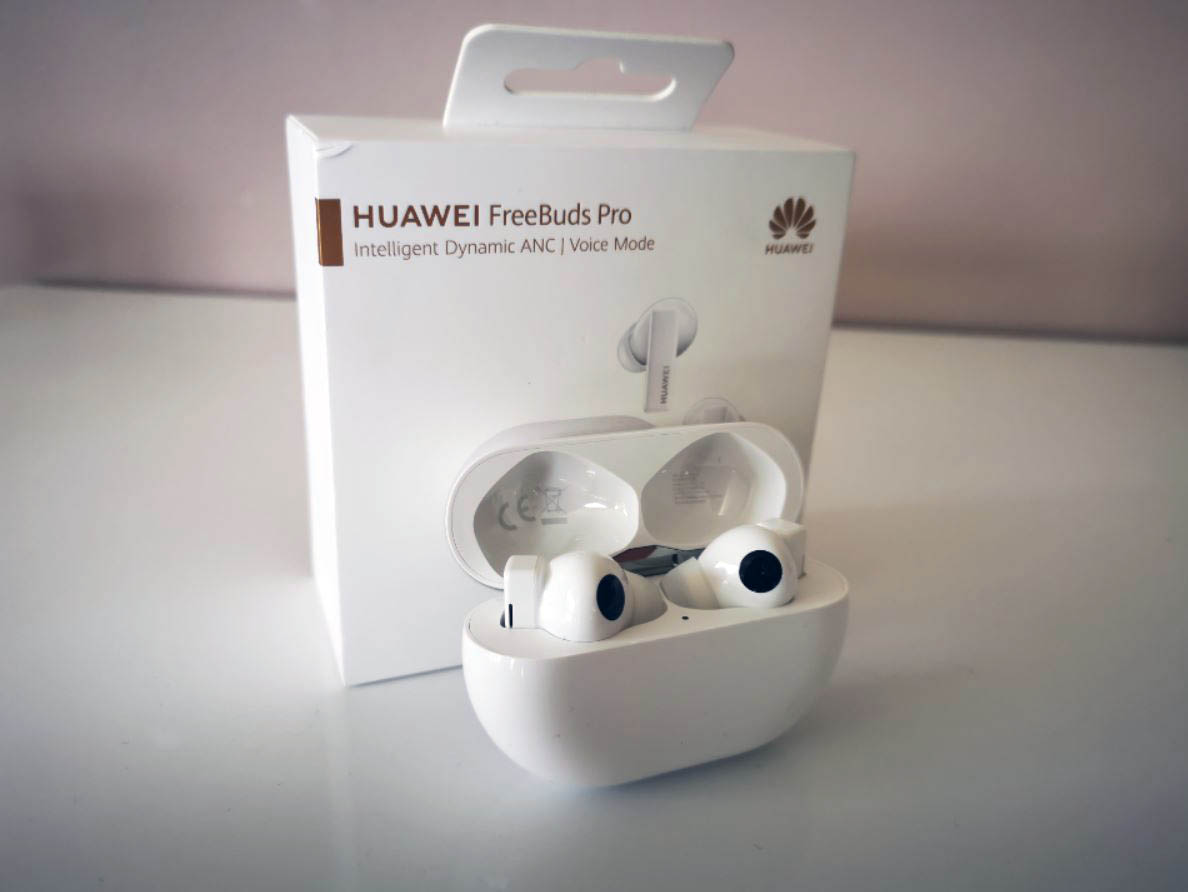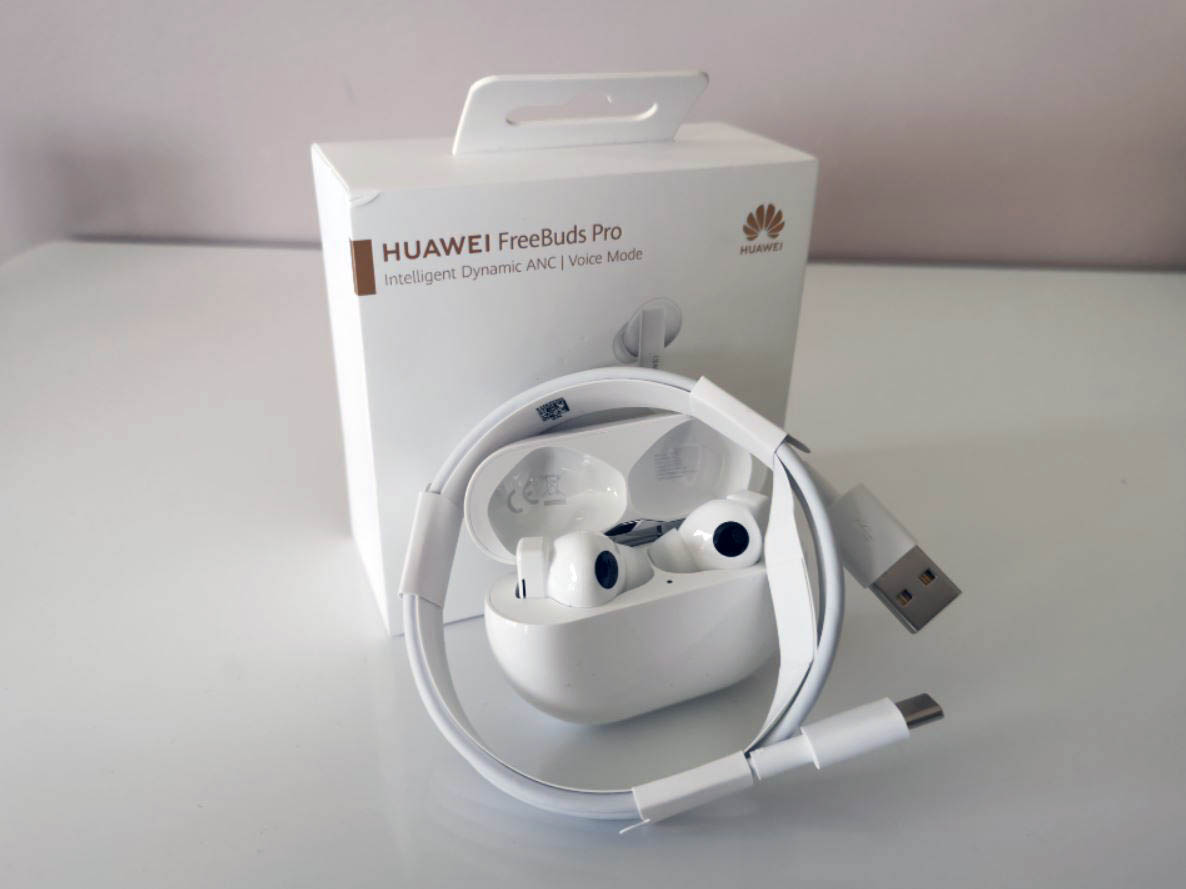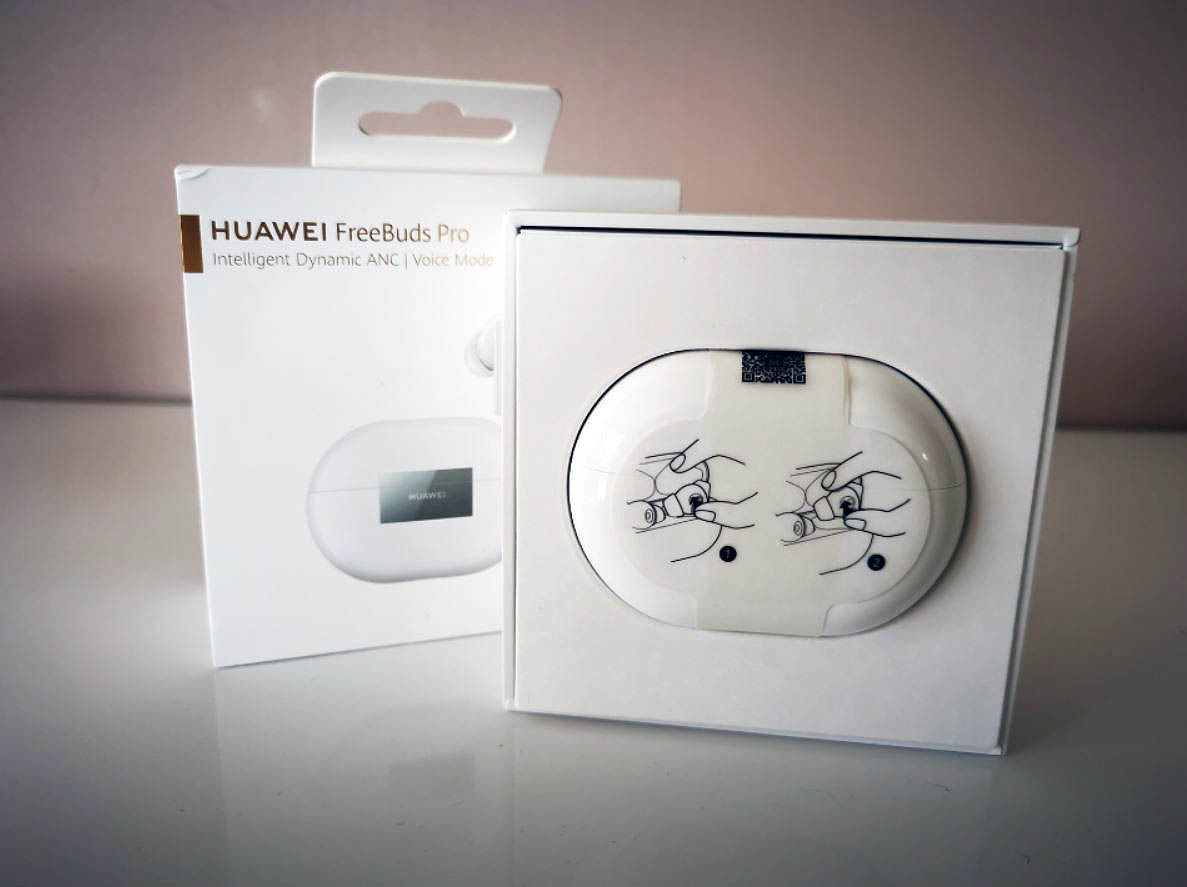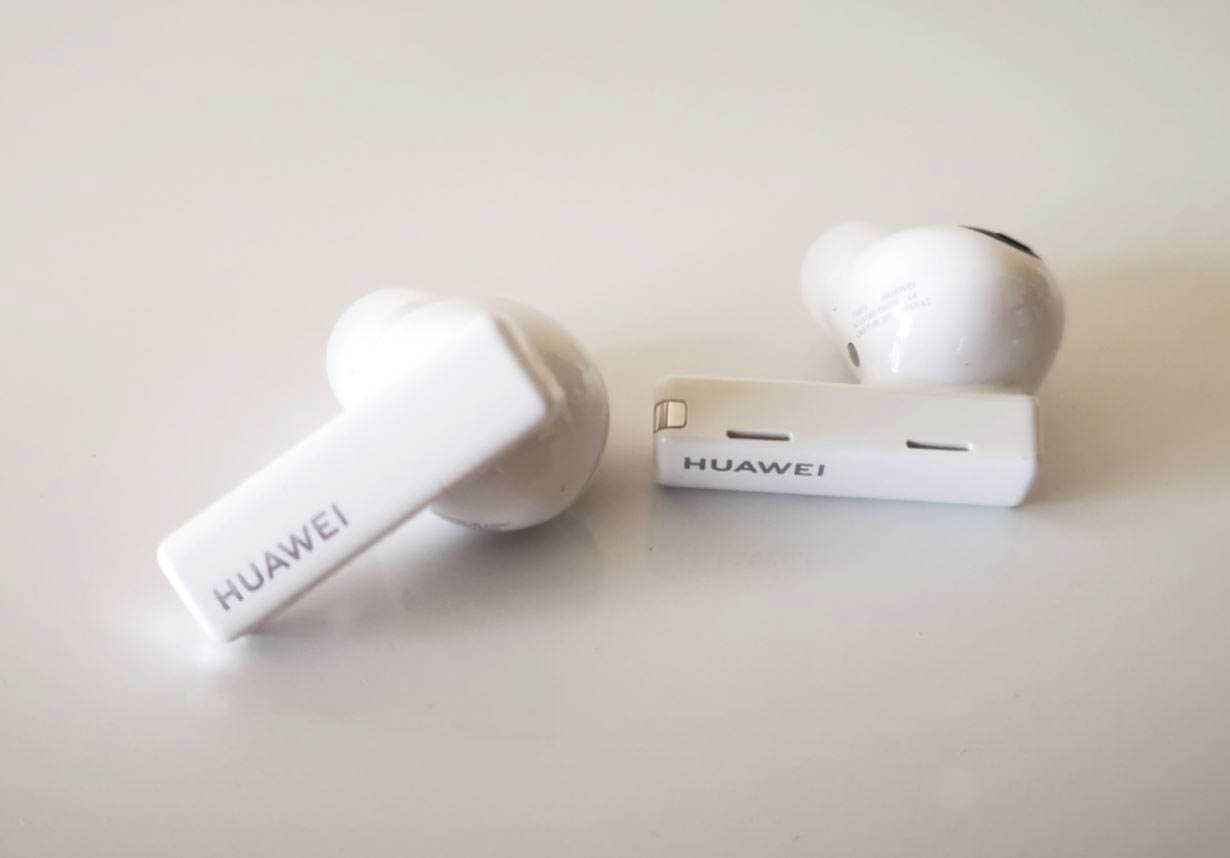 The sound quality of the Huawei FreeBuds Pro thanks to its 11mm ultra-magnetic dynamic drivers is fantastically clear and it produces excellent levels with distorted free sound. Whether this was music, playing games on my Android phone or watching the Mandalorian, it was quite an immersive experience. There is even an element of bass which is noticeable with various music genres. Call quality was equally as good and my callers had no issues with the microphone(s) quality, reporting good clear sound. With running or wind for instance, the device does an excellent job at minimising noise on the microphone.

The two down facing Bluetooth antennas (or stems) have a touch sensitive element to them in order to help you control the audio such as a pinch motion to pause/play music or if you hold them, it activates the awareness mode that allows you to hear what's happening around you, opposed to just the FreeBuds themselves. It does take some time in becoming familiar with the controls but they do work well.

Furthermore, noise cancellation can be adjusted through the Huawei AI app that gives you four different settings that include cosy, general, ultra and dynamic. Each setting is suited to a different environment with dynamic changing automatically to suit your surroundings. When we're finally allowed back on a plane, the ultra setting really helps minimise the drone of the outside world and would be perfect for flights.

If you are using ANC, the battery of the FreeBuds will last up to 4.5 hours or an very impressive 7 with this feature disabled. The charging case also supports 20 hours with ANC or 30 hours without and as the case is USB-C, it supports fast charging. During our presentation with Huawei, I was informed that a 5-minute charge will give you 2 hours of usage and having used this during my testing, it's a great feature, especially if you're off to the gym and need a quick charge if the FreeBuds Pro are flat.

Final Thoughts?

I really enjoyed using the Huawei FreeBuds Pro that gave me both comfort and wireless audio quality with no Bluetooth drop-outs. Best of all, it easily connects to your Android phone and while they work straight out of the box (or charging case), Huawei give you additional control through their app and the only tricky aspect of this product is initially removing them from the charging case. Apart from that, they are well-priced and it really gives its competitors a run for their money.

Highlights
Cut Down the Noise from Inside and Outside
Adopting the Hybrid Active Noise Cancellation Technology, the inward-facing and outward-facing microphones detect the out-of-ear and in-ear residual noise, and then the dynamic drivers generate accurate anti-noise signals. Achieving up to 40 dB1 noise cancelling effect,

HUAWEI

FreeBuds Pro allows you to experience the tranquility and purity.
Read the Surroundings, Optimize Noise Cancellation
Recognizing the ambient sounds intelligently,

HUAWEI

FreeBuds Pro switches the noise cancellation mode accordingly for a more suitable hearing experience.
Let the Sound Through, Make the Voice Clear
No need to take off your earbuds. Just a long press, you can switch to awareness mode and reconnect with your surroundings. The unique Voice Mode2 reduces the ambient sounds to make human voices stand out. So you don't miss the airport broadcasts or a quick chat with friends passing-by.
Feel the Breeze, Not the Noise
The earbuds' delicate windproof structure and fluid mechanical design eliminate any whistling sound caused by air friction. Feel free to enjoy the breeze when walking, running and cycling.
Smart Control at Your Fingertips
The highly sensitive sensor responds accurately to your demands. With swipe, press or pinch, you can turn up or down the volume, take calls, or change your music easily. Smart interactions, easy to control.
Ready to Last, Enjoy Your Best
With noise cancellation turned-off, a single charge brings you up to 7-hour listening, and up to 30 hours when coupled with the charging case. You can also use your smartphone or tablet to reverse-charge the charging case while you are on the go.
For more information, please visit https://consumer.huawei.com/au/audio/freebuds-pro/