Hardware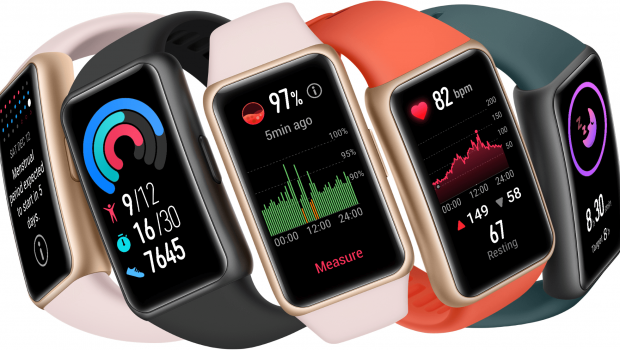 Published on August 12th, 2021 | by Andrew Bistak
Huawei Band 6 Review
Summary: The Huawei Band 6 is a great smart device for those looking to improve their fitness without being bogged down with too many smart watch features.
If you're looking for an accessible and useful smart activity watch, then the Huawei Band 6 provides everything you need to monitor your fitness and health. Rather than the gimmicky 'smart' watches that boast a plethora of useless apps, Huawei continue their philosophy of delivering a product that not only focuses on health but relevant functionality without the bloatware.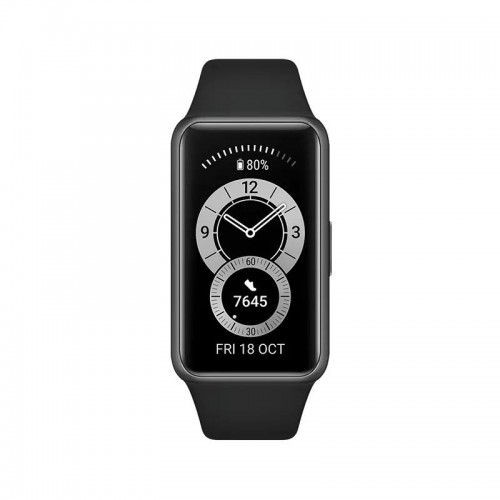 Furthermore, it boasts a larger 1,47" display than its predecessor, all-day SpO2 monitoring and a 2-week battery, although there is a caveat to the later. Additional it boasts 24/7 heartrate monitoring that alerts you to both low and high heartrate, a whopping 96 workout modes, notifications, music and improved sleeping tracking with TruSleep 2. Like FitBit, it also comes with a menstrual cycle component to prompt the wearer and sleep recommendations to improve your overall sleep hygiene.
Unboxing
Well-packed from Huawei, the first thing we noticed about the Huawei Band 6 was its larger AMOLED FullView touch display with a resolution of 194 x 368 with 282 PPI to ensure clear text and colourful images. It also comes with a wealth of different watch faces that are easily swapped to allow it to mimic some of your personality in its appearance. While many watch faces are free via the Huawei store, some require a purchase.
Another highlight in its physical design besides the one button on the right is the band itself that adds to its overall appearance plus it boasts an anti-scratch display. After wearing this watch for a few weeks now, I had no issues with rashes or redness as it is made from skin-friendly UV treated silicone that can easily be washed. Then you have the weight of the Band 6 at just 18 grams which makes it truly lightweight. Additional bands can be purchased if you want to spruce up your colours.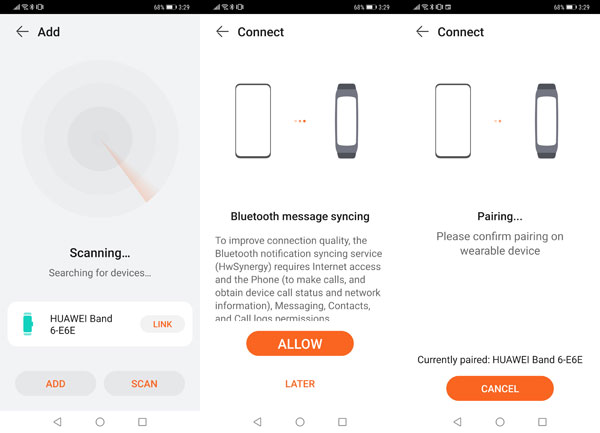 To setup the watch, you simply download the Huawei Health app and then choose 'add' device and follow the wizard to complete the process. Unlike some of its competitors, the entire process is fast and easy. Further, the Huawei Health app is well-made which makes navigation a breeze and the information displayed is easy to read, particularly its graphs as you improve your overall fitness or maintain your current level.
As mentioned, there is a caveat to the 2-week battery life on the Huawei Band 6. Although I could not achieve this result during my testing, to get into this figure, it is with 'typical' use that according to Huawei is …  "heart-rate monitoring and sleep tracking on; screen checked briefly 200 times, 50 messages, 6 calls and 3 alarm reminders within 24 hours; workout for 30 minutes per week." For me, the battery was around 10-days and that's with heavy usage. It's also great that with just 5-minutes of charging you can get 2-days of additional use and it's USB-C for fast charging.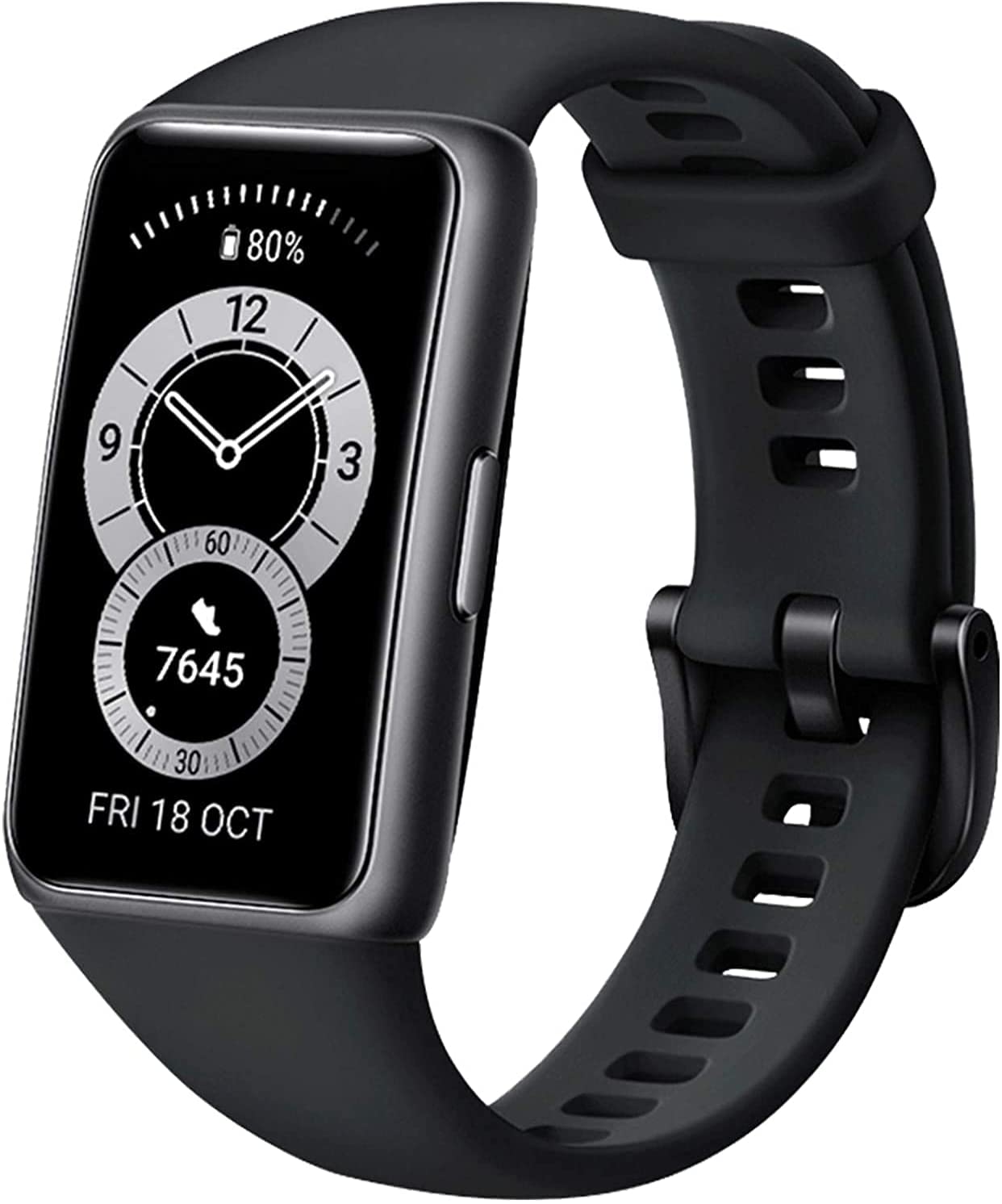 With daily activity goals (steps, hours active, intensity) to help with your fitness and reminders to move which is very useful when working from home due to lockdowns, the Huawei Band 6 boasts 96 different exercises that it can monitor which include activities such as running, Taekwondo, dancing and even random yet physical ones such as laser tag or kite flying. All these exercises track heartrate, calories and are recorded on your phone via the Huawei Health app. So as you can see, the Huawei Band 6 tracks a plethora of movement opposed to just running, walking or basic gym work. Although when you mow the grass or push a pram, you do notice that your steps are unfortunately down as your arm is not moving as much.
As mentioned earlier, when it comes to health and fitness, the Huawei Band 6 is your virtual guardian and the ability to monitor your heartrate 24×7 is a very valuable feature that for some, could be lifesaving as it will alert you if your heartrate goes too high or low. The other important health element of this watch is that it monitors SpO2 which is oxygen saturation and if this is low, it can lead to fatigue, memory loss and even worse, brain and heart damage. For both these health features, the watch will vibrate to inform you.
Additionally there is a stress component on the watch to help reduce your stress by breathing exercises which is a type of mindfulness. While physical exercise and relaxation are important to your health, so is sleep which is where Huawei's TruSleep 2.0 comes into play that through the inbuilt functionality of the watch and its clever algorithms, it monitors your different sleep states and each morning gives you a sleep report plus recommendations to help you rest better at night if you slept poorly.
From a smart watch component, you can view calls (including muting your phone), viewing messages, checking the weather and control the shutter on your Huawei smartphone plus store music on the Huawei Band 6 which is done through the Health app. The ability to store music on the watch itself is indeed a godsend as it removes your phone from the equation when running or even at the gym for that matter. Then you have a torch and my favourite feature, "Find Phone" that on Huawei Phones will sing out to the user "I'm here" or ring the phone on other devices.
Final Thoughts?
The Huawei Band is priced at $139 and is great value for money for those looking for a very affordable and truly smart activity tracker. While it is missing an in-built GPS, this can be done through your phone and for most people, it is a moot point. Lastly, it is a well-designed watch with a very clear screen and its monitoring (e.g. heart, sleep) are quite accurate when compared to other products. It's definitely a smart device for those looking to improve their fitness without being bogged down with too many smart watch features.
For more information, please visit https://consumer.huawei.com/en/wearables/band6/