News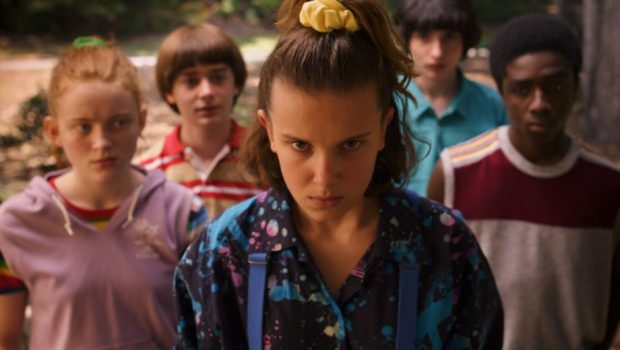 Published on August 9th, 2019 | by Damien Straker
How Much Stranger Things Stars Earn on Social Media
Millie Bobby Brown earns an average of £87k per sponsored Instagram post, new research reveals.

A new guide breaks down the income and expenditures of the most-followed Instagram celebrities to reveal the cost of their lavish lifestyles.

With a net worth of £3.2 million, Millie makes the average UK salary in just 4 days, 16 hours, 40 minutes and 48 seconds.
Following confirmation that Stranger Things season four is underway, breakout star Millie Bobby Brown may look to negotiate a second salary increase based on the success of the third series. She reportedly received a total of £2.3 million for series three, as well as earnings from social media endorsements with Moncler, Converse and Calvin Klein.
Social media is continuing to rise as a powerful marketing tool, with celebrities charging thousands for a sponsored post promoting a brand or product to their followers. The higher their follower count and engagement rate, the more influencers can charge per post – but what do they do with their earnings, and could this money be put to better use?
Celebrity Spend Comparison looks at the sponsored post rates, annual incomes and expenditures of the ten most-followed celebrities, to reveal how their income compares to the average UK worker and how the money could otherwise be used to better society.
According to an eMarketer report, celebrity influencers with more than 500k followers can rake in an average of £1,667.67 per post on the platform, or 0.0033p per follower. Based on this calculation, Millie Bobby Brown can charge a staggering £87.4k per sponsored Instagram post – £35k more than Finn Wolfhard and £46.5 more than Noah Schnapp.
At just 15 years old, Millie made 77 times the average UK salary (£29,588) with her Stranger Things season three salary alone. The other young actors in the main cast (Finn Wolfhard, Gaten Matarazzo, Noah Schnapp and Caleb McLaughlin) claimed £180k per episode, meaning they made nearly 49 times the average UK salary for the entirety of season three. The total sum received by the five core cast members (£8.06 million) could pay for 895 students to go to university, or put 212 police officers on Britain's streets.
The sum each cast member can charge per sponsored upload will only increase with their popularity and career, as Dwayne "The Rock" Johnson reportedly commands a seven-figure social media fee in each film contract. As the most-followed male actor on Instagram, the Rock stands to make more than £520,000 from each sponsored post on the platform – £432.5k more than Millie Bobby Brown.
The Rock's £99 million earnings from his acting roles in 2018 represent the largest recorded annual income for acting, while he also makes a fortune from endorsement deals with Ford, Under Armour and Apple. Of this income, Johnson splashed out £52 million on a Gulfstream G650 private jet – money that could otherwise have paid the salaries of 1,374 police officers.
The most-followed celebrities featured include: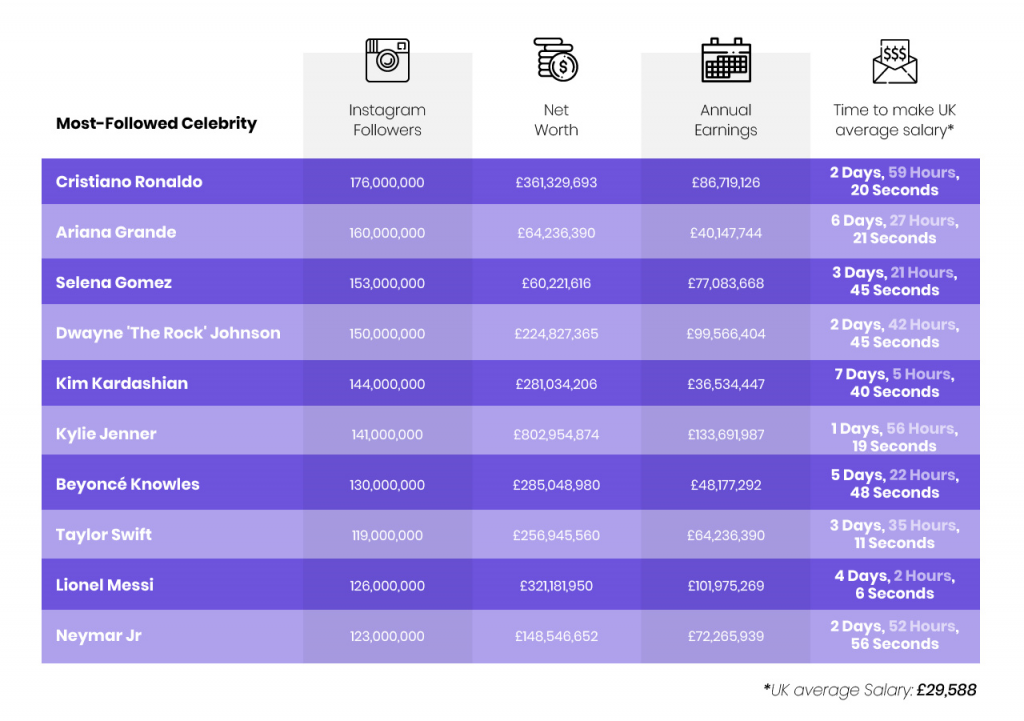 The ten most-followed Instagram celebrities rake in a collective £4.5 million per post – a figure that is only expected to grow as social media marketing rises in popularity. To see how the most popular celebrities spend their money and what this money could otherwise have been spent on, visit Celebrity Spend Comparison at: https://www.celebrityspendcomparison.com/