Comics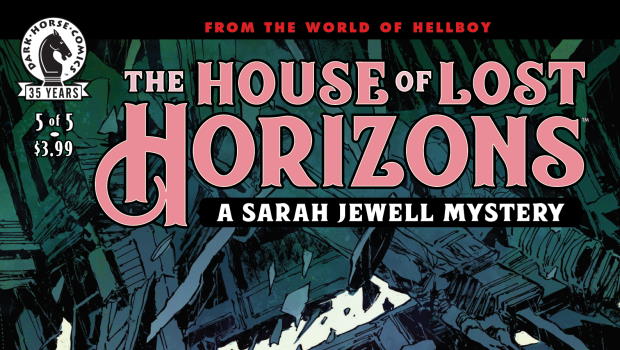 Published on September 7th, 2021 | by Chris O'Connor
House of Lost Horizons: A Sarah Jewell Mystery #5 Review
Summary: Sarah and Marie Therese have uncovered the murderer... but things aren't that simple and supernatural forces will determine the fate of those stuck on the island.
Sarah and Marie Therese have identified the murderer, but that isn't the biggest challenge they face. As supernatural forces make their presence known to all on the island Sarah and the others are put in danger due to the selfish actions of one.
Writing
There are some pretty cutting moments in this story… the distinction between the rich and the poor, those of fair skin and those of coloured. The idea that someone can consider one life worth less than another simply because of their social standing. It makes the payoff/conclusion perhaps all the more satisfying. That sense of entitlement some people have… some people may read this story and think it's playing it up a bit for dramatic effect… those of us who have seen/read a lot of true crime stories will know that this isn't even the worst or pettiest people have been over what they think they are due. It ends up being kind of Agatha Christie mixed with Chris Carter and that is not at all a bad thing.
Artwork
This one is all about the expression of the faces! There are some great looks going on here and they all really bring home the gravity of the situation in this story. The colours also do a fantastic job of bringing it all to life. The main story features some brilliant, bright bold colours that contrast nicely with the more muted tones of the flashback panels. The bright lightning flashes do an excellent job of being a visual representation of their real world counterpart… a sudden jarring moment to break up the atmosphere.
Final Thoughts?
I didn't catch the preceding four issues of this story arc but I never felt that I was missing anything as I read this final portion. I can imagine the build up that lead here but I was more than happy just digging into the frantic feeling of these pages… the panic that sets in, the confession but apparent lack of remorse and the ultimate fate. It's all quite satisfying and a fun/frightful tale. If you've been following the series then this is pretty obviously going on your shopping list. If you haven't caught the previous issues, don't worry too much as the main story is pretty well fleshed out here anyway and the conclusion feels just as satisfying with the build up we get in these 32pages. If you like the extended Hellboy universe… grab a copy!
Comic Details
Publisher: Dark Horse
Writer: Mike Mignola, Chris Roberson
Artist: Leila del Duca
Colourist: Michelle Madsen
Cover Artist: Christopher Mitten
Genre: Crime, Horror
Format: 32pgs, FC, Miniseries
Release Date: 15th September, 2021