Games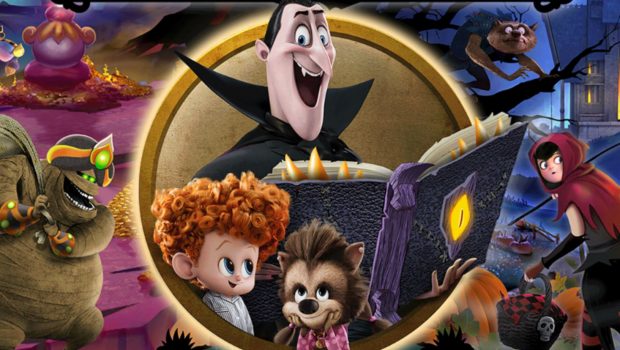 Published on April 14th, 2022 | by Adrian Gunning
HOTEL TRANSYLVANIA: SCARY-TALE ADVENTURES LAUNCHES ON CONSOLES AND PC TODAY!
Sony Pictures Animation's hit animated franchise heads out on an eerie-sistible video game adventure as Drac, Mavis and the gang set 2022's ultimate squad ghouls!
Outright Games, the leading global publisher of family-friendly interactive entertainment, in collaboration with Sony Pictures Consumer Products today release Hotel Transylvania: Scary-Tale Adventures on Nintendo Switch  and  digitally on PlayStation, Xbox, and PC. Explore classic fairy tale worlds, face fearsome foes and solve fiendish puzzles in this brand-new video game featuring everyone's favourite characters from the smash hit animated movies!
Hotel Transylvania is one of Sony Pictures Animation's most successful original movie franchises to date, with the first three movies achieving a combined box office of over $1.3 billion. The final chapter in the series, Hotel Transylvania: Transformania was released exclusively on Amazon Prime Video in January 2022 .
In Hotel Transylvania: Scary-Tale Adventures, dive into unique worlds based on classic fairy tales Little Red Riding Hood, Ali Baba and the Forty Thieves and The Emperor's New Clothes but with a spooky Hotel Transylvania spin! Become Little Red Riding Mavis and watch out for Big Bad Wolf Wayne, collect valuable trinkets for the King of Thieves to enter The Cave of Treasures and solve puzzles to unlock the ruined temples and find Emperor Blobby's New Clothes.
Play as Drac and Mavis, each with their own fang-tastic vampire skills like super strength, immobilisation powers, super jumps and more while exploring spook-tacular storybook worlds and defeating the creatures that haunt each chapter. Players can meet other famous Hotel Transylvania characters along the way as well! Johnny, Murray, Wayne and more will guide players to use their special abilities, complete exciting quests, devious challenges, fiendish puzzles and unearth hidden collectibles. With so much at stake, Drac and Mavis are Count-ing on their biggest fans to save the day!
`'We're feeling fab-boo-lous that Hotel Transylvania: Scary-Tale Adventures has launched today!" said Terry Malham, CEO of Outright Games. ''We've had a great time taking such iconic characters and transporting them to these beloved fairy tale worlds all with a unique Hotel Transylvania twist. We feel in our bones that the game is a fun filled adventure for the whole family to enjoy!''
Hotel Transylvania: Scary-Tale Adventures releases today on PlayStation, Xbox, Nintendo Switch and PC. For more information go to https://en.bandainamcoent.eu/hotel-transylvania/hotel-transylvania-scary-tale-adventures