PS4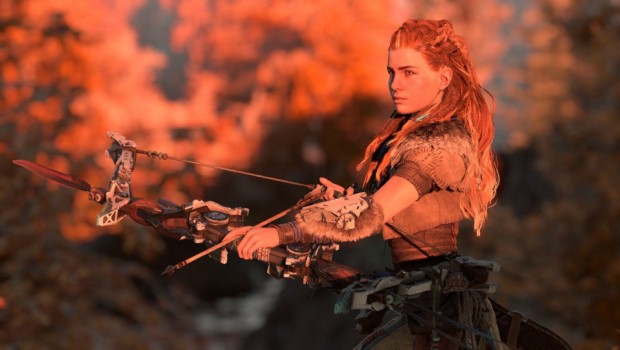 Published on March 11th, 2017 | by James Wright
Horizon Zero Dawn Review
Summary: Horizon Zero Dawn is epic on almost every level that is not only well crafted in terms of mechanics but beautifully designed.
Given the hype surrounding Horizon Zero Dawn thanks to the amazing trailers, gaming expos and gorgeous screenshots, it's understandable why this game has been on the radar of PlayStation 4 owners for so long and now it's finally here for us to experience this gaming blockbuster. However with every blockbuster game there is a sense of trepidation of how the final game will be play and more importantly will it live up to our expectations… I can now officially report the answer which is yes on almost every level. Horizon Zero Dawn is an epic game and from the very first moments that you are drawn into this future post-apocalyptic world of a well-crafted tale, stunning graphics and sturdy gameplay mechanics… still don't believe us? Take a look at the launch trailer below!
Set in the distant future, mankind has suffered a massive blow in its past and as a result, they now live in tribes as nature has reclaimed the lands. It's also a world filled with many dangers, including these amazing robotic beasts which roam the lands of this post-apocalyptic landscape that makes this one of the most visually impressive titles on the PlayStation 4 and PS4 Pro. The protagonist of Horizon Zero Dawn is Aloy, a curious outcast who becomes involved with the Nora tribe who distrust anything technological from the past. However Aloy has a deeper connection to this past as she leaves the grounds of her tribe in order to dissect her past, including who her mother was and how did humanity fall, including the secrets of these giant mechanical beasts which roam the lands. I also like the 'mystery' how mankind is no longer the prime predator on the planet but rather, these powerful technological advanced beasts are which roam the lands.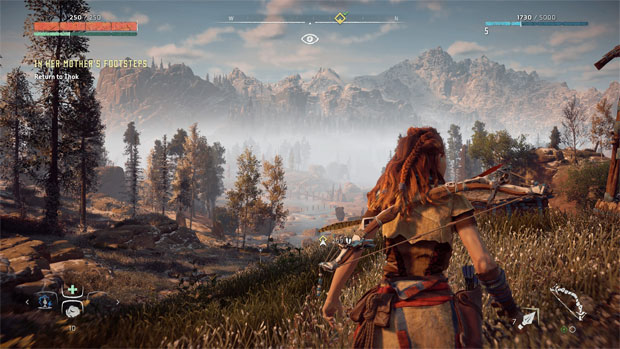 In terms of storytelling and without spoiling the epic nature of Horizon Zero Dawn, developers Guerrilla should be commended in creating such an engaging story with the right amount of twists and mysteries to keep you invested. I enjoyed how the developers have linked this future world with the past, particularly with Aloy finding a device that not only helps her achieve this but is also a useful tool while she hunts for answers. This device also has the ability of displaying messages from the past that adds to the overall story of Horizon Zero Dawn which is one of emotion, intrigue and at times sadness. Of course it does help that we have a positive female protagonist who helps merge these two worlds together. Unfortunately for and as a result of her technological dabbling, she becomes as ostracised from the pious Nora tribe.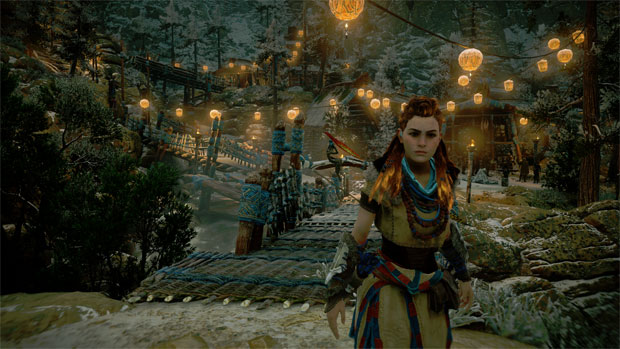 Navigating the world of Horizon Zero Dawn is a pure joy as you explore this world as Aloy. Thankfully the sturdy control mechanics make this an easy task. Sure, there are times where controller rage comes into play but for the most part, the mapping of the controlson the DualShock controller works extremely well. It's also quite an interactive world and the third person view is used well as you move through the gaming environment, whether it's running, riding beasts or climbing precariously up mountains, it just feels right.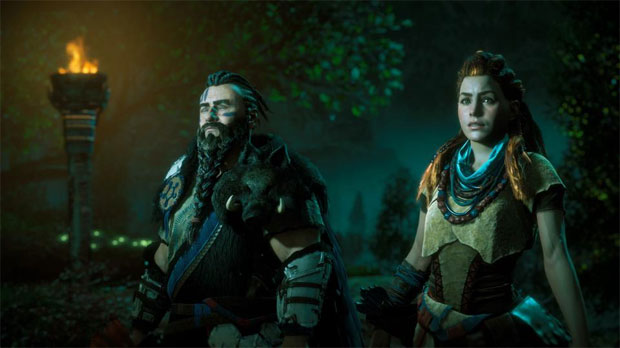 However where the Horizon Zero Dawn comes into its own is through the combat mechanics that adds plenty of different play styles and strategies to use. So whether you're a more forceful player or one that likes to plan ahead (e.g. traps), the game will assist in this process. The primary weapon for Aloy is the bow which works quite flawlessly in the game with L2 to use and R2 to release the arrow. There are other weapons, however the bow just felt so natural.
However you do need to mix and match your weapons in order to take on more powerful foes thanks to explosions and even the ability to freeze your enemies. To help with the realism, you do get some support from NPC's and more amusingly, trick your enemies into fighting each other. Given that, the enemies in the game range from very easy to at times insanely difficult but very rewarding when you do take them down. However as most games contain an element of grinding, Horizon Zero Dawn doesn't make it a chore (too much) and the XP you earn is used to upgrade Aloy. So when it is time to 'level' up, you can decide between three different skill trees that include Prolwer, Brave and Forager which helps fine tune your character.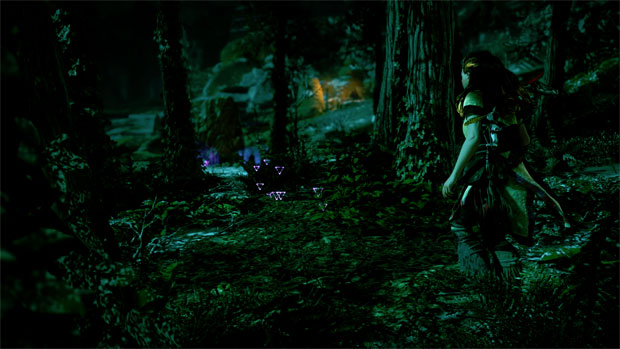 Furthermore, there's plenty of equipment and weapons such as bows and guns to be gathered on your journey, including outfits and armour. Add in the ability to upgrade certain items and this allows you to not only explore this diverse gaming world but it helps in powering up Aloy which is needed as you progress through the various missions and submissions. At the end, Horizon Dawn Zero is a well crafted game with some sturdy gaming mechanics that are very enjoyable and at times spectacular when you succeed at doing the unthinkable… so think BIG when you're playing this game.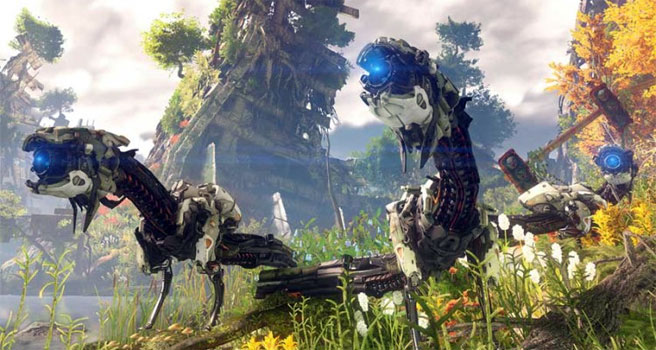 Graphics & Audio
Graphically, Horizon Zero Dawn is a beautiful looking game on the PlayStation 4 with some very diverse environments that really channel both the post-apocalyptic look and a world claimed by nature. I love the different areas that you explore with some being quite lush and green, whereas others such as the ruins that you explore are darker and more mysterious or Spartan like the deserts. You can even share these wondrous areas thanks to the Photo Mode and there are some gorgeous photos that have been posted by players from around the world. Oh… and the draw distance is !#$@ amazing!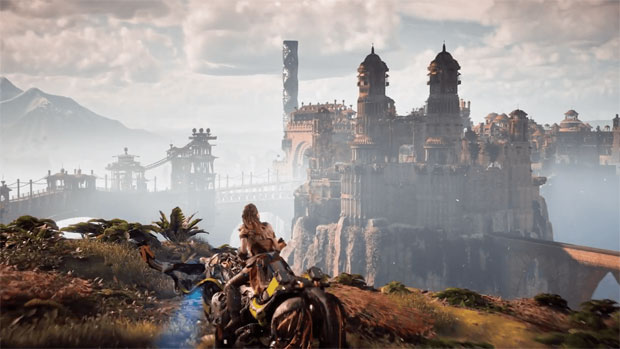 Then you have the detailed characters and the amazing mechanical beasts that roam Horizon Zero Dawn which don't look out of place but rather feel like they are part of this sci-fi world. Lastly, you have some great effects and lighting (especially the transition from day to night) to help with the realism and overall, this is one of the most beautiful looking titles on the PlayStation 4 that I have experienced. To complement the game, the voice acting and sound effects go hand in hand with the gameplay as does the soundtrack which is quite haunting at times.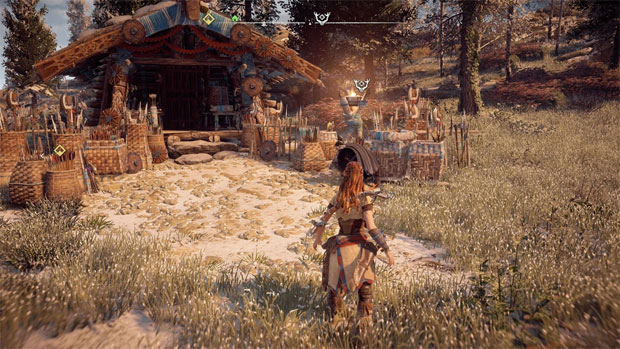 Final Thoughts?
There's been much hype surrounding Horizon Zero Dawn and thankfully it has delivered in more ways than one. It boasts a very likeable and interesting protagonist and the story behind Horizon Zero Dawn is one that is filled with mystery and intrigue. Of course, it's all about the gameplay and Guerrilla should be commended in creating such a fluid and dynamic game as you explore this post-apocalyptic world 1000 years in the future that is filled with different cultures and even history which seems so real. Combat is fun and the missions are diverse and at the end of the day, Horizon Zero Dawn is a title that really raises the benchmark on the PlayStation 4.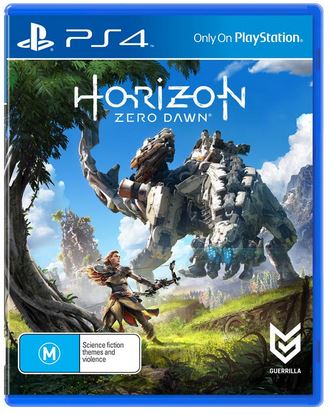 Game Details
Primary Format – Games – Playstation 4
Game Genre – Action & Adventure
Rating – M
Consumer Advice – Science fiction themes and violence
Game Developer – Guerrilla
Game Publisher – Sony Computer Entertainment