Games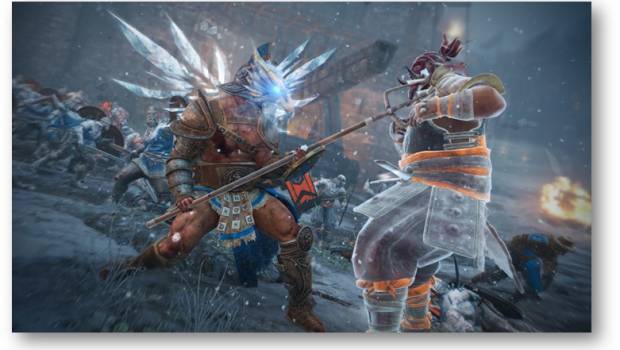 Published on December 19th, 2017 | by Admin
FOR HONOR® HOLIDAY EVENT BRINGS A DEADLY CHILL TO THE BATTLEFIELD ON DECEMBER 21
Frost Wind Festival Adds Limited 2v2 Brawl Mode and Themed Customisation Items
SYDNEY, AUSTRALIA — December 19, 2017 — Ubisoft has announced that For Honor will host a holiday event, the Frost Wind Festival, across all available platforms from December 21, 2017 to January 4, 2018. During the event, players can participate in a new Brawl mode and loot exclusive winter-themed cosmetic gear.
Starting December 21, the Frost Winds will blow through the world of For Honor to bring forth an icy battlefield. Players will be able to access a new 2v2 Brawl mode, Ice Brawlers, where they will fight atop a lake of thin ice. As the battle continues, they must be wary of the cracking ice that will eventually lead them to an icy grave.
The Frost Wind Festival also brings frost-themed rewards that players can use to customise their heroes. Battle outfits, new weapons, mood effects, emotes, and more can be obtained by playing any game mode during the event.  In addition, for a limited time, players can access a new Mask outfit, which are unique per faction, for a discounted price of 15,000 Steel per Hero. A bundle featuring frost-themed items, which will dynamically change based on owned items, will be available for each Hero starting on December 28.
Developed by Ubisoft Montreal in collaboration with other Ubisoft studios,* For Honor offers an engaging campaign and thrilling multiplayer modes. Players embody warriors of the three Great Factions – the bold Knights, the brutal Vikings and the deadly Samurai – fighting to the death on intense and believable melee battlefields. The Art of Battle, the game's innovative combat system, puts players in total control of their warriors, allowing them to utilize the unique skills and combat style of each hero to vanquish all enemies who stand in their way. For more information about For Honor, please visit forhonorgame.com and follow us on Facebook at facebook.com/ForHonorGame and on Twitter at twitter.com/ForHonorGame. For the latest on For Honor and other Ubisoft games, please visit ubiblog.com.
*Associate Ubisoft studios include Quebec, Toronto and Blue Byte.