Films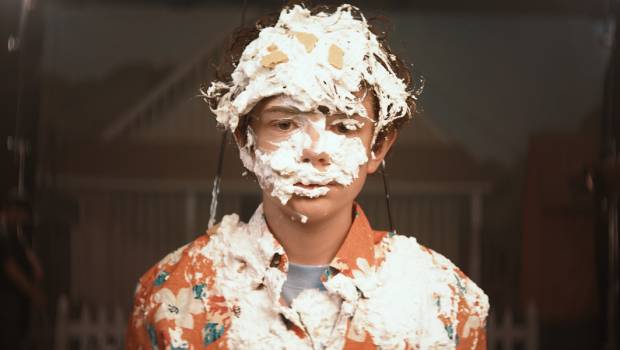 Published on February 23rd, 2020 | by Damien Straker
Honey Boy – Film Review
Reviewed by Damien Straker on the 23rd of February 2020
Sony presents a film by Alma Har'el
Produced by Brian Kavanaugh-Jones, Christopher Legget, and Daniela Taplin Lundberg
Written by Shia LaBeouf
Starring Noah Jupe, Shia LaBeouf, Lucas Hedges, and FKA Twigs
Music by Alex Somers
Cinematography Natasha Braier
Edited by Dominic LaPerriere and Monica Salazar
Rating: MA15+
Running Time: 95 minutes
Release Date: the 27th of February 2020
Honey Boy's metanarrative requires intense mental gymnastics. It is a fictional version of Shia LaBeouf's early life where he plays his own father. Adding to this complex, Freudian character study, real names have been changed and actors of different ages are cast as LaBeouf himself. LaBeouf's story is ripe for cinematic exploration because he is undeniably an enigmatic fellow. At the age of ten, he was a seasoned performer and by fourteen he starred on Disney's television show Even Stevens. Now thirty-three, he has already worked with several major directors, including Steven Spielberg, Lars von Trier, Michael Bay, and Andrea Arnold.
However, his talent has been overshadowed by alcoholism and episodes of narcissism. Various incidents saw him undertake rehab in 2017. He has also been involved with bizarre, attention-seeking publicity stunts, such as wearing a paper bag on his head that read 'I AM NOT FAMOUS ANYMORE' at a film premiere. To counter his erratic behaviour, he was ordered during rehab to write about his life experiences.
Consequently, he chose to dramatise his troubled relationship with his father, Jeffrey LaBeouf. Documentary filmmaker Alma Har'el, a long-time friend of LaBeouf, has ensured this project avoids self-indulgence or being another arthouse stunt. Her feature debut is a grizzled examination of alcoholism across generations. It associates artistry with self-empowerment. It also evokes her personal experiences because her father was an alcoholic.
In the film, LaBeouf has been renamed Otis. The story opens in 2005, with the adult Otis (Lady Bird's Lucas Hedges) in a drunk driving accident where he is arrested by the police. He is taken to rehab for counselling but nightmares about his father see him resist treatment. Honey Boy then cuts to Otis as a child (played by A Quiet Place's Noah Jupe). As a twelve-year-old, Otis is working on a television show. He has hired his father, James Lort (LaBeouf), to be his chauffeur because no one else will touch him.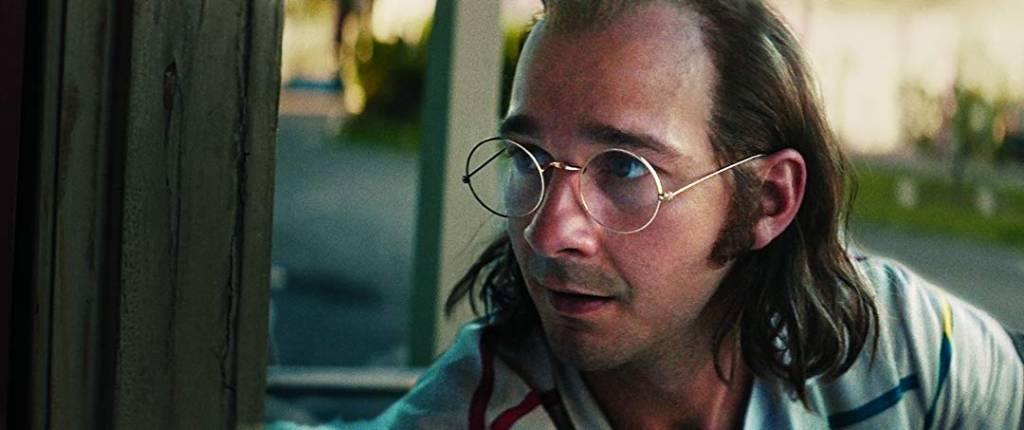 James is currently undertaking AA meetings. He is also a Vietnam veteran, a sex offender, an ex-con, and a former rodeo clown. While residing in their motel room, James bullies Otis. He demands perfection when rehearsing scenes. He also grows violent around Otis' Big Brother friend, Tom (Clifton Collins Jr.) and screams at his ex‑wife on the phone. In his father's absence, Otis forms a gentle bond with his neighbour, Shy Girl (English recording artist FKA Twigs), who is a prostitute.
Alma Har'el and cinematographer Natasha Braier (The Neon Demon; The Rover) have utilised cinematic and naturalistic techniques to enrich the drama. An early stylistic choice involves quick cutting between scenes. The prologue where Otis drinks, crashes his car, and is arrested is cut in quick succession so that the images overlap.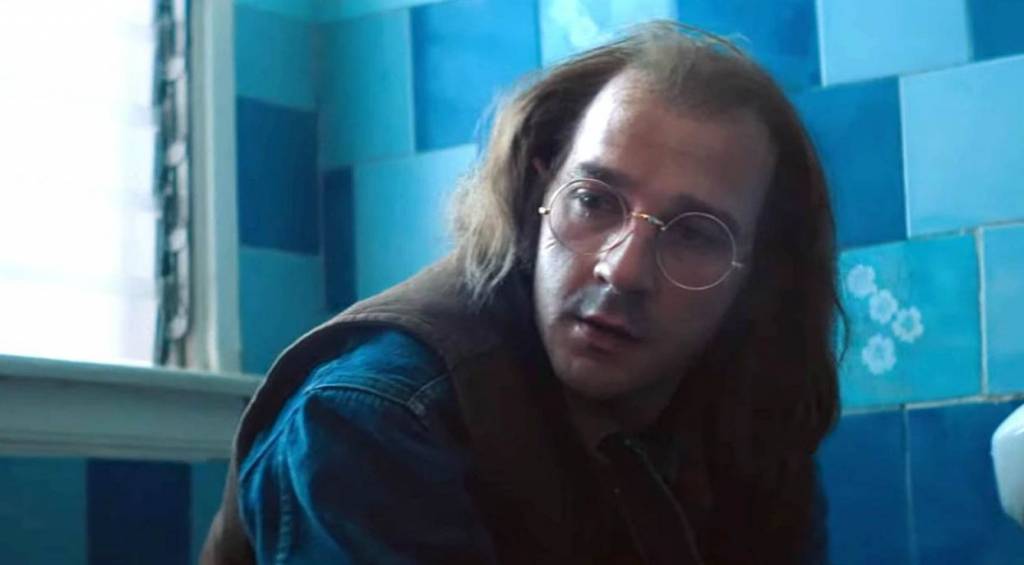 Effectively, Otis' sense of geography is erased as the distinction between moviemaking and real-life dissolves. The technique signposts the film's metanarrative where real-life events and fiction become inseparable. A similar blurring effect is evident in a clever opening gag shot on the set of an action movie. Otis is filmed in an unbroken take being blown backwards by an explosion while on a wire. Once the smoke clears, he is repositioned for a second take.
The scene comically illustrates the collision between life and filmmaking and how Otis is imprisoned by showbusiness. The scene is mirrored by a childhood flashback where Otis is hit with a pie and pulled back on wires. Alma Har'el compared his fragile existence to having marionette strings like Pinocchio.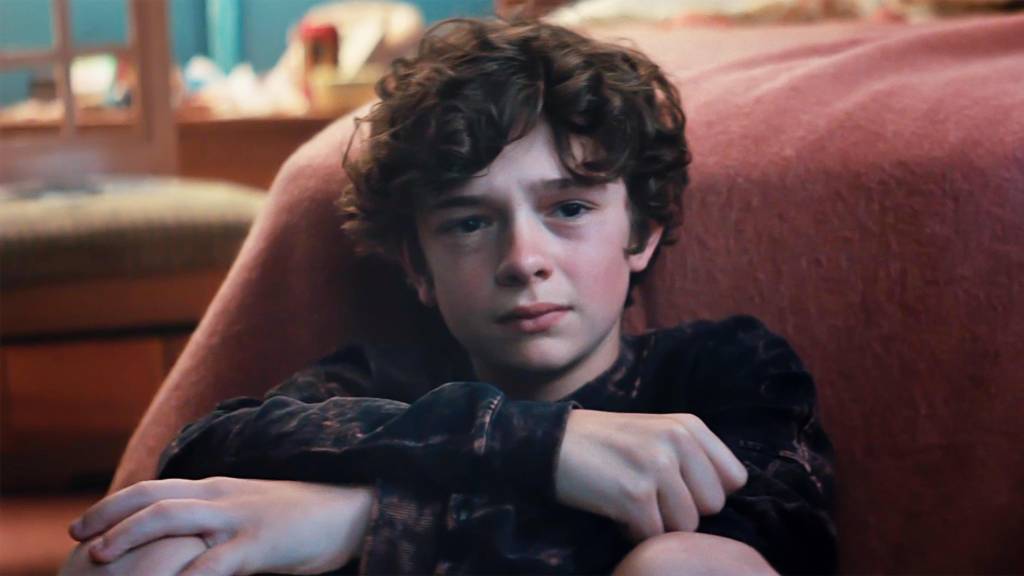 Braier's photography has influenced the staging of conflict. Braier and Har'el agreed to provide the actors with creative freedom during a scene to amplify its realism. They said their camera would spontaneously follow the actors so they could determine a scene's action themselves. One example is a standoff in the motel between James and Otis. Braier shoots the exchange in one continuous, unbroken take. The extended shot duration reflects the tense stranglehold James has over his son and the intrusion on Otis' spatiality and creativity.
The abusive relationship involves bullying Otis about his body shape, berating him about his performances, and, on one occasion, hitting him. The visuals are integral to exploring their bond. The film was shot in a real motel and Braier stressed she wanted the colours to resemble an old circus poster. This stylistic choice illustrates how James' professional failings press him to bully his son. Similarly, the repeated image of Otis riding on the back of James' motorcycle visualises their intense co-dependency. Lastly, there is also an attractive shot where Otis sits poolside as the natural light reflects off the water. There is tranquility in his father's absence.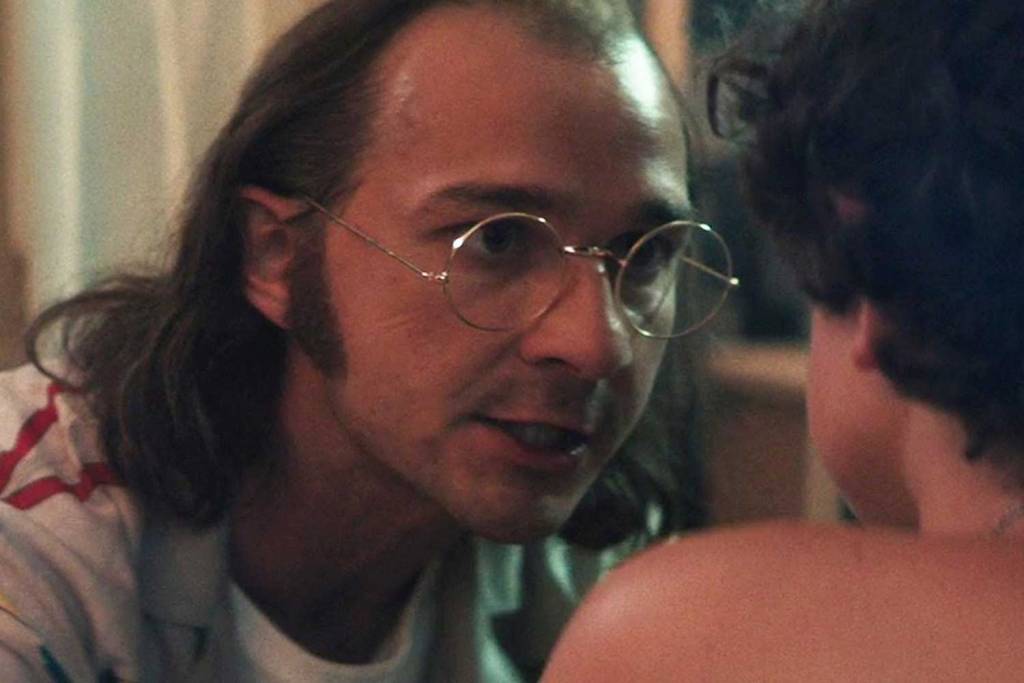 Har'el's cinematic thesis, where creativity is a form of medicine, is visible throughout Honey Boy. It started as a short film dramatising the father and son conflict. It was therapeutic for LaBeouf to resolve his parentage. The feature expands the generational gap by exploring the personal journeys of both the young and adult Otis. James says to his son, 'I'm your cheerleader, Honey Boy'. Yet Otis believes he is only present for the money.
James is an unreliable employee because there is a great shot of Otis waiting on the set for his father. The wide angle reflects his loneliness against the backdrop of show business. While submissive, Otis draws comfort from Shy Girl. Their bond is sexless but allows Otis to confidently resist his father's tyranny. Intercutting to Otis' rehab shows their relationship is unresolved and alcoholism is inherited. Since Otis believes James steals his ideas, he needs a story that his father would never tell to resolve their animosity and reinvigorate his creativity.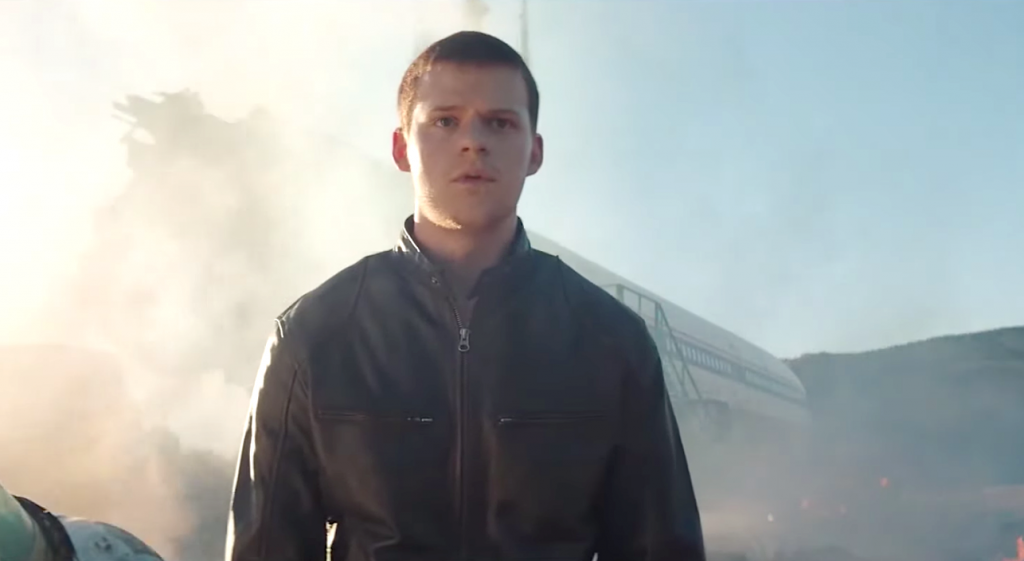 The film is elevated by a trio of strong performances. Shia LaBeouf is an actor who has undeniably taken creative risks, both good and bad. What could have been self-indulgent is utterly compelling. Nothing about his riveting performance is glorified. His raw, authentic portrayal of a terribly flawed man is dogmatic, aggressive, and violent. According to the film's notes, this is rather chillingly who Jeffrey LaBeouf was.
Sometimes he attempts to be charming, such as showing Shy Girl a lame magic trick, and courteous when disciplining Otis for swearing in front of a woman. However, his aggression illustrates a man frustrated that his son lives the American Dream that eluded him. He explains to Otis, 'you come from a line of alcoholics, good people hurting who don't know what to do so they drink'. He will only be remembered for tricks with chickens. It is a brave, layered performance of great honesty.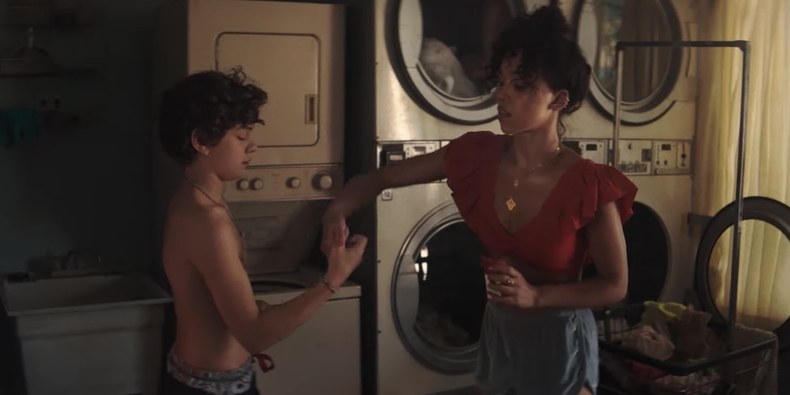 Fourteen-year-old British actor Noah Jupe is a strong foil with an effortlessly naturalistic performance. He successfully transitions from submissive and obedient to an assertive fellow who resists his father's will. His premature but sweet interpretation of Shy Girl's love is a catalyst for his growth. 'She holds my hand, you hit me', he says to James. She provides the parental affection he craves from his father. Despite limited screen time, Lucas Hedges embodies the anguish and cold attitude of the adult Otis.
He resists treatment because he is tortured by painful memories and PTSD. Memory triggers, such as a chicken and a pool, evoke touches of surrealism as he is transported to his childhood. He relinquishes his anxiety by harnessing these memories into a creative piece. FKA Twigs' Shy Girl is a near-voiceless character, which reflects her socioeconomic repression. The scenes she shares with Otis are unique and undeniably poignant. Additionally, the people of colour cast as extras around the motel heightens the impoverished setting's verisimilitude.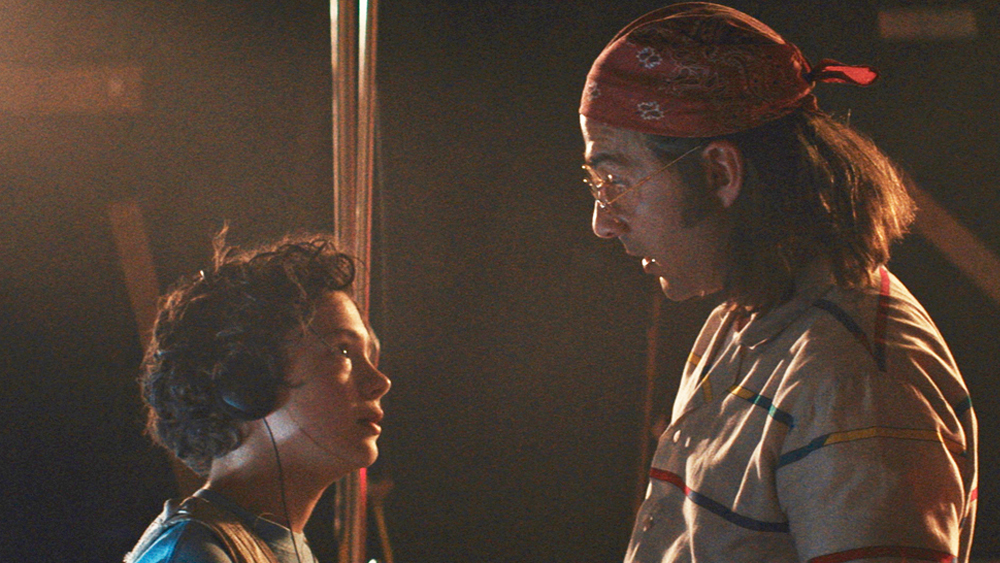 Honey Boy's rough, scratchy exterior is reminiscent of the low-budget indie films Hollywood willingly made ten or twenty years ago. Gritty character studies with major stars now feel increasingly rare. They often have minor releases or are relegated to online streaming services. Honey Boy deserves an audience not only because it is well made and dutifully acted but because it never delves into vanity.
LaBeouf has openly portrayed his father as a repulsive figure and allowed himself to be characterised as a fractured individual suffering from similar weaknesses. The father and son conflict becomes a generational study where creativity is integral to distinguishing a person's individuality from their parents. The quiet humour is balanced with efficient dramatic stakes so that the toughest moments of family drama become highly gripping.
Summary: Honey Boy's quiet humour is balanced with efficient dramatic stakes so that the toughest moments of family drama become highly gripping.