Blu-ray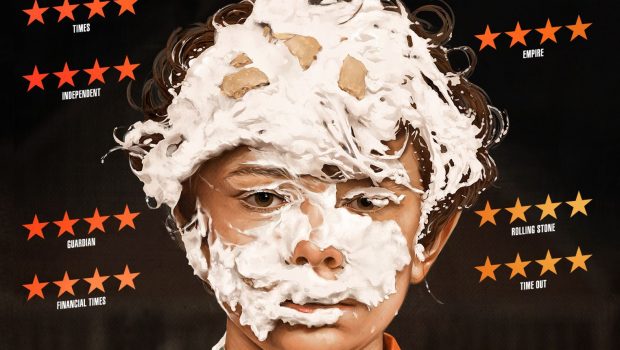 Published on February 21st, 2021 | by Scott De Lacy
Honey Boy Blu-Ray Review
Honey Boy is a rare insight to some of the lived experiences of Shia LeBeouf, that is told in a very blunt and unapologetic dramatic expression through the relationship of father and son.
Otis Lort is a childhood actor that caught the attention of Hollywood due to his immense talent, despite his troubled and problematic upbringing. Living out of a motel room next to resident prostitutes with his father as his manager and employee guardian; an ex veteran alcoholic, drug addicted rodeo clown with a sexual offender conviction, which is the preferable choice to his mother who simply abandoned them due mostly to the breakdown in their relationship.
Otis appreciates the utility of having his father close by to teach him the entertainment business and look out for his best interests. What is evident, is the fact that through all the negative character flaws of his father, Otis still see's the hero in his father and maintains an unwavering loyalty to him.
Honey Boy focuses less on the glamorous aspects of Hollywood and instead of the broken relationship between father and son, by lifting the vale on what is behind the curtain of a childhood actor whom came from ordinary and humble beginnings.
Honey boy, of course is an apt title, as it explores the relationship of juxtapositions of father and son, vs employer and employee between the pair. Honey as a euphemism for money or 'money pot', which is given to the viewer only as a subtext from the title and the impression that the money will soon flow in.
Ultimately, this film depicts the negative outcomes of lived childhood trauma in conjunction with 'Hollywood entitlement', which result in a broken adult with self-destructive behaviours.
Shia LeBeouf delivers a natural and effortless performance channeling a archetype version of his own father; which as a character, can be difficult at times to identify any appealing qualities, yet the delivery invokes a real sense of flawed yet balanced humanity. As the bond between father and son is explored, the dedication James shows towards Otis is compelling.
James is tortured, yet motivated by the burden of his son and jealous of the success that he never had, yet he would put Otis first before his own happiness and well-being, because inherently he knows that Otis has the best chance of 'making it', which if nothing else was known about James, would by most estimations, make him a great father.
Noah Jupe (Wonder, A quiet place) plays 12 year old Otis and absolutely steals the show. Jupe disarms with a gorgeous smile and calm demeanour, demonstrating a constant balance of stoic control with a measure of painful emotion that is on the cusp of exploding out. Jupe is able to turn it on and transition from the at home Otis to 'work Otis' as you would expect any great actor to do.
Unfortunately all great gains of Otis's character is lost in the adult (22) Otis played by Lucas Hedges. Although there are moments of intense emotion, the delivery falls short in comparison with Jupe's delivery, and simply feel phoned in.
Honey Boy is critically acclaimed having been rated with four stars as shown on the Blu-Ray artwork, yet realistically, Honey Boy offers very little in way of story arc, and message. It is simply takes a snapshot in time of dysfunctional family and childhood trauma manifesting as a problematic adult youth, whom despite having the world at his disposal, finds himself unable to deal with this trauma. Any emotional breakthrough or growth that is shown during this period is minimal and is diminished more so by the performance and artistic direction in the film.
For what some considered as an amazing breakthrough cinematic experience, is perhaps more of a matter of perspective coloured by personal lived experienced. For anyone who has never experienced or seen such trauma, this may be an insightful and emotional experience; yet for many, this will simply remind you of a family you already know. That is life after all.
Most assuredly, this film may invoke an acute emotional response, and if so, it will be solely due to Jupe's outstanding performance, and for that reason alone, Honey Boy should not be missed.
Order your copy of Honey Boy today from Umbrella Entertainment
Summary: An unapologetic telling of a traumatic upbringing of a childhood actor, expertly and emotionally played by Noah Jupe. Not brilliant, but worth a look!