Events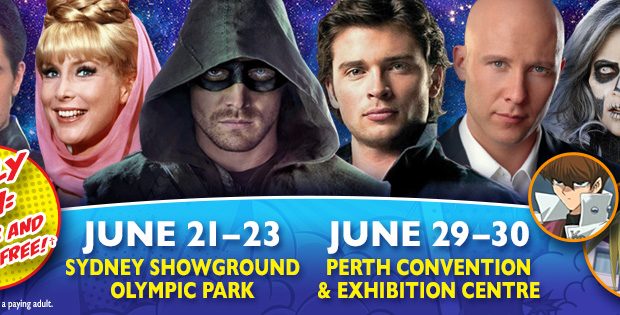 Published on May 1st, 2019 | by Admin
Hollywood Icons, Star Wars Rebels and More Join Supanova's June Supa-Star Lineup
Blink and you'll wish it! Supanova Comic Con & Gaming has enlisted Hollywood legend and I Dream of Jeannie star Barbara Eden to lead the latest Sydney (21–23 June) and Perth (29-30 June) Supa-Star guest announcements.
The classic '60s nostalgia continues, with Eden joined by Barbara Feldon, aka Agent 99 from the original Get Smart series, and Dawn Wells, famed for her portrayal as Mary Ann Summers on Gilligan's Island.
A voice acting legend who has had a role in every Disney animated film since 2012's Wreck-It Ralph, and starred in Rogue One: A Star Wars Story, is convention favourite and Firefly actor Alan Tudyk, who returns to Supanova after recently appearing as Mr. Nobody on DC's Doom Patrol and an upcoming appearance as Iago in the upcoming live-action remake of Aladdin.
Winning over pop culture fans everywhere as John Diggle on Arrow is David Ramsey, and the latest Arrowverse edition to Supanova's June line-up, with lead Stephen Amell (Queen/Green Arrow), Robbie Amell (Ronnie Raymond/Firestorm) and Supergirl's Italia Ricci (Siobhan Smythe/Silver Banshee) confirmed in recent months.
The June voice acting talent continues to take shape too, as US pop culture stars Vanessa Marshall (Justice League: Crisis on Two Earths, Star Wars: Rebels) and Bryce Papenbrook (Attack on Titan) sign on, while Sydney exclusive guest Jeff Weigel leads the June comic creators line-up alongside Donny Cates (Venom, Guardians of the Galaxy, Cosmic Ghost Rider), Megan Hutchison (Rockstars, Liberator), Simon Bisley (Warriors, Lobo, Sláine) and Humberto Ramos (Runaways, The Amazing Spider-Man, Crimson).
Rounding out the latest Supa-Star guest announcement is acclaimed author Julie Kagawa (The Iron Fey series) and cosplay maestros Cowbutt Crunchies.
Unfortunately due to a new film, previously announced guest Lindsey Morgan (The 100), who was slated to join the June tour, has had to postpone her appearance.
Supanova is a celebration of fandom, where the worlds of film and television, fantasy, comic books, anime, sci-fi, cartoons, books, gaming and collectables comes to life! There's something for everyone, including 'cosplay' (costume-role play), fan clubs, musical performances, creative master classes, celebrity Q&As, wrestling, tournaments, competitions and an expo full of shopping possibilities.
Other guests scheduled to attend include:
Tom Welling (Smallville, Lucifer)
Michael Rosenbaum (Smallville, Guardians of the Galaxy: Vol.2, Impastor)
Amanda Bridgeman (Author of The Subjugate, the Aurora series)
Shannon McCormick (Red vs. Blue, RWBY)
Dan Green (Yu-Gi-Oh!, Sonic)
Eric Stuart (Pokémon, Yu-Gi-Oh!)
SUPANOVA BACKGROUND INFORMATION
Supanova Comic Con & Gaming began in Sydney in 2002 as a completely home-grown Australian production showcasing sci-fi, fantasy, comic books, gaming, anime, manga, cosplay and much more. The brainchild of Founder & Event Director, Daniel Zachariou, Supanova is run by diverse and passionate individuals drawn from their respective genre fields of obsession thus making them the perfect team to deliver these events. Supanova takes place in six cities (Sydney, Melbourne, Brisbane, Perth, Adelaide and the Gold Coast), and is Australia's leading and largest event of its kind with close to 200,000 fans expected to attend the Supanova events in 2019.
Supanova is a celebration of pop culture created by the Supanova family, for your family, to "bring out the inner geek" in fans of all ages.
SUPANOVA DATES: 
Sydney: June 21-23, 2019 | Sydney Showground, Olympic Park
Perth: June 29-30, 2019 | Perth Convention & Exhibition Centre