Collectibles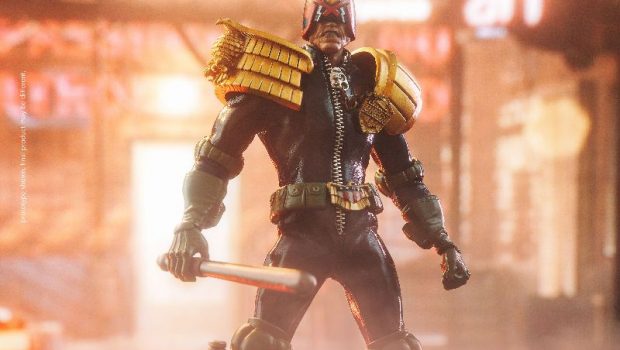 Published on April 28th, 2023 | by Adrian Gunning
HIYA Toys announce 1/12 scale Judge Dredd action figure line
Rebellion and HIYA Toys are proud to announce the launch of a new line of six-inch articulated figures based on the world of Judge Dredd, from the pages of the bestselling comic British comic, 2000 AD.
Hot on the heels of their acclaimed 1/18 four-inch range of articulated figures based on classic Judge Dredd characters, HIYA is to size up the world of Mega-City One to a series of 1/12 scale six-inch figures.
The new HIYA Exquisite Super Series of fully-poseable figures will begin with the ultimate lawman of the future himself – Judge Dredd.
Drawing on more than four decades of ground-breaking comic books set in the world of the classic character created by John Wagner and Carlos Ezquerra in 1977, pre-order for the Judge Dredd 1/12 scale figure launches at the end of April with figures expected to reach retailers in October 2023.
One of the world's most famous comic book characters, Judge Dredd has been patrolling the mean streets of Mega-City for forty-five years and this dynamic and fully poseable figure perfectly captures his iconic look, drawing on the artwork of legendary artists such as Carlos Ezquerra, Mick McMahon, Brian Bolland, Cliff Robinson and more! These hyper-detailed figures feature all-new accessories and materials, including interchangeable heads and hands, and fabric clothing.
With 19 points of articulation, he comes with shoulder and joint pads, chain and badge of office, boot holster, utility belt, and imposing helmet.
This time you can also play with the legendary visage of the future lawman, as this figure will come with four alternative faces: featuring a normal expression, one of disdain, a toothy scowl, and an open-mouthed shout as he declares "I am the law!".
He will also come with five pairs of interchangeable hands in different poses, including loose grip, fists, daystick holders, gun holders, one pulling the collar of a recently apprehended perp, and one spraying a can of the miracle plastic Boing®.
In addition, he will come with both Mark One and Mark Two type Lawgiver handguns and a can of Boing® spray, as well as fantastic gun flame effect and smoke effect pieces, a Boing® spray can special effect piece, plus a nine-hole base, a storage base, and a three-section bracket for posing.
Jason Kinglsey OBE, CEO of Rebellion, said: "We've been blown away by HIYA's work on its line of 1/18 scale figures – not just the quality and workmanship but also how they've really delved deeper and deeper into Judge Dredd's world to bring us figures we never thought we'd see. So we're very excited about what they have planned for the 1/12 scale series and their vision of Dredd looks great. We're excited to see both our fans getting their hands on this new range but also whole new audiences who'll discover the world of Judge Dredd."
The 2000 AD action figures from Hiya Toys will be available to order from these retailers:
International
US and North America