Games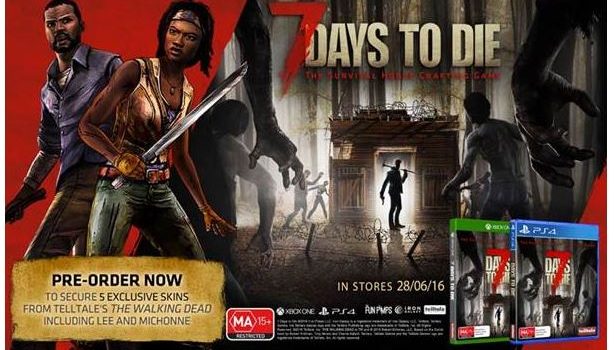 Published on May 24th, 2016 | by admin
Hit survival game '7 Days to Die' due for release 28th June 2016 in Australia
Five Star Games today announced that 7 Days to Die will be released on Playstation 4 and Xbox One on the 28th June 2016 in Australia.
With over 1.5 million copies sold on PC (digital download), Indie hit 7 Days to Die has redefined the survival genre, with unrivalled crafting and world-building content. Set in a brutally unforgiving post-apocalyptic world overrun by the undead,7 Days to Die is an open-world game that is a unique combination of first person shooter, survival horror, tower defense, and role-playing games. It presents combat, crafting, looting, mining, exploration, and character growth, in a way that has seen a rapturous response from fans worldwide. 
Consumers that pre-order 7 Days to Die for PlayStation 4, or Xbox One, will receive five exclusive skins based on characters from Telltale's hit The Walking Dead series', including Lee Everett and Michonne.
7 Days to Die is available to pre-order now.
To find out more about the game watch the latest developer interview:
https://www.youtube.com/watch?v=T7XmMwxk3rI