Events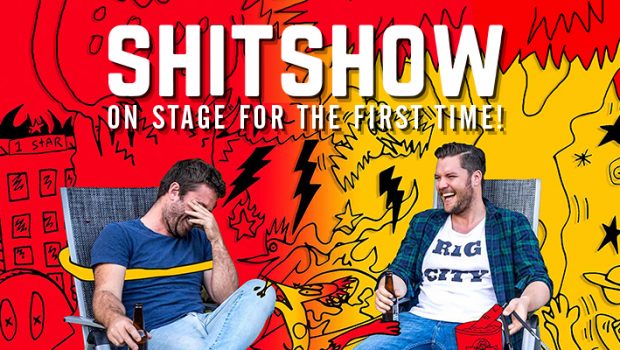 Published on November 13th, 2017 | by Admin
HIT COMEDY PODCAST ANNOUNCES TWO LIVE RECORDINGS IN SYDNEY NEXT MONTH
Frontier Comedy and The Brag are thrilled to announce that the hosts of Australian comedy podcast Sh!tshow, Gus and Rig will be hitting the stage next month for two special Sh!tshow Live podcast recordings in Sydney.
Fans can catch Gus and Rig live on stage for the very first time at Oxford Art Factory on Sunday 3 and Sunday 10 December. Tickets are on sale now and strictly limited – don't miss your chance to go behind the scenes on one of Australian comedy's fastest rising podcasts as part of a special live audience!
Sh!tshow is a hilarious deconstruction of disaster, with each episode centred around a slew of different stuff-ups, shenanigans and sh!tshows. From weird cults to insanely stupid inventions, musical festivals run by infants to philandering politicians, the history of man is littered with terrible decisions.
This is the podcast that collects up all these delicious pieces of humour fruit, and serves them to you each week with segments such as "Trainwreck Trophy", "One Star Reservoir", "Poos in the News" and of course "Sh!tshow Shtorytime".
Since its debut episode in May 2017, Sh!tshow has gathered a raft of dedicated fans, with a 5-star rating on both Facebook and iTunes and listeners singing their praises:
★★★★★ 'Do yourself a favour and listen to this. The banter you have with your mates enshrined in podcast form.'
★★★★★ 'Not only worth your time, it may also give you that semi-awkward experience of laughing really loudly, out loud, regardless of who is present, so maybe be careful if you're listening to it on the train. You may attract some weird looks. But it will be worth it for the hilarity that ensues.'
Gus and Rig met whilst playing football for Sydney Uni Aussie Rules Club. The pair would play in one of the lower grade matches, before setting up a PA and commentating the rest of the games live. Their natural comedic dynamic led to the launch of their first podcast in 2016, Medallica: Minnows vs The World – "the Olympics podcast you always wanted, but never had" – focusing on countries that had never won a medal and featuring a segment called 'Apocalympics Now' that explored various logistical mishaps made by the Rio Olympics.
The podcast caught the attention of the media, including triple j's Matt and Alex, who brought Gus and Rig into the studio to discuss all things Medallica. Gus and Rig continued their ascent with their next podcasting venture Sh!tshow, which led to Seventh Street Media signing the podcast last month.
Stars on the rise Gus and Rig show no signs of slowing down. Don't miss this rare opportunity to be a part of their first ever live audiences for Sh!tshow Live. Tickets are on sale now and strictly limited – don't miss out!
SH!TSHOW
LIVE TOUR
DECEMBER 2017
WITH SPECIAL GUEST CRAIG QUARTERMAINE
Presented by
Frontier Comedy and The Brag