Hardware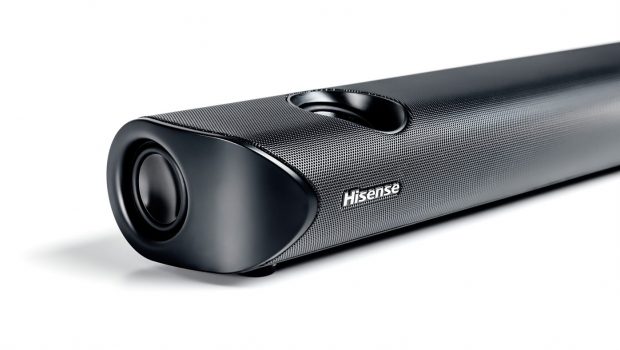 Published on July 9th, 2019 | by Admin
Hisense Australia Unveils 2019 Sound Bar Pricing and Availability
Hisense Australia today announces the launch of its new Sound Bar category, with two models hitting shelves from this week.
Customers can choose from the high-quality 5.1.2 channel Dolby Atmos Sound Bar, with an RRP of $999.00, or entry-level 2.1 channel Sound Bar, with an RRP of $349.00.
Andre Iannuzzi, Head of Marketing at Hisense Australia, said: "Australians are increasingly seeking to enhance their at-home entertainment experience and we are thrilled to offer two high-quality audio solutions in our 5.1.2 and 2.1 channel Sound Bars. At Hisense, we pride ourselves on creating innovative products that are always at the forefront of technology and these Sound Bars are no different. The range will ensure our customers can create a cinema-like experience from the comfort of their own homes."
The 5.1.2 channel Dolby Atmos Sound Bar features leading Dolby Atmos surround sound technology, utilising 11 built-in speakers with four upward-firing drivers to ensure sound comes from all directions, including overhead. The result is a multidimensional sound experience with astonishing clarity, richness, detail and depth, with bass enhanced by the inclusion of a wireless 8-inch subwoofer.
Supporting HDMI, Bluetooth, AUX, USB, Optical and Coaxial connections, the Hisense 5.1.2 channel Dolby Atmos Sound Bar also facilitates DTS:X, 4K and HDR pass-through, which together create an immersive and impactful sound experience.
The 2.1 channel Sound Bar with wireless subwoofer features Dolby Digital and DTS technology and also offers several connection methods, including HDMI-ARC, Bluetooth, AUX, USB, Optical and Coaxial. Designed to perfectly replicate deep bass, the Sound Bar is boosted by its wireless 6.5-inch subwoofer, while the 40 Hz – 20 kHz frequency response provides listeners with clear and concise sound.
The introduction of the Sound Bar range is in line with Hisense's focus on sound quality this year and complements the Dolby Atmos technology that features across its recently released 2019 ULED TV range.
"Customer demand for Hisense products continues to grow, and the introduction of Sound Bars in the Australian market is the next big step in meeting this demand," added Iannuzzi.
The models will be available via all major electronics retailers across Australia. To find a retailer, visit: https://hisense.com.au/