Comics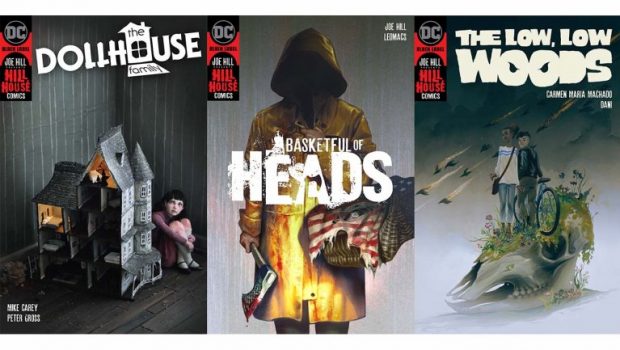 Published on October 31st, 2019 | by Adrian Gunning
HILL HOUSE COMICS: JOE HILL AND DC BRING THE SCARY JUST IN TIME FOR HALLOWEEN!
This Halloween, you can keep your ghosts, goblins, candy corn, and red balloon carrying clown costumes, because DC and Joe Hill are taking care of all your boogeyman needs now and the coming months as the Hill House Comics imprint debuts today with BASKETFUL OF HEADS, written by Joe Hill, with art by Leomacs and cover by Reiko Murakami.
BASKETFUL OF HEADS is the story of June Branch, a young woman from the small town of Brody Island. Four cunning criminals have kidnapped her boyfriends for their own deranged reasons and June is trapped with them with no defense except an 8th-century Viking axe that can lop off a man's head in one stroke. But there's a catch – the severed heads remain conscious and are still capable of speech. Each disembodied head has its own malevolent story to tell and before long June finds herself in an even more desperate struggle to hack through their lies and manipulations, racing to save the man she loves before it's too late.
But that's just the beginning! In the coming months, the fear will continue to ratchet up with new titles hitting comic book stores in November and December:
THE DOLLHOUSE FAMILY – written by Mike Carey, with art by Peter Gross and Vince Locke, with covers by Jessica Dalva (featuring dollhouses Dalva has built by hand), debuts on November 13. On Alice's sixth birthday, her dying great-aunt sends her the birthday gift she didn't know she always wanted: a big, beautiful 19th-century dollhouse, complete with a family of antique dolls. In hardly any time at all, the dollhouse isn't just Alice's favorite toy…it's her whole world.
Soon young Alice learns she can enter the house, to visit a new group of friends, straight out of a heartwarming children's novel: The Dollhouse family. As the years pass, Alice finds herself visiting their world more frequently, slowly losing track of where reality ends and make-believe begins. What starts as play concludes in an eruption of madness and violence. The house can offer her a shelter from all her sorrows…but only if she gives it what it wants, and god help her if she tries to walk away again…
THE LOW, LOW WOODS – On December 18, bestselling author Carmen Maria Machado and artist Dani bring you this spooky series, featuring covers by Sam Wolfe Connelly and J.A.W. Cooper.
When you live in a Pennsylvania coal-mining town called Shudder-To-Think, there's bound to be stories to tell, especially when the coal mines underneath it have literally been on fire for years. Two local teens, El and Octavia, wake up  in a movie theater with no memory of the last hours of their lives, they begin a surreal and terrifying journey to discover the strange truth about their hometown, encountering human-eyed rabbits, a deer woman with a taste for humans, and swaths of skinless men along the way.
These three titles, as well as the rest of the Hill House lineup, will also include a chapter of a backup feature, SEA DOGS, written by Hill with art by Dan McDaid. It's 1779, and the American Revolution is screwed. With untold firepower, the British Navy is wreaking havoc on the fledgling republic and of course, the only answer to turn the tide of battle are werewolves.
Makes sense, right?
Fans can check out the Hill House Comics trailer here for more information on other Hill House Comics titles coming in 2020, including DAPHNE BYRNE and PLUNGE. The BASKETFUL OF HEADS trailer can be viewed here. If you can read these books with the lights out, good for you, but remember:
It's ok if you need to scream…