Games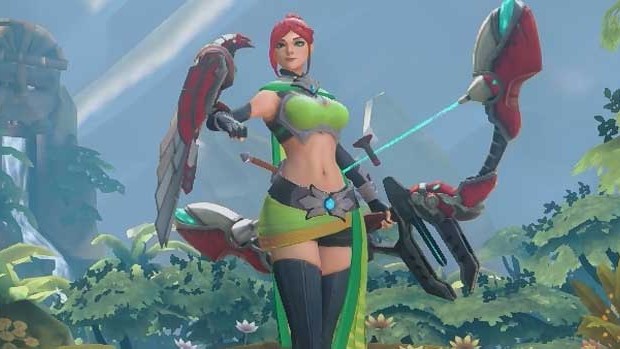 Published on July 14th, 2017 | by admin
Hi-Rez Studios Takes Over DreamHack Valencia!
July 13th, 2017 – Valencia, Spain – Today Hi-Rez Studios kicked off its biggest esports event to date at DreamHack Valencia. Featuring tournaments for SMITE, Paladins, and Hand of the Gods: SMITE Tactics, more than $350,000 in prize money is on the line.
Additionally, major announcements were made for all Hi-Rez Studios games:
Hand of the Gods: SMITE Tactics enters Open Beta
SMITE announces Project Olympus, a new initiative to improve core game features
Paladins introduces 30th Champion, new map, and more
HAND OF THE GODS – OPEN BETA
Open Beta starts today for Hand of the Gods: SMITE Tactics, the new turn-based strategy collectible card game set in the SMITE universe.
Throughout Closed Beta, Hand of the Gods has become a more polished and streamlined game that is fun for players of every skill level. These changes were directly driven by player feedback through Hi-Rez Studios' unique community-focused development process.
"Over the course of Closed Beta we've reworked the strategic elements of gameplay and deck building while making combat much easier to read and understand," said Scott Lussier, Lead Designer on Hand of the Gods. "Today with the launch of Open Beta, we invite everyone to download Hand of the Gods for free and lead the legends of mythology into battle."
To celebrate the Open Beta launch, Hand of the Gods has introduced the new Venus Competitor's Pack. This pack will bolster the decks of new players and veterans alike by unlocking over 70 cards and a number of bonuses, including a special Venus skin for Aphrodite in SMITE.
The Hand of the Gods Open Beta is free-to-play. Players may download the game from the Hand of the Gods website.
SMITE – PROJECT OLYMPUS
The SMITE team announced Project Olympus, a new initiative intended to improve core game features and further polish the world's #1 Action MOBA.
The first phase of Project Olympus will roll out over the next three SMITE patches. Further quality-of-life gameplay improvements will continue through the start of Season 5, projected for January 2018.
"We've taken several key changes to gameplay, user interface, and overall progression and combined them into one massive overhaul that we are calling Project Olympus," said Chris Larson, Executive Producer of SMITE. "Project Olympus is full of big changes that SMITE fans have wanted for a long time, and we are excited to deliver on these requests as we take SMITE to a whole new level."
The first features announced as part of Project Olympus include:
Major engine and systems upgrades, including a 64-bit client and support for higher-resolution textures.
Significant Console SMITE updates, including HUD improvements, additional controller configuration options, and match history sorted by God.
An improved in-game knowledge bank, full of tutorial videos to help new players learn the game and existing players improve their skills.
Prestige Levels, which allow SMITE players to level beyond the existing level 30 cap.
For a glimpse into what the SMITE team has in store for players, you can watch a Project Olympus developer interview here.
PALADINS – 30TH CHAMPION, NEW MAP & MORE
Paladins reached a milestone today, announcing the 30th Champion to join the Realm. Jenos, the Ascended, a Support Champion with an astral flair, is the 10th Champion released in Paladins this year, reflecting Hi-Rez Studios' commitment to constant updates and new content.
In addition, Hi-Rez Studios announced the newest map to join the Realm: Splitstone Quarry. This new map is the latest product of Paladins' unique test map queue, where early, boxed-out versions of maps are shared with players. Rough maps are updated, improved, and fully finished into polished locales based on player feedback.
Lastly, the Frontline Champion Ruckus is receiving a visual rework to better root him in Paladins' vibrant fantasy world. This new visual direction reflects Ruckus's lore-based origins as a miner in Splitstone Quarry, the map announced today.
DreamHack Valencia viewers on Twitch have a special opportunity to get the DreamHack Maeve skin, exclusively available via Twitch drops on www.twitch.tv/paladinsgame or at DreamHack events.
ESPORTS
DreamHack Valencia is the biggest tournament in the history of Hi-Rez Studios, with five tournaments across three platforms and two stages.
Old champions and new contenders will face off in the $150,000 SMITE Pro League Summer Finals.  An eternal rivalry will be settled as the world's best PlayStation and Xbox players face off in the $50,000 Paladins Console Wars. Be sure to consult the DreamHack broadcast schedule for full details on when and where to watch each match.
Hand of the Gods Valencia Open: $7,500 – Starts Saturday 2:00pm CEST www.twitch.tv/hireztv
HIGH HOPES FOR AUSTRALIAN PALADINS TEAM – 3RD SEED IN WORLD ABOVE USA
DreamHack Valencia is the third consecutive international event at which the Australian Paladins team, Kanga Esports, has qualified. After shocking the world at Hi-Rez Expo and Paladins Masters events with strong victories over US teams and the narrowest of defeats against the world champion EU team District 69, Kanga have made a big impact on global Paladins already.
At this event, they will be crowd favourites, and officially seeded 3rd, with a big opportunity to go one game further and make a world grand finals.
WATCH: Matches begin live with Quarter Finals from Thursday 13th July, 9pm AEST on www.twitch.tv/paladinsgame
More information on the tournament – click here