Games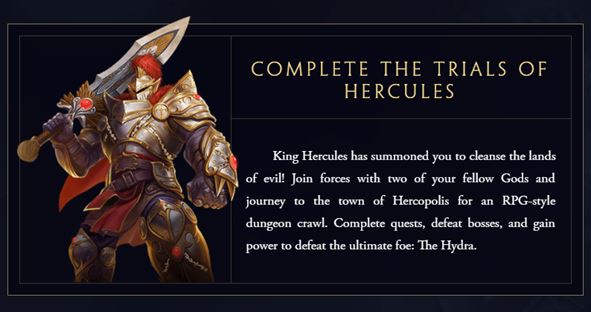 Published on June 8th, 2017 | by Admin
Hi-Rez Studios Reveals New Dungeon RPG For SMITE
June 6, 2017 – Alpharetta, Georgia – Today Hi-Rez Studios launched a brand new SMITE Adventure titled "The Trials of King Hercules". This new adventure plays like a classic dungeon experience from an MMO and offers SMITE players a whole new way to play the gods and goddesses of mythology with their friends.
"We are extremely excited to bring a full dungeon experience to SMITE players for the first time ever," said Travis Brown, Project Lead on SMITE Adventures. "The Trials of King Hercules is our most detailed SMITE Adventure to date with unique methods of progression, quests, mobs, bosses, and loot drops. If you ever wondered what it would be like to take your favorite SMITE gods on an RPG dungeon adventure now is the time to live that fantasy."
The Trials of King Hercules is a free 3 player PvE dungeon adventure available to all players of any level. The adventure begins in a town hub where players can accept quests before heading out. Completing quests will grant equipable items, and there are also buffs and equipment that can be purchased from the townsfolk with gold earned from defeating enemies inside the dungeon.
Within the dungeon players will face bosses that test their ability to coordinate attacks and support each other as the fight progresses. Teamwork will be essential to victory, and players will be able to experiment with over 70 gods to create the most effective team composition. Once players have unlocked the more advanced hard mode they will be able to face the Lernaean Hydra in the final boss encounter for the ultimate loot and in-game rewards.
To learn more about the Trails of King Hercules visit the website here and check out the reveal video here. To download SMITE for free and attempt this new adventure with your friends visit www.smitegame.com