Games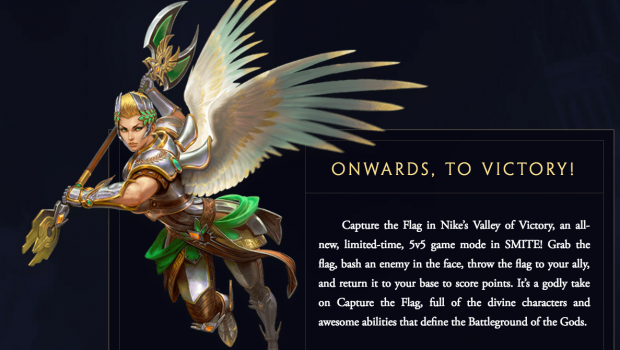 Published on March 2nd, 2017 | by admin
Hi-Rez Studios debut SMITE Adventures: Brand New Game Mode
Nike's Valley of Victory the first SMITE Adventure, a PvP capture the flag game mode
Today's SMITE update introduces the first SMITE Adventure "Nike's Valley of Victory". Nike's Valley of Victory is a PvP capture the flag game mode open to all SMITE players. This mode comes with a brand new map as well as online leaderboards where players can compare their scores against the top capture the flag players in the world.
Welcome to Nike's Valley

Nike's Valley of Victory is the first in a series of SMITE Adventures coming to SMITE throughout 2017. Each SMITE Adventure brings with it the potential to unlock special limited time skins which can only be gained by participating.
Three years after its official launch SMITE continues to add new content for players to experience. Always wanted to play capture the flag with the gods and goddesses of legend? Now is your chance!
SMITE Adventures Website: http://www.smitegame.com/adventures/
Nike's Valley of Victory Website: https://www.smitegame.com/adventures/nikes-valley-of-victory/
Nike's Valley of Victory Video: https://www.youtube.com/watch?v=RR1LRG3jryI
SMITE Adventures FAQ: https://www.smitegame.com/adventures-faq/