Events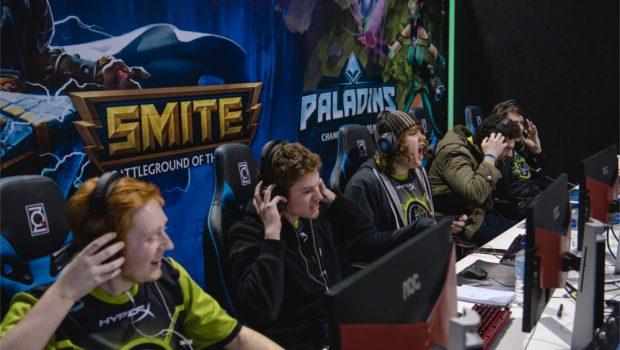 Published on June 26th, 2017 | by Admin
Hi-Rez Oceania $35,000 Mid Year Finals Winners Announced!
26 June 2017 Melbourne, Australia – Following two massive days of live esports action, winning teams were crowned for both SMITE and Paladins Oceania mid year leagues. Competing for a share in $35,000, teams fought for pride and prize pool, with upsets and big plays cheered by the crowd in Adelaide, and online viewers across the globe.
Teams competing in Hi-Rez Oceania Mid Year Finals included SMITE teams LG Dire Wolves, Legacy Esports, Kanga Esports and Dark Sided. Paladins was represented by Kings Esports, and reigning OCE champions Kanga Esports – currently ranked 3rd in the world.
SMITE OPL Split 2 Finals
Attending their first ever LAN event, Kanga Esports' SMITE team took on veteran team Legacy Esports, and despite showing early promise fell 3 – 0. Legacy progressed to the grand final where they would face long time rival and bogey team, LG Dire Wolves. Dark Sided fell to top seed LG Dire Wolves in the semi-finals, after defeating teams in the gauntlet to qualify for LAN. The fought valiantly and managed to secure third place against Kanga Esports, winning 2 – 1 on the second day of competition.
In a hotly contested SMITE grand final, Legacy Esports pushed the LG Dire Wolves to their limits, taking from OCE champions in what was only the second time they had lost during the six week league. Legacy Esports took the series and final 3 – 1, cementing their place as the premier team in the region. This result was a shock, as it had been only a short six weeks since the Wolfpack put on a clinic against Legacy, picking them apart in front of a live audience at IEM Sydney.
Paladins Path to Dreamhack Finals
Facing friends and former training partners, reigning Paladins OCE champions Kanga Esports battled Kings to determine the regional representative at Paladins Masters Dreamhack. The plucky Kings ended Kanga's 160+ map winning streak, taking a map, but ultimately falling to Kanga 4 – 1. Kanga will now fly to Valencia, taking part in a 8 team Paladins global tournament, where they will compete against the best in the hope of claiming their first international trophy.
Details for SMITE Oceania Pro League Split 3, and Paladins Oceania Esports will be announced in the coming weeks. Matches are broadcast on twitch.tv/HirezTV and twitch.tv/PaladinsGame respectively and watched by more than 2,500 viewers each week, some of the highest viewerships in Oceania esports.