Games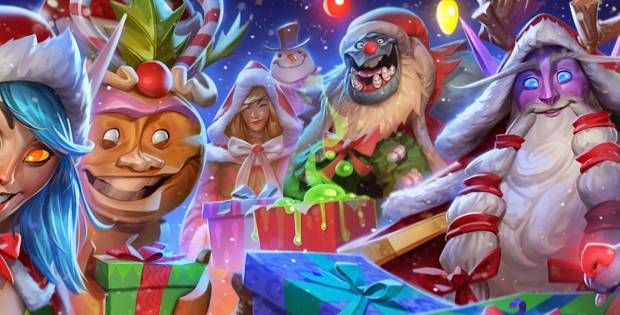 Published on December 13th, 2017 | by Admin
Heroes of the Storm: Season's Greetings from the Nexus!
It's an exciting day in the Nexus—the Winter's Veil season event has begun and players can now enjoy many of the new 2018 Gameplay Updates we announced at this year's BlizzCon, as well as a brand-new Hero—Hanzo! Read on for further details.
New Hero – Hanzo: One of the Shimada Clan's deadliest assets, Hanzo is a nimble, long-ranged Assassin who can pick enemies off from afar and scout for his team. Today he joins his brother Genji in a new frontier: the Nexus!

RYUU GA WAKA TEKI WO KURAU! Unleash the fury of Hanzo's iconic Dragonstrike ultimate from Overwatch, or opt for a powerful snipe with global range in Dragon's Arrow.
See through the dragon's eyes: Hanzo's Sonic Arrow allows him to gain vision of hard-to-reach areas. His trait Natural Agility lets him jump over terrain, making him an adept scout for any composition.
Learn more about the Shimada clan's master assassin, and check out his Hero Spotlight video.
2018 Gameplay Updates: First announced at BlizzCon 2017, this collection of gameplay changes in the Nexus is now live!

A New Perspective: We've tweaked the game's camera perspective to give players a better view of the battlefield, allowing for more clarity when it comes to big moments like teamfights.
Updating Stealth: Stealth mechanics have been updated to make sneaky Heroes more strategic and fun to play against. In addition, Stealth Heroes have received updates to their kits to make the most of these changes.
Refining the Early Game: We wanted to make laning more meaningful and give individual players opportunities to shine, so we've introduced some changes to achieve those goals without increasing overall game length.

Towers now have infinite ammunition, encouraging players to actively push lanes with their minions to destroy forts.
Stand-alone towers have been removed, but the experience they granted and the damage they dealt has been distributed among other structures.
Each map's first objective timer has been standardised to either 90 seconds or three minutes. Both have a 30-second warning, so players have time to prepare.
Regen Globes will now transition into a neutral state after a few seconds, allowing them to be picked up by either team, making actions in the lane matter more.
Mercenary Updates: We've updated Mercenary Camps with the goal of making them more strategically impactful during a match. For example, casters in a Knight Camp now have an aura that increases the Spell Armour of units within range, and Hellbats reduce the armour of heroes they attack.
Support Changes: Over the last several months, we've seen double Support team compositions become increasingly prevalent in all levels of play. As a result, we've made some changes to Support Heroes in the hopes of encouraging more diversity when it comes to team compositions. We'll be introducing slight decreases in damage, healing, and health, as well as reduced wave clear efficiency for these Heroes.

Performance-Based Matchmaking: We've further increased the accuracy of our matchmaking system by taking players' individual performance and contributions into account after each match, rather than relying solely on victory or defeat.

'Tis the Season: Starting today until 9 January AEDT/NZDT, players can celebrate the holiday season in-game with Winter's Veil! Play 10 games during this period to complete the Winter's Veil quest chain and earn a special spray, banner, portrait, and mount!

Gifting Loot Chests: And don't forget to spread some holiday cheer by gifting Winter Loot Chests to other Battle.net friends through the web shop!

New Bundle: The Foundation Bundle, available now for 2,000 gems, is perfect for helping new players get into the game with a varied, versatile roster of Heroes across all roles. E.T.C, Leoric, Greymane, Kerrigan, Li-Ming, Uther, Lúcio, and Zagara are all included, and the bundle will be available in the in-game shop.