Games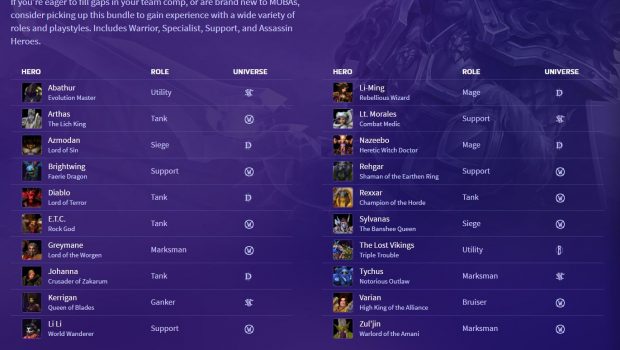 Published on April 21st, 2017 | by admin
Heroes of the Storm Mega Hero Bundles!
Whether you're a grizzled MOBA veteran, or just getting started, Mega Bundles make it easier than ever to dive head-first into Heroes of the Storm! Each bundle contains 20 Heroes, and has its own unique theme. The best part? We're giving all players enough free in-game currency to unlock the Mega Bundle of their choice once Heroes of the Storm 2.0 goes live after April 26 AEST/NZST! Players will be able to pick from one of the following four bundles:
Support and Specialist:
Playmakers in Heroes of the Storm come in many forms. The Support & Specialist bundle is all about keeping your team in fighting shape, turning the tide of battle, and providing the flexibility and strategic tools to conquer any obstacle. Heroes include: Overwatch's Lucio, Diablo's Auriel, World of Warcraft's Medivh, StarCraft's Abathur, and more.
Assassin:
The Assassin Mega Bundle is hyper-focused on Heroes who dish out destruction wherever they go. Get in your opponents' faces as a sustained auto-attacker, nuke enemies from the back line, or roam the battlefield to gank unsuspecting targets. Heroes include: StarCraft's Raynor, World of Warcraft's Gul'dan, Diablo's Nazeebo, Overwatch's Tracer, and more.
Tanks and Bruisers:
This bundle is brimming with Heroes who have no problem getting up close and personal. Create opportunities to pick off an enemy, peel threats away from your teammates, and lead from the front with the Tanks & Bruisers bundle. Heroes include: StarCraft's Alarak, World of Warcraft's Arthas, Diablo's Leoric, Overwatch's Zayra, and more.
Flex:
If you're eager to fill different spots in your team composition, or are brand new to the MOBA genre, consider picking up this bundle to gain experience with a wide variety of roles and playstyles, including Warriors, Specialists, Support, and Assassin Heroes. Characters include: StarCraft's Lt. Morales, Diablo's Li-Ming and Johanna, World of Warcraft's Greymane, and more.
For the full list of available characters, and to find out more information about these exciting new Mega Bundles and Heroes of the Storm 2.0, visit the Heroes website.