Games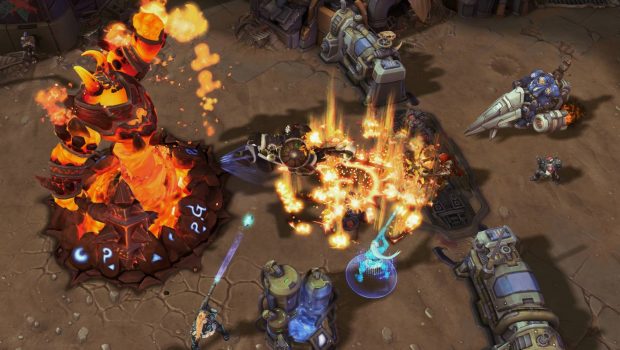 Published on December 15th, 2016 | by admin
Heroes of the Storm Battleground, Haunted Mines, Returns; New Hero, Ragnaros, and Winter Veil Event Available Now!
New Battleground:
Fan favourite Battleground, Haunted Mines, returns to Heroes of the Storm today! This Battleground has been completely reworked, doubling the number of mine entrances; tweaking the golem; adding Sapper mercenaries, and much more! Find out more about all the changes in our blog post here.
New Hero:
New hero, Ragnaros, is now available in Heroes of the Storm! Players can purchase Ragnaros with in-game currency, using real money, or try for free using the in-game shop.
From deep within Sulfuron Keep in the Firelands, Ragnaros has turned his fiery gaze toward the Nexus in his conquest to bring about the end of days by purging all life in flame and ash. Harness the volcanic wrath of The Firelord to call down flaming meteors, crush foes with the explosive might of Sulfuras, and summon lava waves that will incinerate an entire lane's worth of enemy minions. When faced with a counter-attack, Ragnaros can empower a Fort or Keep, becoming a towering inferno over the structure, and gaining a second set of abilities that will help you engulf assailants in the fires of doom. Ally yourself with Ragnaros to bring about a new era of destruction in the Nexus and show your opponents the true meaning of the words "raid boss".

Winter Veil:
We're approaching the end of another year, but the holiday season is just beginning in the Nexus. Join us from today, through January 5, 2017 AEDT, for a Winter Veil event that brings a virtual stocking-full of gifts to heroes all over the globe!
Finishing 25 matches (excluding the Heroes Brawl game mode) will grant you a Special Snowflake portrait, as well as permanent access to the Festive Treasure Goblin Mount! You'll also earn 25% bonus experience points in each game during the Winter Veil event. Players can also purchase the Winter Veil 2016 Bundle, which includes a Special Snowflake mount, Lunara, Winter Veil Lunara skin, Nazeebo and a Gingerbread Nazeebo skin. The Winter Veil Classic Bundle is also available to purchase, and includes: Stitches, Sylvanas, Jaina, Rehgar, a Reign-Deer mount, and several Winter Veil skins for each of those heroes.
The Nexus Challenge:
On November 16 we kicked off the Nexus Challenge! Running until January 4, 2017, players can earn in-game items for both Heroes of the Storm and Overwatch by taking part in Heroes matches with friends in Co-op vs. AI, Quick Match, Unranked Draft, or Ranked modes. Completing 15 games in Heroes of the Storm automatically unlocks tank character, Zarya, and an Oni Genji Portrait, as well as an Overwatch Oni Genji skin, portrait, and spray. Completing a total of 30 games further rewards players by permanently unlocking Auriel, Greymane, Kerrigan, and Li-Ming in Heroes of the Storm, as well as an Orochi Hovercycle Mount and 30-Day Stimpack.