Comics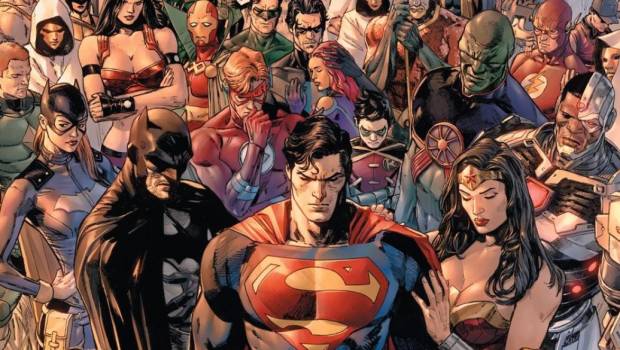 Published on September 26th, 2018 | by Andrew Bistak
Heroes in Crisis Review … spoilers
Summary: Heroes in Crisis which will break the internet is a compelling murder mystery firmly set in the DCU
The highly anticipated Tom King series HEROES IN CRISIS is finally here and we find out whether the rumors from the internet are true… and to quote Han Solo, it's all true. So what is the Sanctuary? The Sanctuary is a place where heroes come to receive support from the traumatic events of their lives and the issue opens with a distracted Booster Gold having a coffee in Gordon Nebraska that is interrupted by a bloody and bruised Harley Quinn who shares a moment with Booster before she launches a violent attack on our time-hopping hero.
As the fight takes to air courtesy of Booster's stolen technology, the story switches to Superman who has arrived at an isolated farm, the Sanctuary to discover a grisly massacre of people and more specifically heroes such as Hot Spot, Blue Jay, Lagoon Boy and Citizen Steel. This Sanctuary is also run by therapists built on Kryptonian technology who are apparently infused with the will of Batman, the compassion of Wonder Woman and the honor of Superman… according to Booster.
However as Superman enters, he discovers more casualties that include Titan members Arsenal (Roy Harper) and The Flash (Wally West) with a message in blood… The Puddlers are all dead. Soon after the discovery, Batman and Wonder Woman arrive. With the Sanctuary created to help heroes, Batman eloquently informs his teammates that their only hope for redemption is now a hunt for vengeance. The reader is then returned to the injured Booster Gold and Harley Quinn who tells her that he was at the Sanctuary to receive help and then he saw her hurting them. Harley however corrects Booster and informs him that he killed the heroes. <cue ominous music>
Final Thoughts?
Wow… this issue left me speechless. Holy @#$! Tom King what have you done!
Heroes in Crisis was a powerful and emotional read that will create some major ripples through fandom, especially with the deaths of Roy and Wally and that Booster or Harley may be guilty of this heinous crime.
However with Booster involved, will we get a Deus Ex Machina ending (probably not) and although this was a very dark issue, I'm invested to see where it is heading and wow, what a start. The issue is also beautifully illustrated by Clay Mann who adds some great attention to detail in this emotional story and he succeeds in bringing this macabre story to life.
Will darkness return to the DCU or will the heroes learn from their mistakes?
Watch this space.
GALLERY
HEROES IN CRISIS #1 (OF 7)

(W) Tom King (A/CA) Clay Mann
There's a new kind of crisis threatening the heroes of the DC Universe, ripped from real-world headlines by C.I.A.-operative-turned-comics-writer Tom King: How does a superhero handle PTSD? Welcome to Sanctuary, an ultra-secret hospital for superheroes who've been
traumatized by crime-fighting and cosmic combat. But something goes inexplicably wrong when many patients wind up dead, with two well-known operators as the prime suspects:
Harley Quinn and Booster Gold! It's up to the DC Trinity of Superman, Wonder Woman and Batman to investigate-but can they get the job done in the face of overwhelming opposition?
In Shops: Sep 26, 2018, SRP: $3.99