Games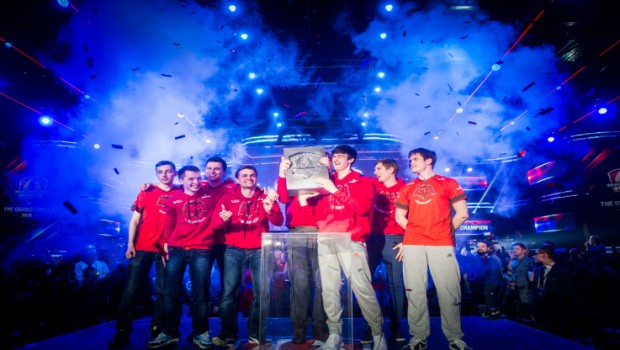 Published on April 29th, 2015 | by admin
HellRaisers Crowned as The Grand Finals Champions
After two days of furious battling, The Grand Finals 2015 have come to a close
April 29, 2015 —Two days of exhilarating tank combat have finally come to end, with CIS team HellRaisers crowned The Grand Finals 2015 champions. Over April 25–26 at the EXPO XXI in Warsaw, 12 teams battled it out, treating thousands of spectators to shocking victories, brutal annihilations and underdog comebacks in search of a slice of $300,000.
The Grand Finals 2015 marked the biggest eSports event in Wargaming's yearly calendar, uniting fans and players from around the globe.
"This event left us speechless," said Mohamed Fadl, Global Head of eSports at Wargaming. "We knew that the top teams have a huge fan base but to see tens of thousands of them joining us to watch their stars play for the world championship was truly breathtaking. We have a new world champion, and we saw so many big surprises during these two days. This is just the beginning of a long journey for all of us, and we can't wait for the next The Grand Finals to be even bigger and better."
Day 1 of The Grand Finals saw 12 of the best World of Tanks teams clash in the group stages and knockout rounds.
The 2014 champions Na`Vi crushed their two opponents, EL Gaming and RG Razer, in two decisive 5:0 victories. Elevate took a beating from Virtus.PRO and Santa Clause and 6 Deers, getting trampled 5:1 and 5:0, respectively. The second NA Team, RUlette, also didn't escape elimination and humiliation, losing to Schoolbus 5:0 and YaTo Gaming 5:2.
At the end of Day 1, RG Razer, Elevate, RUlette and Arete all fell on the eSports battlefield, leaving 8 teams remaining.
Day 2 saw the WGL's rising stars Santa Clause and 6 Deers come tumbling off their slay as they were ruled out by Elong 5:2. Veterans Schoolbus faced off against their EU counterparts in Kazna Kru, but were knocked out 5:3.
The two teams hailing from Russia, Na`Vi and HellRaisers, advanced to the semifinals after their respective victories against Virtus.PRO, ending 5:3, and YaTo, 5:4. Yet despite the underdogs Kazna Kru exceeding all expectations, they came undone against Chinese team EL Gaming, 5:3. To advance to the finals, Na`Vi rolled out against HellRaisers, losing 2:5.
The fight for third place pit Kazna Kru and Na`Vi against each other. However, Kazna's run of underdog stopped at fourth place, with Na`Vi reclaiming some lost ground to win 5:0.
The final saw HellRaisers, a team who had shocked everyone by defeating last year's champions Na`Vi, go head-to-head with EL Gaming. In the end, it was a decisive victory for HellRaisers, who conquered their opponents 7:1.
"It's been the best, most significant tournament for HellRaisers," said Yuriy Buharov, Manager of HellRaisers. "The competition was both stressful and exhilarating. We gave our all, fought tooth and nail, and won! The work Wargaming has done to organize an event this massive at such a quality level impressed all of us. Tournaments like The Grand Finals push the entire eSports industry forward, bringing it closer to popular real life sports of today, and it's great being a part of this revolutionary trend."
To learn more about the Wargaming.net League, please visit: