Games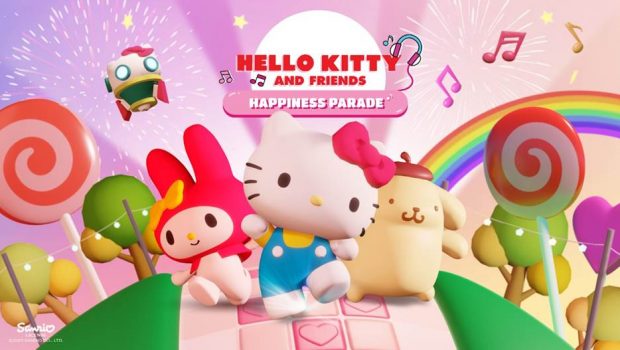 Published on October 26th, 2023 | by Adrian Gunning
HELLO KITTY AND FRIENDS HAPPINESS PARADE SLIDES ONTO SWITCH TODAY
Rogue Games, the freshest publisher on the dance floor, and disco dynamite Dabadu Games have announced that confetti-filled, rhythm bonanza HELLO KITTY AND FRIENDS HAPPINESS PARADE has shuffled, rolled, and smoothly stepped its way onto Nintendo Switch today. To celebrate the HAPPINESS PARADE, purchase the game via the Nintendo Store during launch week for a 15% discount.
Made for longtime supporters, new fans, and everyone in between, HELLO KITTY AND FRIENDS HAPPINESS PARADE takes Switch players on a musical adventure through a bright and colorful universe as the titular Sanrio gal and 10 of her iconic buddies like Kerokerokeroppi, Bad Badtz-Maru, Pompompurin and more. Get on your feet and move to the beat of over 40 unforgettable tracks, including 20 new tunes curated exclusively for Switch, plus three new levels and gesture controls!
In HELLO KITTY AND FRIENDS HAPPINESS PARADE, Switch players will twirl their Joy-Cons to spread cheer across 23 different levels and make some new besties along the way. Dance, dance, dance with perfect timing, collect coins, use upgrades, and avoid traps set by the mischievous Kuromi to bring smiles across everyone's faces. Dress up your favorite pals with funny accessories and pose those paws during mid-parade photoshoots to get the crowd really going.
Gather your posse, pass around the Joy-Cons, and start the party at home or on the go! HELLO KITTY AND FRIENDS HAPPINESS PARADE will have everyone grooving in no time.
"With HAPPINESS PARADE, we've created a totally unique Hello Kitty and Friends rhythm game that we think is going to surprise fans with unexpected layers of strategy and depth," says Rogue CEO Matt Casamassina. "And we're just as proud of the soundtrack, full of awesome pop, rap, and rock tracks that are sure to show up in playlists."
HELLO KITTY AND FRIENDS HAPPINESS PARADE is now available for $19.99 on Switch, with a limited promotional price of $16.99 (15% off S.R.P.) during launch week via purchase from the Nintendo Store.