Comics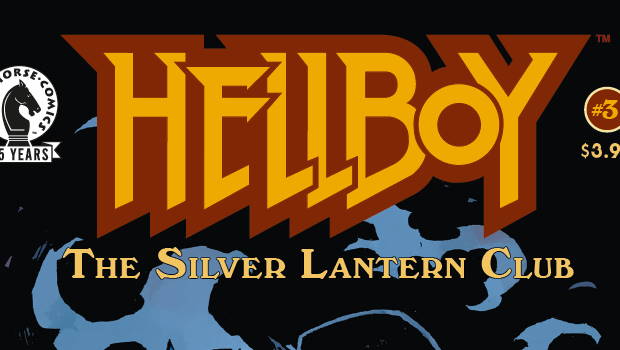 Published on January 9th, 2022 | by Chris O'Connor
Hellboy: The Silver Lantern Club #3 Review
Summary: Uncle Simon continues to keep Professor Bruttenholm from more pressing matters, whilst thrilling Hellboy with his tales of past exploits.
Simon Bruttenholm regales the professor and Hellboy with another tale from The Silver Lantern Club's past. This tale involves a woman whose synesthetic visions reveal the presence of a mysterious and malevolent entity. In order to remove this danger, the members of the Silver Lantern Club will need to work together more than before.
Writing
For readers who have been immersed in the world of Hellboy for some time now, these stories aren't just lovely new tales to add to the wealth of adventures we already have… they often tie in to previous stories (that tend to be in the future relative to this current time… just to warp your brain a little). They also present a lovely opportunity to go deeper into Hellboy's paranormal heritage, in the case of this series, via Professor Bruttenholm's uncle, Simon. This issue also explores more of the characters Sarah Jewell and Amelia (whose personal connection proves critical in this case), which further fleshes out an already impressive world (the much loved Mignolaverse). The action and adventure of Simon's tale is great… but I also love the interplay between Professor Bruttenholm and his uncle… the desire to get a move on, but continually being held back for "just one more story… and a drink". All the while Hellboy seems all too keen to hear of any and all adventures his fascinating relative has been up.
Artwork
I think it could be said that in many of the panels in this issue, the line work actually takes a step back and lets the colouring do more of the visual storytelling. There's one particular panel near the end of the story that just absolutely pops and it's mostly down to the shading and the vibrant colour of the eyes. That colour work there takes the fantastic expression laid down by the line work and really imbues it with life. That and the final panel showing Professor Bruttenholm checking his watch… arguably says so much about what is going through his head. Lovely work!
Final Thoughts
The winning streak continues… also known as "I'm not changing my view that I am highly biased with regards to Mignolaverse titles". Of course I recommend this one… there are only short portions with Hellboy, bookends if you will… but the core of the story is adding more flesh to the bones of the entire world that Hellboy inhabits and it's always fun to delve deeper into that world. Grab your copy and dive in.
Comic Details
Publisher: Dark Horse
Writer: Mike Mignola, Chris Roberson
Artist: Ben Stenbeck, Christopher Mitten
Colourist: Michelle Madsen
Cover Artist: Mike Mignola, Christopher Mitten, Dave Stewart
Genre: Horror, Crime, Action/Adventure
Format: FC, 32pgs, Miniseries
Release Date: 29th December, 2021