Comics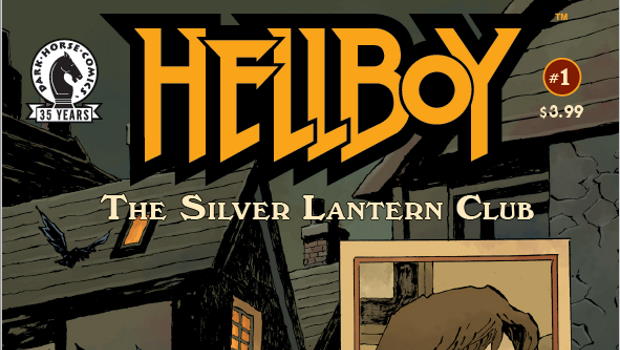 Published on October 28th, 2021 | by Chris O'Connor
Hellboy: The Silver Lantern Club #1 Review
Summary: Hellboy and Professor Bruttenholm aren't the only occult investigators in the family. Over a few drinks one of their relatives regales them with a story of an exorcism gone wrong.
Part of what I love so much about the Hellboy Universe (or the Mignolaverse really) is how deep it goes. It's not just Hellboy but a whole lot of characters all going about their business investigating occult happenings as if it's "normal". In this case Hellboy and his dad sit down to listen to a story about an exorcism that went awry and how their relative and The Silver Lantern Club got out of the messy situation.
Writing
Learning just how deep the passion for the occult goes in the Bruttenholm family and how far back it goes in their family line is almost as much fun as being on an adventure with Hellboy himself. This story gives us an insight into Professor Bruttenholm's Uncle Simon and his past adventures with the eponymous Silver Lantern Club. The Professor comes across as being familiar with the stories (perhaps having heard them before) but Hellboy seems as excited as can be… though he may have heard the Professor recounting the stories before, he seems like he is thrilled to be sitting with the person who experienced them first hand. I think my favourite line is actually Hellboy's last for this comic, possibly for the sense of undivided attention it conveys but also I think because of the link to Hellboy's own adventures (I won't spoil the line).
Artwork
That sense of thrill Hellboy has listening to the story is conveyed equally well visually, the stare of fascination visible on his face as if he is completely transfixed in what Uncle Simon is telling him. The flashback also has some excellent emotions being brought out in the characters, bright lively faces full of enthusiasm and passion. The shading on the faces is also quite beautiful… ever so slight shading gives that hint of volume that makes the characters come to life rather than just sitting flat on the page.
Final Thoughts
It's obvious to anyone who has read my reviews before that I'm a big fan of Hellboy and the Mignolaverse… but I'm going to assume that if you are reading this then you probably have more than a passing interest too (if not, then… welcome and I advise you to give Hellboy a try). This is listed as part of a miniseries but works perfectly well as a story on its own so there's no hesitation on my part in recommending this as a great comic to pick up. You get to learn more of Hellboy's family links to the world of the Occult and a fun story to boot.
Comic Details
Publisher: Dark Horse
Writer: Mike Mignola, Chris Roberson, Christopher Mitten
Artist: Ben Stenbeck
Colourist: Michelle Madsen
Cover Artist: Mike Mignola, Christopher Mitten, Dave Stewart
Genre: Horror, Crime, Action/Adventure
Format: 32pgs, FC, Miniseries
Release Date: 27th Oct, 2021