Comics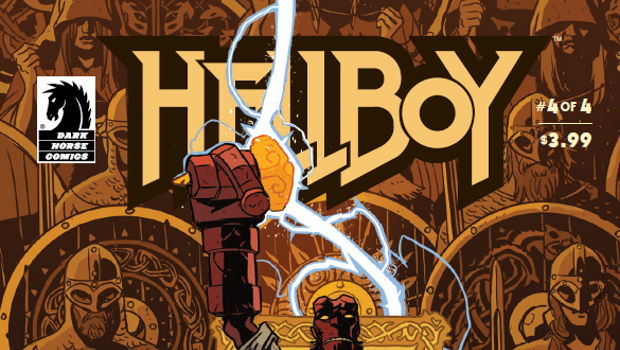 Published on February 28th, 2022 | by Chris O'Connor
Hellboy: The Bones Of Giants #4 Review
Summary: Weary but resolute Hellboy and the others make their way to the ghost city of Utgard and aim to finish their quest one way or another.
As the involuntary temporary host of the Norse god Thor and burdened by Mjollnir seemingly being stuck to his hand, Hellboy is about ready to put an end to this quest and with the ghost city of Utgard within reach, an end shall be reached one way or another.
Whilst some people might think it would be cool to wield Mjollnir or to be the bodily host of Thor… Hellboy is well and truly over the whole experience. But Hellboy being Hellboy he puts the needs of others before his own and makes his way towards Utgard to confront Thrym. The question is… can Hellboy and his ragtag team defeat the evil that awaits?
Writing
What I love most about this issue is the very real sense of exhaustion and frustration we get from Hellboy. I can only imagine what it would be like to be the unwilling corporeal chaperone of a god let alone having that burden whilst also being expected to act on their behalf and wield the mighty Mjollnir to take down a giant… yet that's basically the situation Hellboy finds himself in and despite not being thrilled about it, as always, he keeps going forward, he does what he knows he has to because no one else can do it. The little comments he makes, showing he retains his sense of (dark) humour despite it all are brilliant and my favourite exchange comes after he learns about the pendant he has been wearing around his neck. His response to learning of the potential power of the pendant and the matter of fact way he is told of it's origin and power is so simple and brilliant… it kind of sums up his whole experience over this story arc.
Artwork
The colouring in this story is spot on. The blue tones washing over everything give it both the obvious sense of cold but they also imbue everything with almost an otherworldly hue that increases the feeling that this is a blending of the world of the living and the world of the dead… it's not just cold from the snow and nice but cold from the evil that lurks about. But lest readers let the chills set in, the panels also feature some quite epic action sequences… channeling his anger and frustration at all he has had to endure almost as much as he is channeling Thor… Hellboy is shown giving no mercy to these foes who have caused him to carry this burden for far too long.
Final Thoughts
Darkness and light. Hellboy showing the strains of the sort of things he has to endure is simply lovely to see (I mean I feel bad for the big guy… but it's kind of nice to see what's going on in his mind). The little moments of humour that act as counterpoints to the pretty bleak elements are a great balancing act and Hellboy's expression and comment at the very end is a great way to close this chapter. Grab your copy but avoid the pendant.
Comic Details
Publisher: Dark Horse
Writer: Mike Mignola, Christopher Golden
Artist: Matt Smith
Colourist: Chris O'Halloran
Cover Artist: Matt Smith
Genre: Horror, Fantasy
Format: 32pgs, FC, Miniseries
Release Date: 16th Feb, 2022