Comics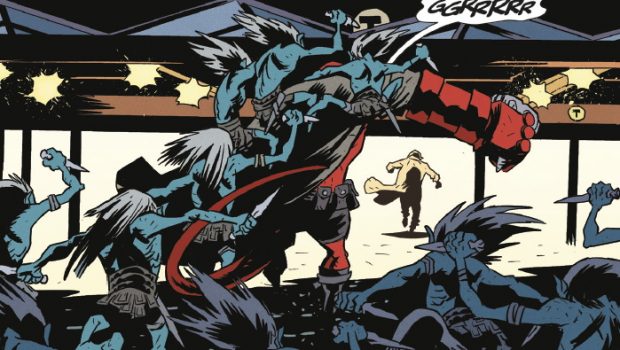 Published on December 5th, 2021 | by Tim Chuma
HELLBOY: THE BONES OF GIANTS #2 (2021) REVIEW
Summary: This is only part 2 of this story and already it seemed like something important has happened that was not explained. Maybe one to get as a collected edition.
Hellboy is serving an involuntary vessel for Norse God Thor and is trying to stop an ancient evil. Hellboy's friends are worried that he has held the Hammer of Thor for too long as he is talking to things the others can't see and strange beasts keep attacking, even more than usual for Hellboy for them to get concerned.
There is a plot involving some dwarves and a dead frost giant. I did like the detective investigating not believing them when they told them the exact truth.
Even though this is only part 2 of this short run storyline I feel like I have missed a lot and would need to go back and see what has happened as they don't really explain it.
If you are a fan of Hellboy and the Norse themed characters then I would recommend it but then you would have already read the previous episode in the series.
Maybe this would be better to leave and wait until the trade paperback comes out so you can read the entire story at the same time.
Comic details:
Writer: Mike Mignola, Christopher Golden
Artist: Matt Smith
Colorist: Chris O'Halloran
Cover Artist:Matt Smith
Genre: Fantasy, Horror
Publisher: Dark Horse
Publication Date: December 01, 2021