Comics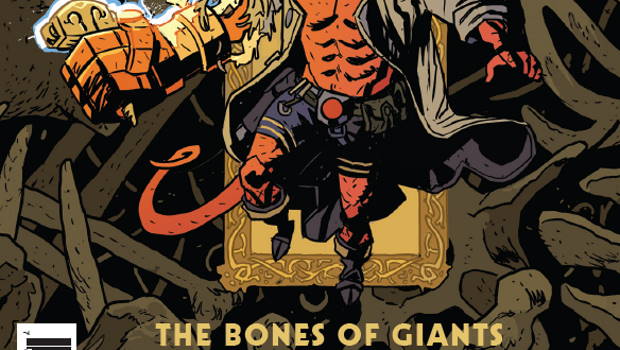 Published on November 17th, 2021 | by Chris O'Connor
Hellboy: The Bones Of Giants #1 Review
Summary: Hellboy and Abe Sapien are sent to investigate a strange discovery in Sweden and quickly find themselves swamped in Norse Mythology.
Watching main stream media, movies and television… we are exposed to a lot of ancient mythology, though we may not realise it. The character of Thor being a great example of a mythological being that has been reinvented time and time again to tell stories of wonder. Hellboy and Abe Sapien make their way to Sweden to investigate a strange discovery and find themselves more directly engaged in Norse mythology than they might have expected.
Writing
This is exactly the sort of thing that I love the Mignolaverse for, taking classic (global) mythology and bringing it to a modern audience. I always feel that I'm not just getting a brilliant story with contemporary characters, but I'm also getting a glimpse at some of the world's oldest stories and I find that fascinating. In the Bones of Giants… Hellboy quickly becomes very caught up in arguably one of the most famous elements of Norse mythology and his desire to get to the bottom of what is going on sees big red being about as curt to someone as I can think I've seen him be (to someone who maybe didn't quite deserve it at least). As I have found in a number of these stories… the best line is right near the end, I won't spoil it, I'll simply say enjoy Hellboy's call to action to Abe on the last page.
Artwork
As I mentioned above, I don't think I've seen Hellboy be so aggressive towards someone (who didn't strictly deserve it) before… but along with the writing here, you can see that desperate need to follow his lead in Hellboy's face. There's a desperation, a touch of aggression and it's clear he means business to the point that even Abe is clearly taken aback by the outburst. The overall feel of the images is one of a cold climate (not surprisingly) plenty of cool tones, blue finds its way into most pages giving that subconscious sense of a chill in the air.
Final Thoughts
Given the dominance of Marvel movies at the box office and how well known the character of Thor is these days, it would be surprising if people didn't know of his legendary hammer. So to see it show up in a Hellboy comic and see how it plays out in that world is a thrill. I remain a hugely biased perspective here but I, of course, recommend adding this to your collection… especially for that last little scene with Hellboy and Abe!
Comic Details
Publisher: Dark Horse
Writer: Mike Mignola, Christopher Golden,
Artist: Matt Smith
Colourist: Chris O'Halloran
Cover Artist: Matt Smith
Genre: Fantasy, Horror
Format: 32pgs, FC, Miniseries
Release Date: 3rd Nov, 2021