Games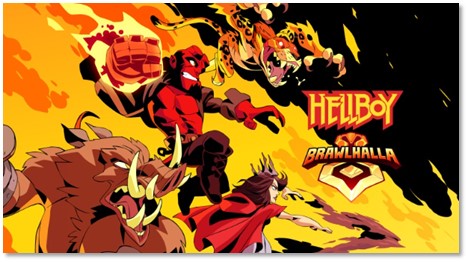 Published on April 10th, 2019 | by Admin
Hellboy now available in Brawlhalla!
Ubisoft has announced that skins for Hellboy, Nimue, Gruagach and Ben Daimio from global content leader Lionsgate (NYSE: LGF.A, LGF.B) and Millennium Media's Hellboy (2019) are now available in Brawlhalla. Brawlhalla® is a free-to-play platform fighter game with more than 15 million players on PC and PlayStation®4 computer entertainment system, the Xbox One family of devices including Xbox One X and the Nintendo Switch™ system.
A special Hellboy event in Brawlhalla from April 10 celebrates the upcoming release of Hellboy (2019), in theaters April 11, with the addition of the four new character skins, a new game mode named Horde, a Hellboy-themed map, UI takeover, and more.
Four new Hellboy (2019) skins:
Hellboy – as a Cross Epic Crossover Skin – "Beast of the Apocalypse or lawful King of England? His destiny awaits."
Nimue – as a Dusk Epic Crossover Skin – "This queen will create a new world."
Gruagach – as a Teros Crossover Skin – "Seeking revenge on Hellboy, he'll stop at nothing to regain his full powers."
Daimio – as a Mordex Epic Crossover Skin – "A curse or a powerful blessing?"
Hellboy, Nimue, and Ben Daimio skins will be priced at 300 Mammoth coins each, while Gruagach is available for 240 Mammoth coins. The Hellboy (2019) skins will continue to be offered in store after the event.
Horde: the new Hellboy-themed game mode
Players will team up in a group of four to defend the gates of the Great Hall against an army of demons, holding off as many waves as possible. Horde mode will be available as a custom game mode option after the two-week Hellboy event ends.
More epic Hellboy additions
A Hellboy-themed map, Apocalypse
Daily login bonus of 250 Gold
2-week Hellboy UI Takeover
Hellboy avatar available for 60 Mammoth coins
Hellboy "Beast of Apocalypse" podium available for 240 Mammoth coins
From the pages of Mike Mignola's seminal work, the action packed motion picture sees the legendary half-demon superhero called to the English countryside to battle a trio of rampaging giants. There he discovers The Blood Queen, Nimue, a resurrected ancient sorceress thirsting to avenge a past betrayal. Suddenly caught in a clash between the supernatural and the human, Hellboy is now hell-bent on stopping Nimue without triggering the end of the world.
Developed by Blue Mammoth, Brawlhalla is an epic free-to-play platform fighting game that brings players to the fight for glory in the halls of Valhalla. Choosing from over 40 unique characters, players can jump into single-player and co-op modes as well as online and local competitions.
For more information on Brawlhalla, please visit: http://www.brawlhalla.com
For the latest news on Brawlhalla and all of Ubisoft's games, visit Ubisoft News: https://news.ubisoft.com/