Comics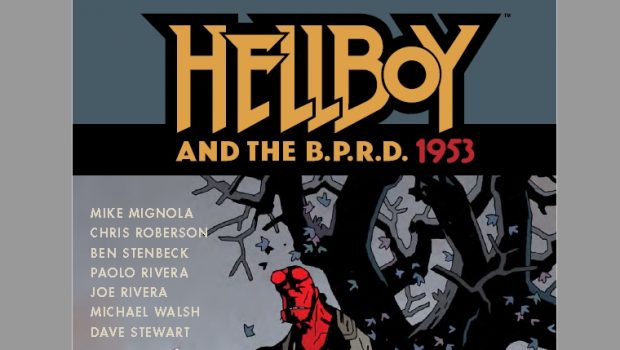 Published on August 9th, 2016 | by Chris O'Connor
HELLBOY AND THE B.P.R.D.: 1953 TPB Comic Review
Summary: Big Red gets into Big trouble.
I will freely admit I came to Hellboy by way of Guillermo Del Toro and Ron Perlman, but that taste of Big Red was enough to get me curious. The opportunity to review Hellboy and the B.P.R.D. 1953 and I had to dive in. It was all I hoped for and more! I'm a bit of a paranormal/occult nerd at the best of times so Hellboy is right in my wheelhouse.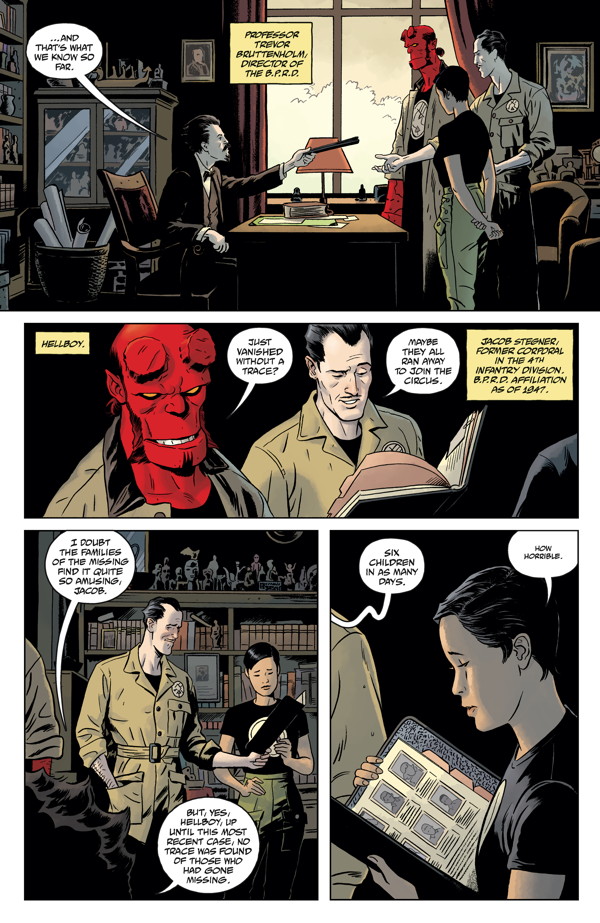 Writing
Mike Mignola gave birth to such a great character in Hellboy that it must be so much fun to write stories for him. At his heart he is the embodiment of the question of which is more important "nature or nurture". The balance between those two forces gives Hellboy a knife edge to walk at times. In this collection though Big Red is pretty much the muscle taken to investigate cases of paranormal activity. The set ups work very well in hinting at local lore and myths, which then segue to tracking down the real cause of the problem… which inevitably is more or less just what the local legends stated.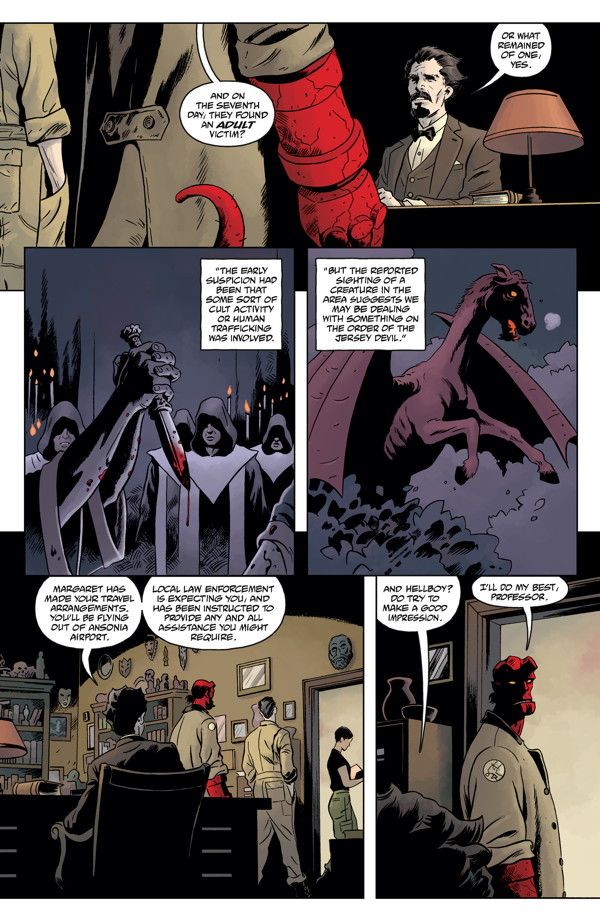 Artwork
Hellboy is a very distinct character and the artwork likewise is very distinct with Hellboy himself typically being drawn with some very sharp angles helping to emphasize his inhuman nature. Given the setting of 1953 for the stories, the artists have all done a great job giving the characters very "retro" looks, very reminiscent of the sorts of characters you would have seen in comics of the same era. But above all else I have to give huge credit to Paolo Rivera for some exceptional artwork. For Beyond the Fence Paolo pulls out what can be described as a Norman Rockwell interpretation of Hellboy and it is absolutely gorgeous! It truly is an image that would look stunning framed and sitting on your wall… I was happy with the artwork up to that point but I was really taken aback by that one. Also at the back of the comic are some experimental sketches by the artists that give some insight (along with their own wording of how they came to draw our big Red friend) into how the comic comes together artistically.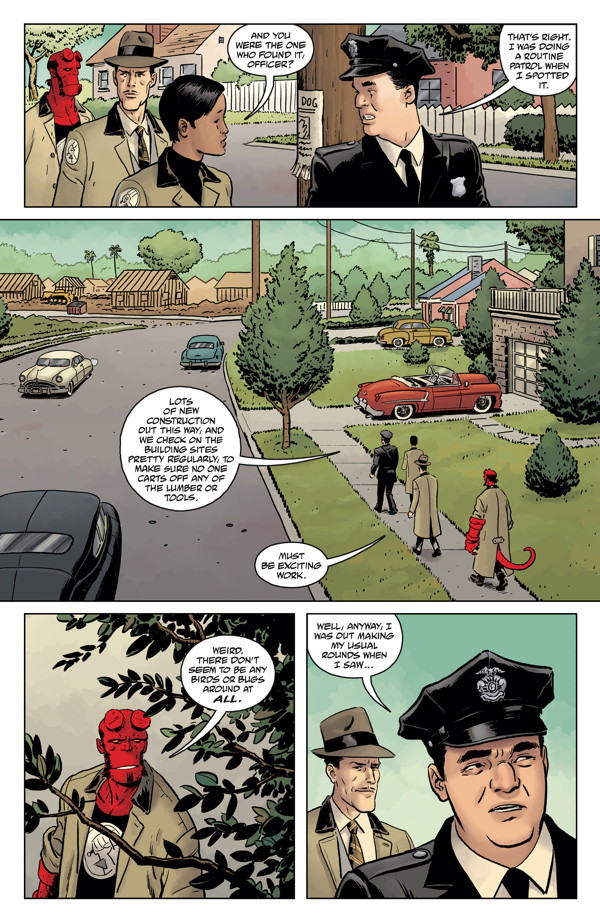 Final Thoughts
I am a big fan of the movies and certainly think Ron Perlman is perfect as Hellboy… now I am also a big fan of the comics. Brilliant writing that will entertain any fan of occult/paranormal stories. Using existing folklore helps to ground Hellboy in our world and provides plenty of fertile ground for some epic monster fights. If you've seen the movies and liked them, do yourself a favour and grab this collection. It's a great group of stories that flow together nicely and give a great step into the Hellboy universe (or as they say the Mignolaverse).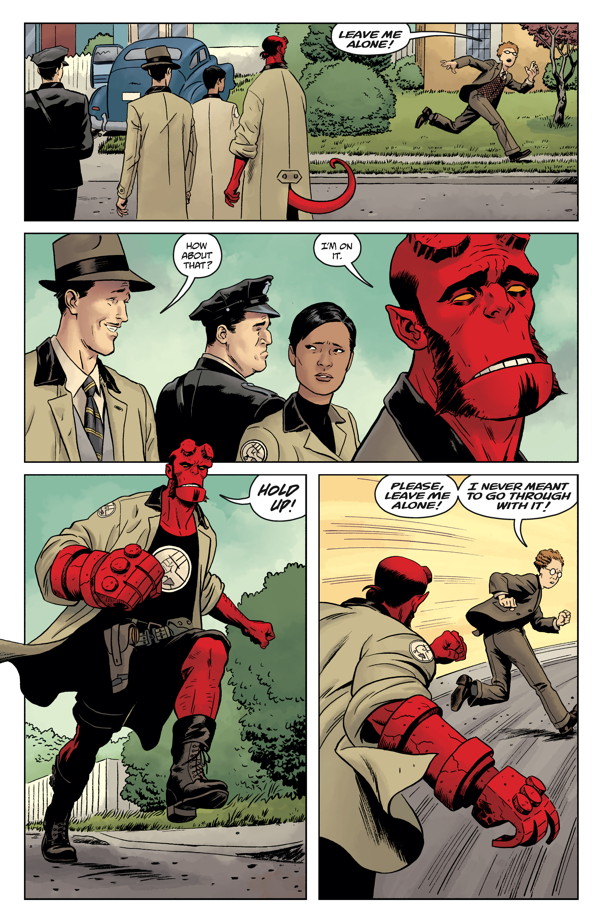 Comic Details
Publisher: Dark Horse
Writer: Mike Mignola, Chris Roberson
Artist: Ben Stenbeck, Michael Walsh
Colourist: Dave Stewart
Peniciler: Paolo Rivera
Inker: Joe Rivera
Cover Artist: Mike Mignola
Genre: Action/Adventure, Horror
Format: FC, 152 pages; TPB, 7" x 10″
Release Date: August 10, 2016