Comics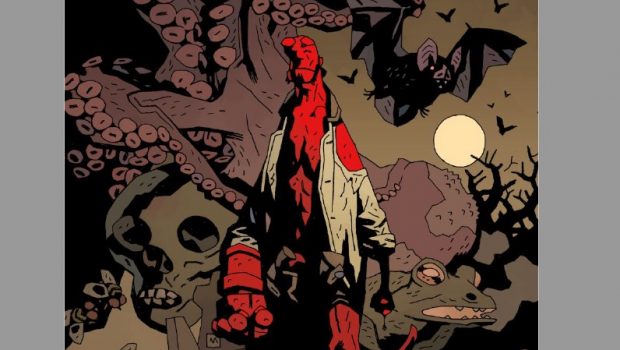 Published on August 27th, 2017 | by Chris O'Connor
Hellboy: An Assortment of Horrors TP Comic Book Review
Summary: Text heavy, this collection of stories gives us a chance to get deeper inside the head of Hellboy and his colleagues at the B.P.R.D. than normal.
I am arguably at this point a Hellboy/Mike Mignola tragic… any new comic comes out and I'm there shooting my hand up requesting a copy. Most of the titles I've read so far have been full of pages filled with wonderful artwork frequently in that unmistakable Mike Mignola style. But this collection is different. This collection is very sparse on the images but very heavy on words. While comics normally have their fair share of inner monologues… it's usually just a bit of surface thought. In An Assortment of Horrors though we can dig much deeper into the thoughts of Hellboy and his colleagues at the B.P.R.D.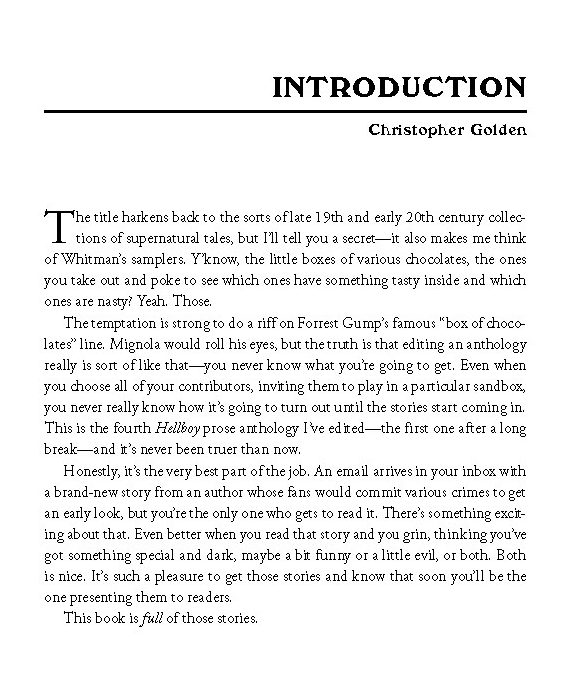 Writing
As mentioned this is essentially a standard novel that just happens to have some lovely art work here and there for good measure. Because of the prevalence of words throughout the insight we normally get into the characters is much deeper than we are used to. One story tells of a new recruits first big mission, working along side Hellboy himself. Because we are spending our time inside the characters head rather than simply seeing them move through the events, we get to experience their nervousness, their self doubt, their hope at finding courage and being able to do the job they signed up for. Hellboy himself shows us levels of his thinking that we aren't normally exposed to and again it's quite endearing and intriguing to have such a passenger seat through these events, a spot where we can soak up the atmosphere through the eyes of the character rather than eyes on the character.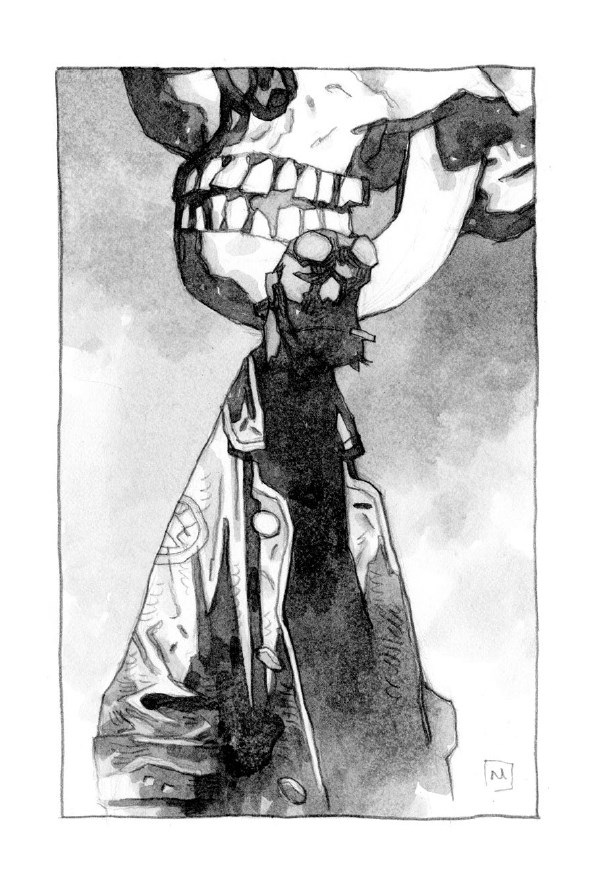 Artwork
Though the artwork is few and far between in this collection, it is no less beautiful. There are the familiar sharp angles of Mignola, the shading that fades in and out of the page almost like a mist is revealing the images only to steal them back again. Each of the images (acting as story breaks essentially) look worthy of a frame and being placed on a study wall.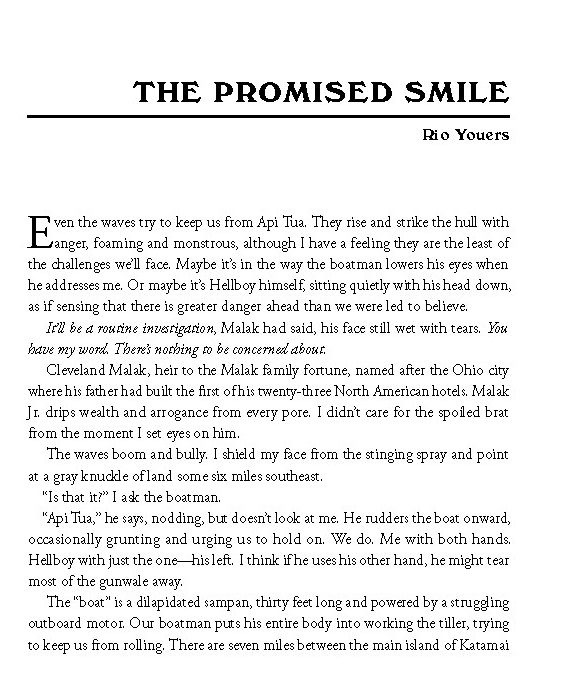 Final Thoughts
Even if I wasn't a Hellboy tragic… I think I'd still be quite drawn in by this collection. There are so many stories here that if one doesn't take your fancy you can move on to the next and still have a good chance of finding something you will like. If you are like me and are quite happy to voyage down that rabbit hole into the Mignolaverse and experience more of the world of Hellboy and the B.P.R.D. then this collection will be right up your alley. Certainly worthy of a purchase and adding to your collection (which would go very well on the bookshelf in your study next to framed art prints from the book if you could get them).
Publisher: Dark Horse
Writer: Christopher Golden, Jonathan Maberry, Michael Rowe, Seanan McGuire, Paul Tremblay, Laird Barron, Chris Priestley, Chelsea Cain, E. Lily Yu, Chris Roberson, Kealan Patrick Burke, Richard Kadrey, Weston Ochse, Delilah Dawson, Angela Slatter, Rio Youers, Nathan Ballingrud
Artist: Chris Priestley, Mike Mignola
Colourist: Dave Stewart
Cover Artist: Mike Mignola
Genre: Horror
Format: 258pgs, B&W, TP
Release Date: 23rd August, 2017