Comics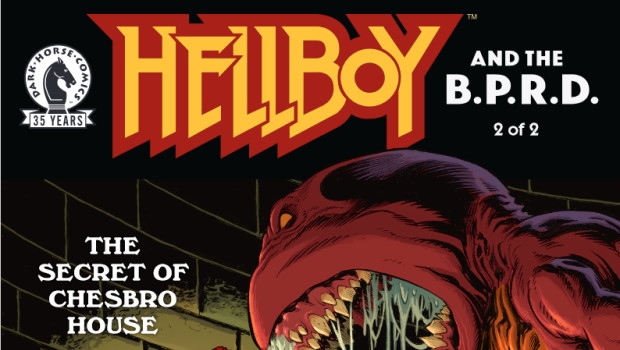 Published on August 9th, 2021 | by Chris O'Connor
Hellboy and the B.P.R.D.: The Secret Of Chesbro House #2 Review
Summary: The truth behind the haunted house is revealed to Hellboy... now he just has to figure out how to deal with it.
Hellboy is finally getting to the heart of the haunted house and learning how he might be able to get the resident ghost to leave.
Writing
While the first part of this story built towards the chaos this part begins with chaos and works towards a calm… at least as much calm as Hellboy can expect. There's something charming about the way Hellboy tried to steer people away from doing dangerous things… then ends up right in the middle of the hazard that is inevitably released but still manages to remain quite stoic about the whole thing. I also really love the last line of this book… it just seems a perfect end to the whole ordeal.
Artwork
I have to say I really love that ghost effect from the previous issue… the slightly hazy doubled up line work that gives the figures an other worldliness. It's a simple enough trick but it really does a great job of conveying the spectral nature of the beings and the blues they are imbued with only add to that ethereal feel. I also have to say I really appreciate the nice solid line work, clean clear lines that make it very clear what's going on… there's no blurring of one element of the page into another. Coupled with the bold colouring and you have pages that are a joy to view and easy to follow.
Final Thoughts
This is a short run but it's a very entertaining one. It's probably a decent dip into the world of Hellboy for those unfamiliar… it's not too involved but it gives a decent sense of Hellboy and as it's only two issues the cost to take this dip is minimal. What I'm saying is… any excuse to bring a new potential fan into the world of Hellboy is good and this is as good an entry point as any other… so grab a copy and get acquainted.
Comic Details
Publisher: Dark Horse
Writer: Mike Mignola, Christopher Golden
Artist: Shawn McManus
Colourist: Dave Stewart
Cover Artist: Shawn McManus
Genre: Horror, Crime, Action/Adventure
Format: 32pgs, FC, Miniseries
Release Date: 11th August, 2021