Comics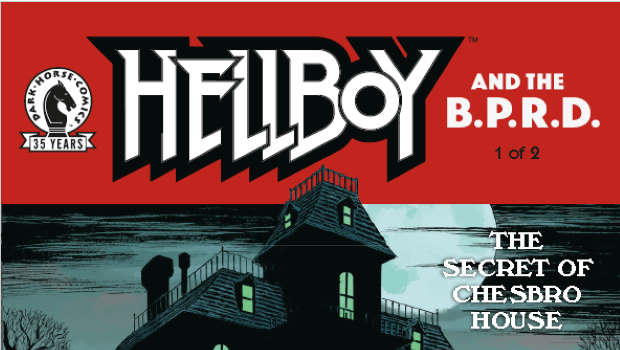 Published on July 16th, 2021 | by Chris O'Connor
Hellboy and the B.P.R.D.: The Secret Of Chesbro House #1 Review
Summary: What's more stressful than preparing a house for sale... preparing it for sale when it's haunted. Hellboy tries to help clear the air so the heir can sell the home.
Hellboy has been asked to help a psychic clear mansion of it's haunted inhabitants so that it can be put up for auction. But the otherworldly residents don't seem quite ready to move on and the key may be a connection with the living world.
Writing
There's some great back and forth banter here between Hellboy and the Psychic. They each have their own view of how the other operates and whether it helps or hinders the "profession". The first half basically sets up the characters, gives us a feel for them, then the second half turns the lights down low and sets the tone for what's to come. The seance is where the Psychic stirs the pot and brings the unseen characters to the font and then Hellboy does his thing… it's great to have some new Hellboy to read!
Artwork
For those familiar with the Mignolaverse the art style will be familiar. Shawn McManus is the one bringing us the fantastical this time and I have to say the portions that stood out the most to me are later in when we get to some ghostly visitors. The hazy, offset double line does a great job of making the apparitions seem ethereal and Dave Stewart's blue tones just give them that final oomph of spectral beauty.
Final Thoughts
I recently introduced my son to the joys of Guillermo del Toro's Hellboy movies and he knows I've read quite a few now for review. He said he'd love to read the ones I've read and I was looking forward to being able to possibly show him this one… but, let's just say there are some themes in here that he's not quite old enough to be introduced to… so keep that in mind if you might want to share your love of Hellboy with your younger family members. But for me… I was thrilled to have another Hellboy story to dig into and I look forward to seeing where this one goes. There's the clever dialogue the action, adventure and spooks aplenty and not least of all Big Red showing his big soft heart in the midst of it all.
Definitely grab a copy!
Comic Details
Publisher: Dark Horse
Writer: Mike Mignola, Christopher Golden
Artist: Shawn McManus
Colourist: Dave Stewart
Cover Artist: Shawn McManus
Genre: Action/Adventure, Crime, Horror
Format: 32pgs, FC, Miniseries
Release Date: 7th July, 2021