Comics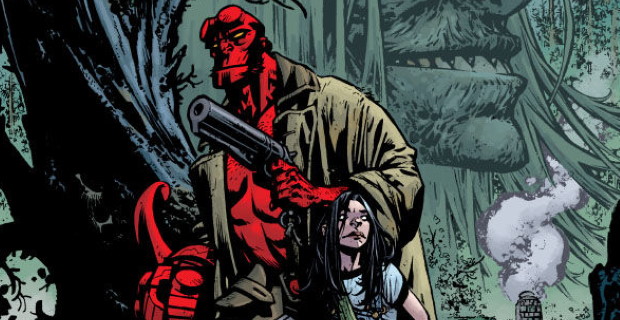 Published on February 17th, 2020 | by Chris O'Connor
Hellboy and the B.P.R.D. The Return Of Effie Kolb #1 Comic Review
Summary: Hellboy returns to Appalachia to see an old friend and to investigate a potential looming danger.
The ominous warning of a young psychic brings Hellboy back to Appalachia and Tom Ferrell. The Crooked Man's house still stands but it is no longer empty and dangers both old and new are bubbling up to the surface.
Writing
The opening of this comic has a lovely catch up between Hellboy and Tom Ferrell that feels so natural (in a supernatural setting) and warm that it acts as a really inviting start to what then devolves into a foreboding situation. That catch up works well to establish the friendship between Hellboy and Tom and also to set the tone for what's to come while helping catch up those new to the history these two share. But this new pending adventure is not for a man of advanced age like Tom, that's where Sara comes in, a young girl who seems to be having psychic visions of an impending danger. Sara allows for one of the most honest answers I think I've seen in writing for a while, when asked if Tom has recounted a story truthfully, Hellboy responds "Not sure how he tells it… but it happened." It's a simple enough response but it holds a lot of meaning to it… Hellboy doesn't want to confirm a story's retelling is entirely accurate without having heard it being told… but will still acknowledge that something happened. That conversation helps to close the book on the history of what's the come and feeds into the future events of which Sara is no doubt a big part.
Artwork
The biggest thing that differentiates the art in this comic from other Mignolaverse titles is the detail in the art. Zach puts a lot more attention into the fine details and shading, background elements are given more character than they might be in other comics. All of that detail could  be lost or hard to make out without the right colour work, fortunately with Dave at the helm here the images are lovely to behold. Sometimes it's just a simple difference in tone, other times it's a nice contrast but whatever it is that Dave does to help bring out the detail in the pages, the end result is fantastic work from the collaborative team.
Final Thoughts?
There's a lot of charm here in the old friendship we see at the beginning of the story, that warmth soon fades as we head towards what the future holds with the return to the Crooked Man's house, what is yet to happen… you'll have to read to find out. This serves as a great introduction to the story by filling in the past elements and presenting us with a new character to follow on the new adventure forming before us. A great read and an interesting introduction to a new story feeding on from an old tale. Worth grabbing.
Publisher: Dark Horse
Writer: Mike Mignola
Artist: Zach Howard
Colourist: Dave Stewart
Cover Artist: Zach Howard
Genre: Action/Adventure, Crime, Horror
Format: 32pgs, FC, Miniseries
Release Date: 19th February, 2020