Comics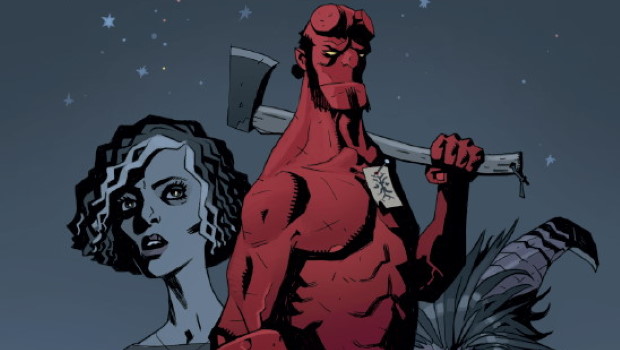 Published on November 30th, 2020 | by Chris O'Connor
Hellboy And The B.P.R.D.: Her Fatal Hour one-shot Review
Summary: Hellboy is transported to the aid of an old acquaintance and also helps sort out a small family mystery.
It's been a while since I've read any Hellboy and I've missed the big red fella. So it was lovely to dive into this one-shot. The first story sees Hellboy transported to the aid of an acquaintance from his past while the second sees him help solve a small family mystery.
Writing
The writing is just as we've come to expect from Mike, Hellboy has that sense of duty that drives him, being matter of fact in learning what is going on and figuring out what to do… but at the same time there's a weariness to him too. When things go pear shaped (as they often do) you can read through his lines that as much as he is more than capable of getting the job done, it doesn't mean he enjoys it or has an easy time of it. There's the sense of care you can get from the way Hellboy is written that really stresses that "humanity" that he has, the care and concern for others that arguably makes him more "human" than many humans. The second story has a lovely "co-star", the focus is on Hellboy and the lady he is trying to help, but it's Hellboy's associate who truly steals the story here.
Artwork
Tiernen does a fantastic job providing plenty of action and mystery whilst never loosing us along the way. The nice clear line work means all elements in the page are clearly defined and we can enjoy seeing everything as it should be rather than trying to find where one element ends and another begins. Dave's colours are perfect as always, giving extra oomph to Tiernen's lively images.
Final Thoughts
This is just what I wanted. After a long absence it was like meeting an old friend again. One-shots are my second best comic format (behind TPB's). The ability to pick it up and have a complete story (or two) in one comic is fantastic and both of these stories feel complete without any element lacking. They don't feel rushed or limited. A high recommendation for any Hellboy fans or anyone who might want to dip their toes in the Mignolaverse.
Comic Details
Publisher: Dark Horse
Writer: Mike Mignola
Artist: Tiernen Trevallion
Colourist: Dave Stewart
Cover Artist: Tiernen Trevallion
Genre: Horror, Crime, Action/Adventure
Format: 32pgs, FC, One-shot
Release Date: 2nd December, 2020