Comics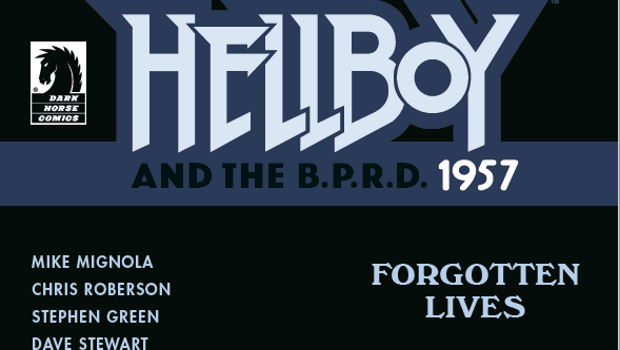 Published on February 15th, 2022 | by Chris O'Connor
Hellboy and the B.P.R.D. : 1957 – Forgotten Lives Review
Summary: Hellboy and Professor Bruttenholm team up for some father son time while investigating a potter's field in New York.
Hellboy and Professor Bruttenholm head out together to investigate a potter's field in New York and get some quality father son time thrown in for good measure. They quickly realise there may be more to this haunting than first impressions would suggest.
Writing
This story is such a great pace for a reflective piece. We've had some pretty intense stories to digest over the years and it's nice to have one like this where things aren't frenetic and the characters can really take a moment to consider what they've been through. There are some great moments of contemplation from Professor Bruttenholm and Hellboy, both taking a moment to think of those close to them that they have lost. Then as the mood dips and they duo seem to be quite lost themselves, their "white rabbit" shows up and Hellboy is off and running.
Hellboy's love for Lobster Johnson and the stories surrounding him then carry us through to the very sweet conclusion of this short story and I for one kind of had a warm feeling in my heart by stories end.
Artwork
There are some really fine panels in this comic. Not only do we get some really expressive faces in the supporting characters (the auctioneer's range from almost bored matter of factness to somewhat surprise is quite enjoyable) but there are also some really exceptional bits of colour work here. The scene in which the Professor and Hellboy first show up at the graves and we see the light change from day time to evening just by the colour tones and contrast on the overseer's face is very clever and skillful. The sorrowful expressions on Professor Bruttenholm and Hellboy's faces are quite palpable.
Final Thoughts?
I love the action Hellboy can get up to, but I have to say I also really appreciate the emotional depth that we get to see in these slower paced stories. There are some lovely moments of introspection that tie into some of the other stories that we have enjoyed and show a lovely level of emotional continuity across the different threads of the Hellboy universe. A ghost story with heart and soul (sorry)… with a really lovely pay off at the end. Well worth grabbing a copy and you don't need to have read any of the referenced stories to feel the emotion throughout.
Grab a copy and find a peaceful place to absorb the story.
Publisher: Dark Horse
Writer: Mike Mignola, Chris Roberson
Artist: Stephen Green
Colourist: Dave Stewart
Cover Artist: Laurence Campbell
Genre: Horror, Action/Adventure
Format: FC 32pgs, One Shot
Release Date: 9th Feb, 2022