Comics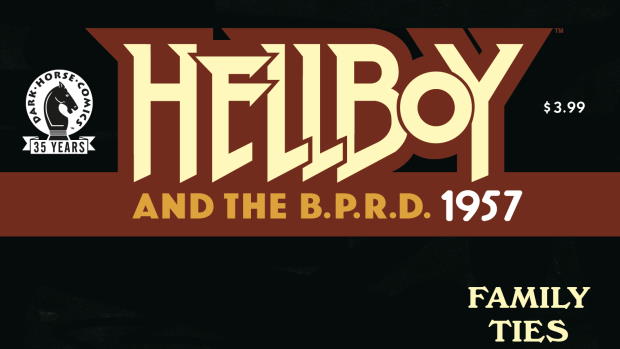 Published on September 7th, 2021 | by Chris O'Connor
Hellboy and the B.P.R.D. :1957 Family Ties Review
Summary: Whilst searching for an errant copy of Witchcraft and Demonology Hellboy and B.P.R.D. agent Susan Xiang are drawn to a beset housewife and her cries for help. It might just be they've found their book and a chance to help someone at the same time.
With only one copy of Gustav Strobl's Witchcraft and Demonology left to recover from "the wild", Hellboy and B.P.R.D. agent Susan Xiang are closing in on it… but their attention is drawn to a distressed housewife who desperately needs their help. What they find might not just be the missing book but a problem that needs solving in a way only Hellboy and the B.P.R.D. know how.
Writing
There's no Alex P. Keaton in this Family Ties, but a question of just how tight the bonds of family are and where you draw the line in a family members behaviour (possessed or otherwise). I quite like the way the story here works on a couple of levels at the same time… the paranormal aspect being a more bold representation of the underlying issues and manifesting in a more physically horrifying way than the psychologically scaring relationship. Hellboy's simple minimalist lines continue to feel just right, the big fella by this stage has no doubt seen some pretty messed up stuff so his simple lines like "oh boy" or "aw damn" are just about what you would expect. The resolution with mother and daughter is quite satisfying also.
Artwork
There's a fantastic interplay here between Laurence's line work and Dave's colours. Specifically Laurence's lines can be quite minimal in some panels, only really calling out the key elements whilst in others they create a vivid image that doesn't let the reader miss a thing. In those panels with minimal line work, the shading and colouring brings a fullness to the elements that gives them a complete sense of life, makes them feel alive (even if they are potentially dead).
Final Thoughts?
I think I may have said this before (though it possibly bears repeating), I would love to see a Hellboy TV series. These one shots (and the mini series) would be perfect as per episode material. I can just imagine the opening to the show… Hellboy's big stony hand flings a comic onto a table… we then see the title on the comic and it's that episodes story… we then dissolve into the cover and the episode begins. It would be like a cross between The X-Files and The Twilight Zone. Which is a very odd way of saying that this is a great story and one you should certainly grab. I have a soft spot for self contained stories… not that I don't like the longer form stories… I just like to have the entire story in one book. In 32 pages this manages to pack a meaningful story that perhaps some people can relate to more than they'd like to realise.
Go forth and grab yourself a copy (or you know… order online if you are isolating.)
Comic details
Publisher: Dark Horse
Writer: Mike Mignola, Chris Roberson
Artist: Laurence Campbell
Colourist: Dave Stewart
Cover Artist: Laurence Campbell, Dave Stewart
Genre: Horror, Action/Adventure
Format: 32pgs, FC, One-shot
Release Date: 15th September, 2021