Comics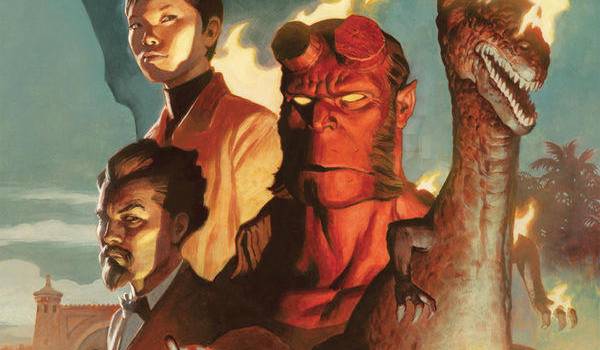 Published on March 8th, 2018 | by Chris O'Connor
Hellboy and the B.P.R.D. 1955: Burning Season Comic Review
Summary: A Florida town has seen a bout of spontaneous human combustion but when Hellboy investigates he finds it's like nothing he's seen before.
When I was younger I found my uncle's book on the paranormal, it was more or less an encyclopedia of the occult. Of all the images that stood out to me in that book were the images of Spontaneous Human Combustion. For those not familiar it is essentially an event that sees very little of the victim left behind but what is left suggests a sudden and very intense but localised heat has burnt the unfortunate person. Typically items (even flamable items) near by are more or less untouched. So when I got the details for this comic I couldn't possibly let it pass… Hellboy and Spontaneous Human Combustion… what's not to love?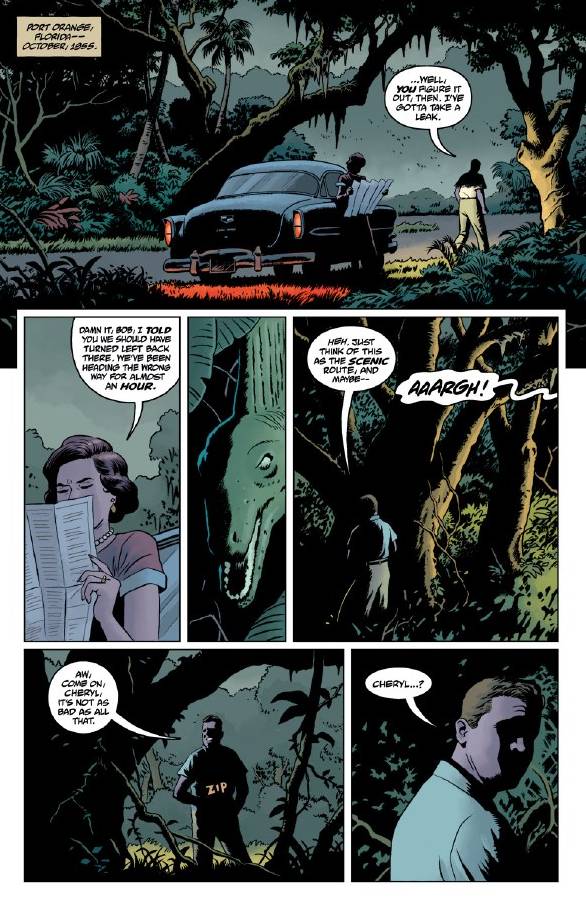 Writing
Chris Roberson and Mike Mignola work together here to bring us the much loved style of taking elements of the paranormal, folk lore and anything and everything in between to mold a story that draws from all those elements and constructs something with believable weight to it (in the context of the paranormal at least). Going into this story my mind was so focused on the whole spontaneous combustion element of it that I wasn't thinking of anything else so when the cause was revealed it was a bit of a surprise.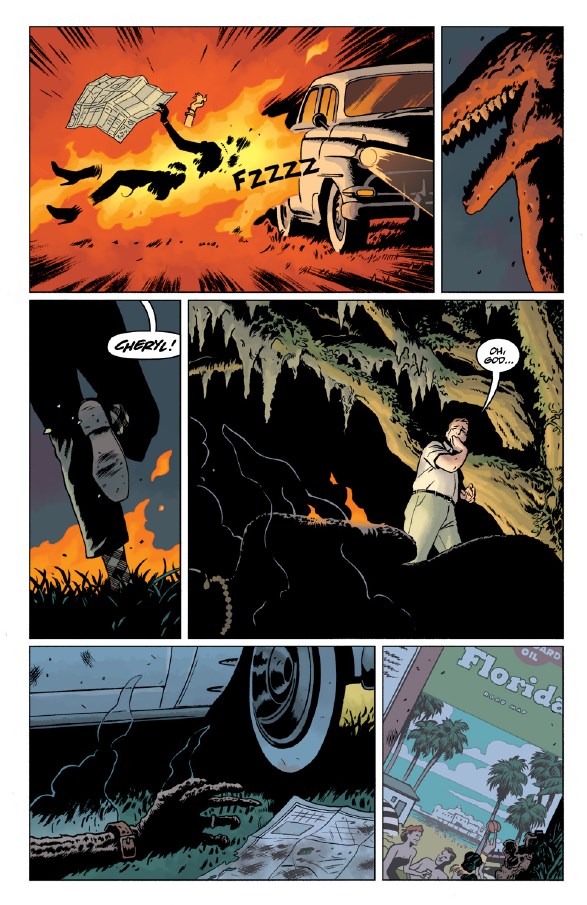 Artwork
There's a certain style to this comic that I can't quite put my finger on in terms of how to describe it. It's a style similar to what I've seen in other comics but when they used it it ended up feeling like they had phoned it in, like it was rushed or somehow just didn't seem finished. Paola, Joe and Dave however have used this style I think how it is meant to be used… or at least in a way that gets a result that I suspect is what is intended. The panels look clean and don't get overly bogged down in minute detail in the line work but instead the core shapes and elements are there and the rest is fleshed out by the colours and the subtle shading that really brings everything out. On top of that I just really love the last page, the middle panels, post investigation Hellboy in casual clothes… I don't know why but it totally tickled my fancy!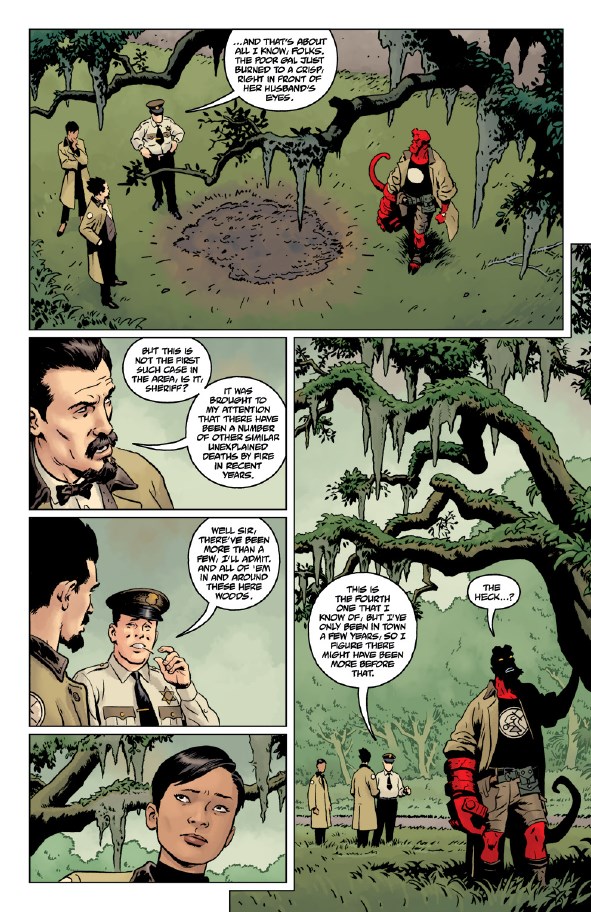 Final Thoughts
The world of the paranormal is a large and varied field, add to that regional myths and legends that are less well known and modern conspiracies and unexplained phenomenon and the wealth of material for Hellboy and the B.P.R.D. to examine is generous to say the least. It's nice to be able to step off the main story lines and explore the odd specific phenomenon from time to time and when you add that Mignolaverse twist it means entertainment is guaranteed.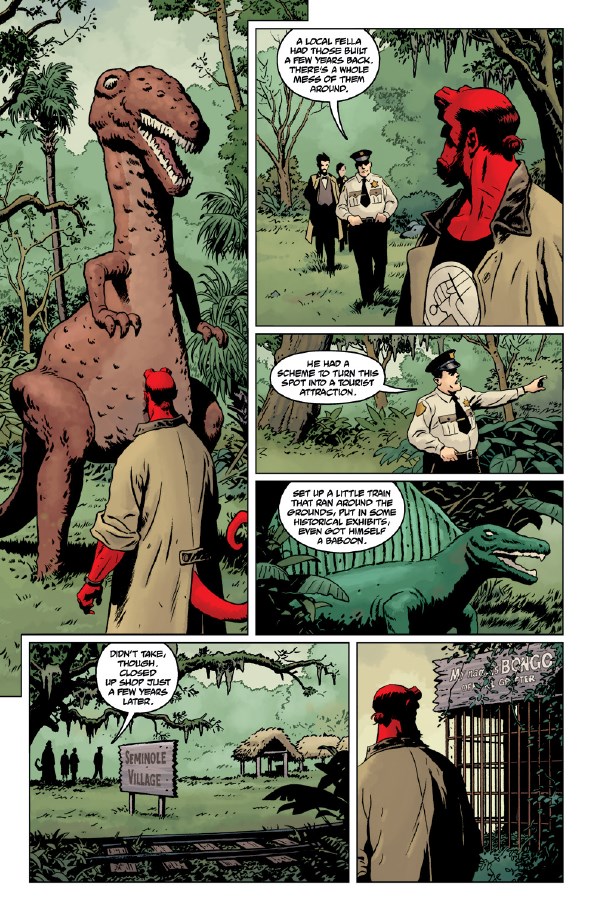 Publisher: Dark Horse
Writer: Mike Mignola, Chris Roberson
Artist: Paola Rivera, Joe Rivera
Colourist: Dave Stewart
Cover Artist: Paola Rivera
Genre: Crime, Horror
Format: 32pgs, FC, One-Shot
Release Date: 21st February, 2018