Comics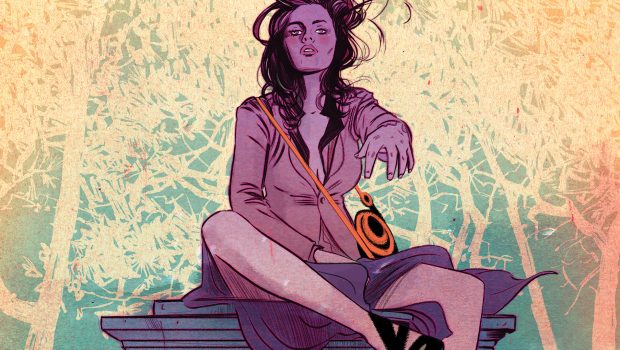 Published on June 28th, 2017 | by Andrew Bistak
The Hellblazer #11 Review
Summary: The Hellblazer #11 continues expanding the mystery to the ready but rather slowly!
Writer Simon Oliver and penciller Davide Fabbri continue with their latest Hellblazer story with the Smokeless Fire Part 2 as Mercury and Adnan, two magical beings debate the worth of humanity. Meanwhile back on earth, Constantine is joined by Mercury as our crafty magician causes mischief with the world famous dancing shoe of clichy sous bois!
You ever afraid that you might have just turned into that sad wanker in the pub? – Mercury
Meanwhile across the city Dante is reading a journal about a disastrous French expedition in 1936 which sees everyone bar Henry from the group left alive. Oliver does an excellent job at setting up this mystical villain with this very interesting link to the past. As we return to the present, Dante has an unexpected visitor by the name of Leon who has come to collect a debt of his own, more specifically the book that he was reading. Needless to say, there's more to this book!
What's "booty call" squaking about – Samantha
Dante decides to get a better look at whether Leon was alone and when he investigates with Sam, he sees that his former acquaintance was lying. Artist Davide Fabbri does a great job of creating this interesting chase scene that really channels something you would see in a Hollywood blockbuster, more specifically the 'henchmen' of the villain who wants the magical journal as those from the book become real. Although Dante and Sam escape, they find themselves at a friend's place and for now, they have respite.
"Viral" my arse – John Constantine
The issue ends with Constantine's dancing shoe finally coming to an end as a mysterious strange to the reader comes to join our anti-hero John as the mystery deepens. All in all, issue 2 of this arc was a little slow but it had some interesting moments, especially with Dante and Sam. I'm interested to see how Oliver delivers in issue 3, especially as the pieces of the puzzle are slowly coming together.
Gallery
Talent
Art by: Davide Fabbri
Cover by: Tula Lotay
Variant cover by: Yasmine Putri
Written by: Simon Oliver
Series
Series: THE HELLBLAZER 2016
U.S. Price:3.99
On Sale Date:Jun 28 2017
Volume/Issue #:11
Color/B&W:Color
Trim Size:Comic
Page Count:32