Comics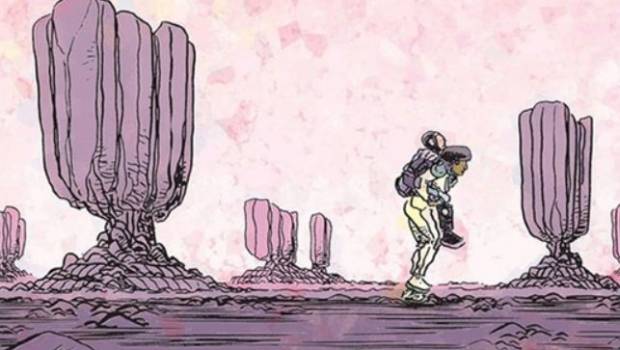 Published on August 26th, 2020 | by Adrian Gunning
HEDRA MASTERMIND BRINGS READERS JAW-DROPPING GRAPHIC NOVEL PLANET PARADISE THIS NOVEMBER
On the heels of Jesse Lonergan's bestselling one-shot story Hedra, which sold out instantly and sent the industry atwitter with praise, comes a new offering from Lonergan in forthcoming original graphic novel Planet Paradise. The science fiction story will showcase more of Lonergan's groundbreaking talents and is set to hit shelves from Image Comics this November.
In Planet Paradise, to survive after crash landing on an alien planet, a vacationer must battle against a hostile environment, killer lizards, corporate bureaucracy, and the pessimism of her sole companion, the drug-addled captain of the ship.
"Planet Paradise has elements of the visual experimentation that was such a big part of Hedra, but because of the longer form, I was able to have more twists in the story and give more depth to the characters," said Lonergan.
Planet Paradise (ISBN: 9781534316980, Diamond Code AUG200053) will be available on Wednesday, November 11 and in bookstores on Tuesday, November 17. It can be pre-ordered at your local comic book shop or independent bookstore via Bookshop or IndieBound, or it can be pre-ordered on Amazon, Barnes & Noble, Books-a-Million, and Indigo.
Planet Paradise will also be available for purchase across many digital platforms, including Amazon Kindle, Apple Books, comiXology, and Google Play.