Games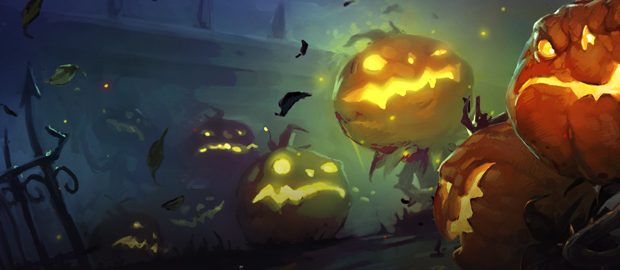 Published on October 18th, 2017 | by admin
Hearthstone's Hallow's End is near!
Next week, Hearthstone is getting spooky! From 25 October through 6 November, the Tavern is celebrating Hallow's End with its own in-game events:
Free Card Packs and Arena Runs!
Week one: Log in between 25 October 3am AEDT/5am NZDT and 31 October 6pm AEDT/8pm NZDT for a Whispers of the Old Gods card pack and an Arena ticket.
Week two: Log in between 31 October 6pm AEDT/8pm NZDT and 6 November 7pm AEDT/9pm NZDT for a Knights of the Frozen Throne card pack and an Arena ticket.
Dual Class Arena!
From 25 October through 6 November, players can experience an all-new dual class Arena mode! At the start of every Arena run, players choose a Hero, a Hero Power from another class, and then choose cards from both of those classes in addition to neutral cards. That's not all though: each of the nine classic Hearthstone Heroes will attend their Arena games in costume!
A Tricky Tavern Brawl!
The Headless Horseman Rides is a special Hallow's End Tavern Brawl that will run from 26 to 28 October. Once the Brawl begins, players will Discover which "costume" to wear. Each costume has its own deck featuring cards from several classes and, for the first time, a passive Hero Power that you'll need to make the most of if you want to succeed in defeating the Headless Horseman!
New Warlock Hero – Nemsy Necrofizzle
Starting today, players can claim the free alternate Warlock Hero by participating in a Fireside Brawl at any established Fireside Gathering Tavern. Don't forget to check out Hallow's End Fireside Gatherings near you! Good news: Nemsy will continue to be available after Hallow's End concludes.
In addition to the above, check out the blog for all the chilling details on Hearthstone's Hallow's End activities.