Events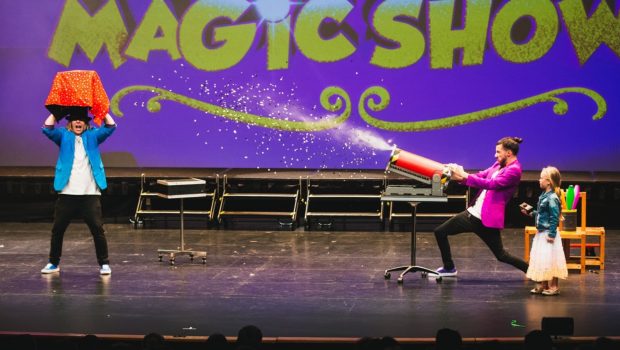 Published on February 10th, 2023 | by Adrian Gunning
HE GREATEST MAGIC SHOW – MELBOURNE INTERNATIONAL COMEDY FESTIVAL
THE GREATEST MAGICAL SHOW FOR THE WHOLE FAMILY
Melbourne International Comedy Festival 2023
FROM 11 TO 13 APRIL
Athenaeum Theatre, Collins St Melbourne
ON SALE NOW!
Following a near two year hiatus due to COVID-19, The Greatest Magic Show has since toured the globe in 2022 with show-stopping, sell-out seasons in Perth, Adelaide, Melbourne and even as far as Edinburgh in the UK! In 2023, SHOWMEN PRODUCTIONS are once again returning home to Melbourne for The Greatest Magic Show – with more whimsical wonders than ever before! from 11 to 13 April at The Athenaeum Theatre, for Melbourne's 2023 Comedy Festival
Having garnered international acclaim in countries such as Scotland, New Zealand and England; the stars Sam and Justin will be hitting the stage with brand new illusions direct from a Las Vegas stage!
"This is THE SHOW to see!"
Entertainment Now (Edinburgh) ★★★★★
"A Rollicking Rollercoaster Ride!"
The West Australian  ★★★★½
After having debuted in 2018 to sell-out crowds across the country, the Showmen have continued their enormous success, being awarded the weekly award for Best Children's Show   2019 Fringe World, Best Kids Show at the 2019 Sydney Fringe, and most recently Best Kid's Show at the 2022 Melbourne Magic Festival. They have been hailed by GLAM Adelaide, as "Quite possibly the Penn & Teller of Australia! ★★★★★!"; and the show was further praised by the West Australian as a "Rollicking, Rollercoaster Ride for Pint-sized Punters! ★★★★½"
THE GREATEST MAGIC SHOW stars – Sam and Justin – are bringing brand new illusions purchased direct from the same Vegas builder who worked with David Copperfield and Lance Burton! Their Ringmaster is played by the incomparable Perth fan-favourite and real life Disney character, Magnus 'Danger' Magnus, who will do everything he can to keep the chaotic magic show on track! As an added bonus, every child who attends the show will receive a FREE MAGIC WAND on entry and have their chance to take a photo with the stars of the show after the performance.
"This is THE SHOW to see! There are very few shows today with this level of production, and genuine, vested interest in teaching positive life lessons' Entertainment Now ★★★★★
"This was the BEST SHOW EVER!" GLAM Adelaide ★★★★★
"Raucous, Energetic and Entertaining!" Theatre Weekly ★★★★★
"There was a smile on every face, adult and child!" Perth School Holidays ★★★★
'The highest quality children's magic show you are ever likely to see!' 
Fringe Feed ★★★★★
They finish with an inspirational, feel good message for all the kids: that is not the size of the wand that matters in this world, but the size of your DREAMS. No matter what you want to achieve in life, if you believe in yourself, you can make your dreams come true!
The show appeals to every single audience member – regardless of age! Packed full of crazy circus stunts, mind-bending magic, and hilarious humour that will leave you trying not to pee for the entire hour, it isn't hard to see why this magic show truly is, the GREATEST!
Watch them in action:
https://www.youtube.com/watch?v=Chb-QI_VCwQ