Games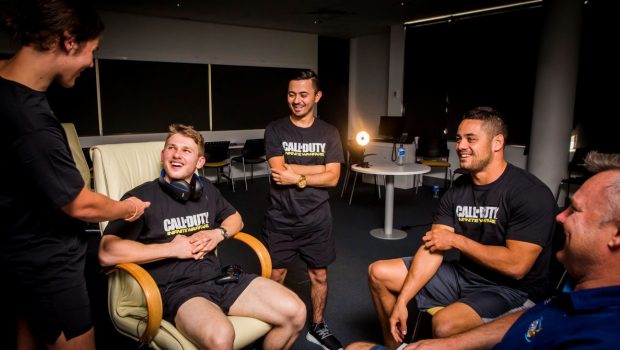 Published on November 2nd, 2016 | by admin
The Hayne Plane in training for space combat at Call of Duty: Infinite Warfare Academy
Call of Duty: Infinite Warfare launches November 4, 2016
2 November, 2016 – Ahead of the launch of Call of Duty®: Infinite Warfare on 4 November, avid Call of Duty® fan and NRL superstar, Jarryd Hayne attended a special training session at the Call of Duty: Infinite Warfare Academy, hosted by the NSW Institute of Sport (NSWIS). Hayne was joined by Australia's leading professional Call of Duty esports team, Mindfreak; together they were pushed to the limit through a series of physical and mental challenges at the national high performance center and Olympic training facility.
The Call of Duty: Infinite Warfare Academy was developed to enhance the skills of local esports professionals. Participants endured a series of intense trials:
The performance stressor test used a light board to measure the participants' reaction times and hand-eye co-ordination, an exercise that was repeated after a physical drill, to demonstrate the effects of fatigue.
To combat the negative impact of stress, participants were placed in an extreme stress environment underwater, allowing NSWIS's performance psychologist to teach them stress management strategies to quieten the mind and optimise performance.
In the Mindroom they were taught how to improve attentional skills by tracking multiple moving objects in a 3D field.
In a first for the franchise, Call of Duty: Infinite Warfare introduces an all-new story set beyond Earth's atmosphere. To further help Hayne with his training before he plays the game, he recently visited the Spaceflight Academy, Australia's first astronaut test center, where he took part in a one-of-a-kind space training simulation. Jarryd strapped himself in to the Multi-Axis Trainer (MAT), which simulated the disorientation that you would feel during a tumble spin on reentry into the Earth's atmosphere, as well as scaling a Zero-G Gravity Wall, which emulates the feeling of weightlessness in space and gameplay featured in Infinite Warfare.
Hayne said, "It was unreal to witness the amount of preparation that is needed to go into space at the Spaceflight Academy and to see how my own sports training applies within the esports environment at NSWIS. The highlight was definitely hanging out with Australia's best Call of Duty players and picking their brains on the game to improve mine. I'm ready and looking forward to the launch of Call of Duty: Infinite Warfare on November 4."
Activision's Call of Duty franchise is a major player in the esports world, with the Call of Duty World League in full swing and Call of Duty World League Championship taking place annually.
Mindfreak's team captain, Mitchell Mader said, "When we compete in the Call of Duty World League Championship, we come head-to-head with fierce international teams who we play for up to twelve hours at a time.  The skills we learnt at the Call of Duty: Infinite Warfare Academy will be extremely beneficial in these moments of high pressure."
"Mindfreak team is really excited about the release of Call of Duty: Infinite Warfare, which puts us back on a level playing field as all professional teams worldwide learn the intricacies of the new game."
Dr. Mike Martin, Lead Performance Psychologist, NSWIS said, "With any elite level performance, comes the need for top tier training and preparation, no matter the discipline. Our team of leading experts in physiology, psychology and high performance developed a training program that targeted tactical awareness, superior mental performance under pressure and improved decision making and targeting accuracy. We look forward to seeing how MindFreak benefit from what we've taught them. Hopefully it gives them a great start heading into major competitions."
Call of Duty: Infinite Warfare will be available for PlayStation® 4 computer entertainment system, Xbox One and PC on Steam starting November 4th.
The Official Call of Duty®: Infinite Warfare Live Action Trailer – "Screw It, Let's Go To Space