Comics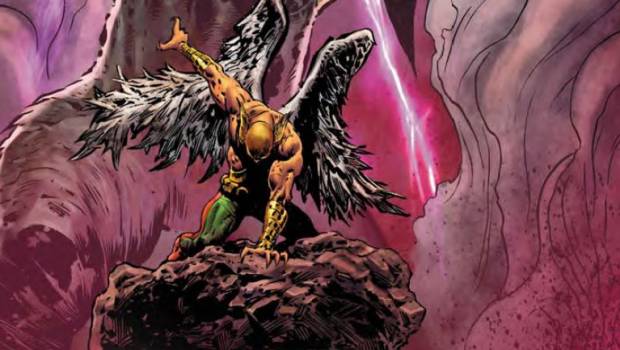 Published on December 28th, 2017 | by Andrew Bistak
Hawkman Found #1 Review (Dark Nights Metal Tie-In)
Summary: Hawkman Found #1 (Dark Nights Metal Tie-In) not only found Hawkman for us but also lost him as well!
Jeff Lemire returns Carter Hall to the post-Rebirth universe with Hawkman Found #1 that is Dark Nights Metal tie-in. It's also penciled by the talented Bryan Hitch as the start of the issue commences with Carter narrating to reader about a recurring dream where he is always a bird. However these dreams soon turn into nightmares as he always wakes just before he dies. However Carter has bigger problems as he is trapped with his 'other' lives and each day, the manhawks come to take one of them.
This time Carter fights back as he valiantly tries to make his way to this flying fortress in the sky and when he finally arrives, he comes across a weapons room that is very familiar yet different. It is here where he comes across a dark version of himself who vows to claim all his lives and although our long-lived warrior bests this creature of nightmares, Carter reclaims the mantle of Hawkman as he once again falls to the Forge of Worlds to again become the dragon of Barbatos.
Final Thoughts?
Wow… this issue was not only beautifully written but also beautifully illustrated as the blockbuster team of Lemire and Hitch delivered a thoroughly enjoyable and mysterious story of Hawkman with some great unexpected twists. Given that the Batman and Superman of the DCU ended up face to face with this twisted version of Hawkman in the last issue of Dark Nights, this comic added some additional insight the missing Carter. More importantly, Lemire pays homage to what has come before him and here's hoping that we'll see an upcoming ongoing from this brilliant creative team!
Recommended!