Comics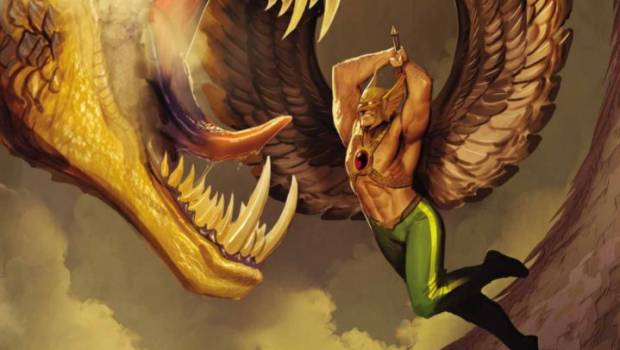 Published on July 11th, 2018 | by Andrew Bistak
Hawkman #2 Review (All my pasts unbound!)
Summary: Hawkman #2 continues to tell tangled web of Carter Hall with something dark heading towards our hero
After the shocking revelation of the last issue where we learned that Hawkman can be reincarnated across time and space, writer Robert Vendetti and artist Bryan Hitch continue their exploration of this legendary DC character created by the equal legendary Gardner Fox with may tangled weaves. The issue opens up with a "times past" snapshot as we are reintroduced to the Pharaoh Khufu and his beloved wife Chay-ara in Ancient Egypt that sees them flying the skies courtesy of the Nth metal that came from a crashed ship.
In the present while Carter Hall writes his journal, he also questions that the spacecraft that landed in Ancient Egypt may have been sent to him as a call for help. As the writers explore Carter's history, we learn that he lived many lives, including remote worlds such as Rann and Krypton as Hawkman travels to the British Museum in search of answers. While searching for answers, Carter believes that Khufu's obsession with winged deity which is now on display in the museum may contain the answers he is looking for. He also believes that he the Pharaoh was afraid of what was coming.
However something in the museum causes a catalyst as Carter transforms into Hawkman and bizarrely finds himself in Ancient Egypt and face to face with himself as Khufu as the two duke it out with some spectacular art by Bryan Hitch that really channels that summer comic blockbuster feel. While Carter pleads with Khufu to tell him the answers of how he defeated this winged demon and on a word that Hawkman remembers, they stop fighting as the Pharoah tells him of a map he hid in an ancient column. As our hero finds himself back in the present, he realises that he must travel back even further in time… to that of Dinosaur Island which may hold the answers.
Final Thoughts?
Wow… writer Robert Vendetti successfully puts a clever twist on Hawkman lore, particularly with all his past lives and how it transcends both time and space. Sure, we don't have any answers but the story, dialogue and characterisation is enjoyable from start to finish, especially with the larger than life art from Bryan Hitch.
Recommended!
Gallery