Comics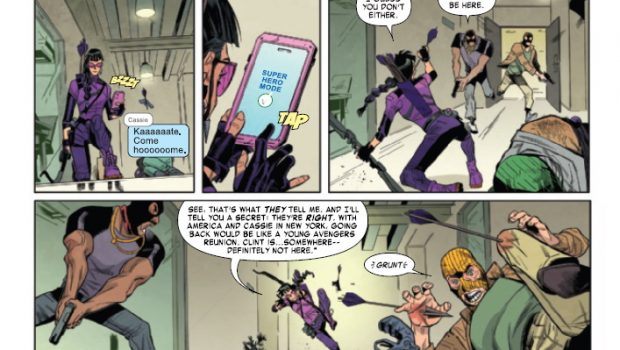 Published on November 28th, 2021 | by Tim Chuma
Hawkeye: Kate Bishop #1 (2021) Review
Summary: Well worth checking out if you have enjoyed the recent Hawkeye Disney+ show and want to see more of this character.
Kate Bishop is running a private investigation business in California and foiling an attack on a clinic when she decides to go back to the East Coast after a mysterious invite to a social club. I am not sure when this fits in with the Hawkeye TV show in the timeline but it seems this one has her as an established crime fighter on her own and not the origin story that the TV show is going into.
The story is told differently than normal and seems to be the main character retelling the major events via instant message to someone else for a lot of the scenes.
This is a newer in the Marvel scheme of things only coming along in 2005 and there has been no reference to her at all in the movies before. What you forget is the early 2000s is getting a to be at least 15 or more years away now so you can re-release or renew things.
I would recommend this one if you enjoyed the character in the recent TV series and want to see them in their own story.
Comic details:
Writer: Marieke Nijkamp
Penciler: Enid Balam
Cover Artist: Jahnoy Lindsay
Publisher: Marvel
Published: November 24, 2021