Games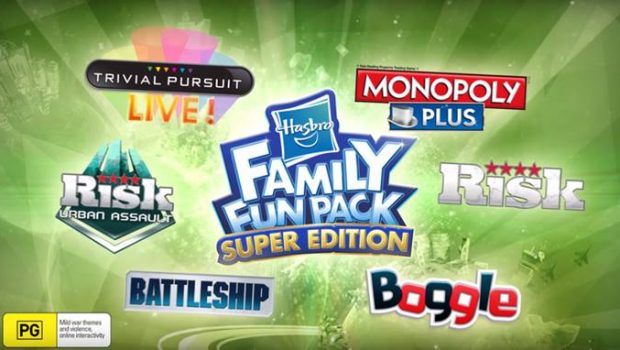 Published on October 27th, 2016 | by admin
HASBRO FAMILY FUN PACK SUPER EDITION IS NOW AVAILABLE FOR DIGITAL DOWNLOAD
Hasbro, Inc. (NASDAQ: HAS) and Ubisoft® have announced the availability of the Hasbro Family Fun Pack Super Edition, an exclusive bundle featuring six complete video games based on Hasbro's famous board games. Hasbro Family Fun Pack Super Edition is available now for Xbox One and PlayStation®4 computer entertainment system.
Hasbro Family Fun Pack Super Edition offers countless hours of fun to be played with friends and family together on the couch or online with people all across the world. Based on six Hasbro Gaming brands – MONOPOLY® Plus, RISK®, RISK® Urban Assault, TRIVIAL PURSUIT Live!, Battleship® and BOGGLE – have been adapted for video game consoles to include stunning environments and introduce new customizable rules and missions in addition to the traditional ways of playing. Whether it's money-management, strategic-thinking, wordsmithing or trivia, Hasbro Family Fun Pack Super Edition offers a unique and enriching experience for players of all ages.
MONOPOLY Plus
The MONOPOLY Plus console game brings the iconic board game to life with a colorful 3D animated city. The city evolves when homes and hotels are purchased as the game progresses and includes tokens that move across the properties. Players can customize their gameplay experience by selecting which of the "House Rules" they want to play. Additionally, players can choose Speed Die mode, a faster-paced way of playing the game where players move quicker around the board.
RISK
The console version of the RISK game retains the authenticity of the classic 2010 rules, while pushing a modern twist on the world-famous strategy game with 3D tactical battlefields, configurable win conditions and rule variants. Players can bring out their inner commander from a high-tech control room and set off to dominate the world using the classic map layout.
RISK: Urban Assault
The RISK Urban Assault console game is an exciting new version of the RISK game set in a post-apocalyptic world across some of the most famous cities around the globe. From New York to Shanghai, players must act cunning and play strategically to defeat their opponents. At its heart, the game retains the DNA that makes RISK so popular with an additional layer of strategy introduced by commanders, facilities and alliances.
BOGGLE
The BOGGLE console game brings the classic three-minute word game to a new level. Fresh rules like point multipliers, timed matches, and even banning certain letters introduce new strategies players can use to topple their opponents. Players can compete against their friends in person or experience the multiplayer cooperative or competitive modes online. They will develop their word-game skills, rise through the leaderboard and collect trophies!
TRIVIAL PURSUIT Live!
With adapted difficulty levels and four unique question formats, the TRIVIAL PURSUIT Live! console game is accessible to all type of players. From standard multiple choice to a category bank, where players will choose multiple selections from a collection of 16 answers, TRIVIAL PURSUIT Live! provides more than 1,200 questions for players to show off their knowledge.
BATTLESHIP
BATTLESHIP console game players will deploy their fleet and strategic skills on a modern, dynamic and interactive 3D board to destroy the enemy before their own ships are sunk. The new Clash at Sea! mode will bring new exciting features to the classic gameplay. In this mode, players strategize to win by managing their resources and using their fleet's special abilities to win the game. For players who crave competition and challenges, they will have the ability to play with their friends locally or online in a unique player-versus-player experience as well as track their progress on the global leaderboard.
For more information, please visit: http://hasbrogamechannel.com/
To download all assets please visit the press extranet: https://www.ubisoft-press.com